Tiny Texie is known for her social media influencer status. Apart from being famous on various social media platforms, such as TikTok and Instagram, Tiny Texie is a dance and adult entertainer.
Many of her followers recognize her for being the tiniest adult dancer. Surprisingly, she is 3 feet and 6 inches tall. Undoubtedly, she holds the title of the smallest Exotic Dancer.
Tiny Texie's Bio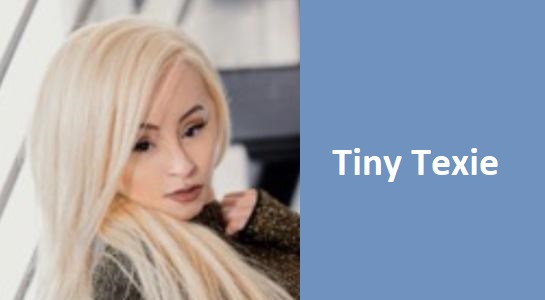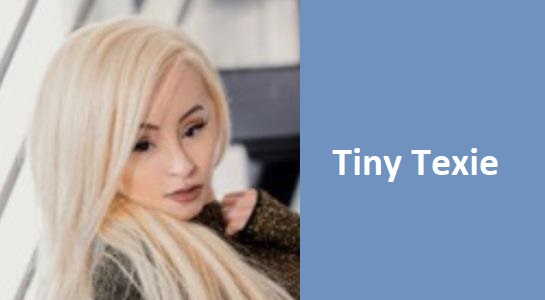 Continue reading this article to learn exciting facts about the social media star who accumulated over 3 million followers on TikTok.
Quick Facts About Tiny Texie
| | |
| --- | --- |
| Name: | Tiny Texie |
| Age: | She is 29 years old. Born in 1992. |
| Place of Birth: | Texas, United States |
| Nationality: | American |
| Occupation: | Social media influencer; adult entertainer, exotic dancer |
| Height: | 3 feet 6 inches |
| Weight: | 55 kg. |
| Social Media Accounts: | Instagram: @tinytexie; TikTok: @tinytexieofficial |
Living With a Disorder
Although many mistake her for a child, the 29-year-old influencer wasn't shy to share her life story. Tiny Texie was born with Kenny-Caffey syndrome. The sporadic hereditary syndrome that she was diagnosed with caused her to have thin marrow cavities in the bones, as well as thickening of the long bones. Some abnormalities are seen on her head and eyes.
The syndrome makes individuals have an adult height of 48 to 59 inches, while the intelligence remains the same as a regular person.
Embracing Motherhood
Tiny Texie is a mother. She has one daughter with whom she regularly posts videos on TikTok and photos on Instagram.
She even created a funny TikTok post in which other people confuse Tiny for her daughter. The video gained a lot of attention, and many followers applauded her openness about the disorder, as well as the humor she possesses.
Tiny Texie isn't married; however, she's in a steady relationship with budding TV reality star Anastasia Graves. In one interview, the couple complained about the backlash and negativity they received from others about their size differences.
Regardless of what some people think, the couple seems very much in love and happy together.
Gaining Fame
Currently, Tiny Texie keeps the title of being the world's most petite proportioned dancer. Until 2015, she participated in pageant competitions. When her pageant career was over, she switched to dancing and social media work.
Nowadays, Tiny Texie has over 400k followers on Instagram and 4,9 million followers on TikTok. As of May 2021, she has received over 69,7 million likes on TikTok.
Thanks to her unique physical features and sense of humor, as well as her outgoing personality, she stands proudly behind an entire category of small women on social media. It's for that reason that fans can't get enough of her social media posts.
Working as a Model
When she's not posting funny videos on TikTok, Tiny Texie graces the covers of various magazines. After all, taking a break from dancing and entertaining others can only do her good.
Some of the magazines that had the honor of having Tiny Texie on their cover pages, are Chicago Tribune, E! Online, Inked Magazine, and others. Apart from magazines, she has been a guest in many U.S. radio stations and podcasts.
In the world of entertainment, she doesn't let anyone hold her back. Her main priority is to entertain and be positive to those around her.
Net Worth
Although her exact net worth is unknown, we assume she has between $500K and $1 million. She owes the fortune to her various collaborations that she acquired from different brands and her dancing career.
Conclusion
Tiny Texie is not your average twenty-something woman. She is known for having the smallest proportioned body and the world's most petite adult feet.
Gaining fame through Instagram and TikTok, the social media influencer, regularly surprises her millions of followers with her quirky videos.
Born with a congenital disorder that some might say is limiting her life, Tiny Texie seems fully aware and proud of the body that she has. Texie has an outstanding social media presence and exotic dancing career.