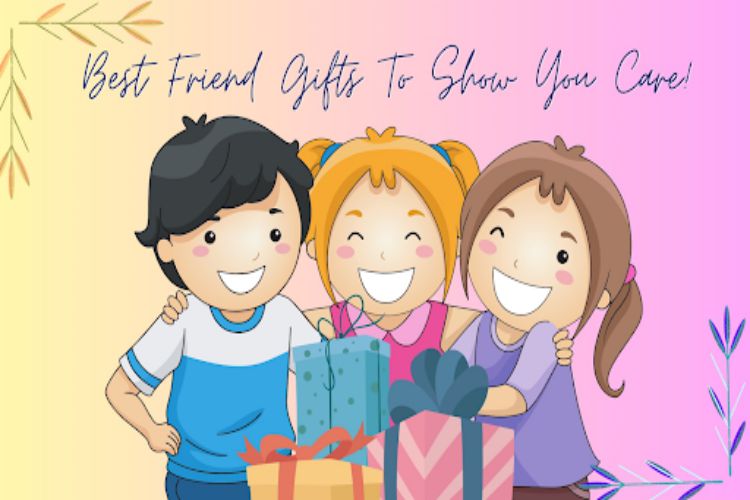 Best friends serve as anchors, grounding you on days when life gets challenging. If you're lucky to have one, you have someone who believes in you, but at the same time who won't be hesitant to call you out when you're wrong. 
It can be very easy to forget to appreciate the people in our lives, especially if they're always there. You get so used to them being there that you can forget to remind them of how much they mean to you. There are quite several ways to appreciate your best friend and show them that you care about them, such as simply telling them with words or showing up for them in difficult times.
However, this article focuses on showing appreciation for your best friends through gifts. The gifts you could buy for your friend might include matching jewelry, personalized puzzles, or a book containing words of affirmation. What matters is that you put a lot of thought into choosing your gift and your friend ends up loving it.
Some of the top gifts to consider buying for your best friend to show your care include:
Gift Cards to Their Favorite Stores
For someone to be your best friend, then it means that you know all of their favorite things. What could be a better way to express love than indulging them in their favorite things?
Showing your appreciation for your friend can be as simple as presenting them with gift cards from their favorite stores. This is a thoughtful way of letting them know that you pay attention to them and that you like them enough to buy their favorite things for them.
A Personalized Puzzle
A personalized puzzle is simply a puzzle made out of a picture that you select by yourself. You could make your own puzzle from a picture that you both love. It is a beautiful way of preserving your memories with them, and a fun activity for days when you want to reminisce on your friendship with them. 
To make a puzzle from a picture, all you have to do is to select a good picture, upload it, and let the puzzle makers do their thing. 
With personalized puzzles, you're gifting your friend an engaging game that both of you can enjoy on game nights, offering fun over and over again. This is one gift that keeps on giving. And I am sure your best friend would appreciate such a thoughtful gift.
An Instant Film Camera
We live in a world of digital cameras that are available even on our phones, and it is really easy to take pictures now. An instant film camera puts a twist on the whole thing, particularly if your friend is someone who loves things that bring back that 90's feel. 
With this unique camera, they can print out the pictures that they take immediately on film. If your friend loves to preserve memories by taking pictures, then this is a gift that they would love. They could even snap more pictures, providing you with more material to create your puzzles.
Matching Bracelets
If your friend has a fondness for jewelry, this gift idea could be perfect. Pick out a lucky charms bracelet in a design that you know your best friend would love. Remember, this is all about showing them that you care. Buy one for yourself too so that you're matching. You could even get the bracelets custom-made to give them a more special feel. 
When you present the gift, don't forget to include a thoughtful note expressing how much you appreciate their presence in your life. In friendships, most of the time it's the small things like this that count.
A Scented Candle
Stress is something that a lot of people battle with daily and your friend is probably not left out. Aromatherapy is a way of relaxing with the aid of scents from plant-based essential oils. 
Gifting them a scented candle will fill their apartment with beautiful smells that will help them to feel better rested. These aromatherapy candles come in different flavors that have different effects, for example,
Lavender helps reduce anxiety and insomnia.

Citrus can improve cognition in people with Alzheimer's. 

Cinnamon helps to improve concentration. 

Peppermint can help to calm mentally fatigued people.

Rose contains antidepressants that aid in relieving stress and depression.
A Weighted Blanket
If your friend struggles with sleep, a weighted blanket could be an ideal gift. Along with the weighted blanket, you can get them other gifts to help them sleep better, like an eye mask. 
This shows them that you take their rest seriously and you only wish for them to be well-rejuvenated and ready to face their days.
A Book Of Affirmations
We all have days when we feel down and life gets overwhelming. A book of affirmations, packed with uplifting and positive quotes, can provide your friend with a constant source of positivity.
It will be a good thing to remember you with, as every time they are down they can pick it up and see it as a sign that you are always there for them, even when you can't be with them physically.
Make Them A Playlist
Creating a friendship playlist is a cost-effective gift; all it takes is thoughtfully arranging songs. You could curate a thoughtful playlist with songs that express the thoughts that you feel toward your friend. 
It's a good idea to include songs that the two of you have listened to together too. Perhaps include a song that both of you enjoyed during a memorable past trip.
A Necklace
When you decide to get your best friend a necklace, it doesn't have to be just normal jewelry. There are many creative ideas you can incorporate into a necklace to make it uniquely personal and thoughtful. Some of them are:
A necklace with their zodiac sign as the pendant

Matching necklaces

A birthstone necklace, with their birthstone of course

Perhaps the necklace they've been eyeing and admiring for months

A locket, filled with pictures of the two of you
Their Favorite Meal
Eating good food is an instant source of dopamine, particularly if that was made with love. The act of cooking for someone often conveys a sense of love and care. 
Treat your friend to their favorite meal. Plan a dinner party and lay out a large table, and of course, add their favorite wine to it. It would surely be an experience that they remember fondly for a long time to come.
Wrapping Up
It can be easy to take our friends for granted precisely because they're always there. While it's often the little things that fortify friendships, everyone appreciates a grand gesture from time to time.
One way to show your care for your friend is to give them thoughtful gifts they would love, such as personalized puzzles, scented candles, or their favorite meal.
Your best friend is always there for you; it's only fitting to show your appreciation.