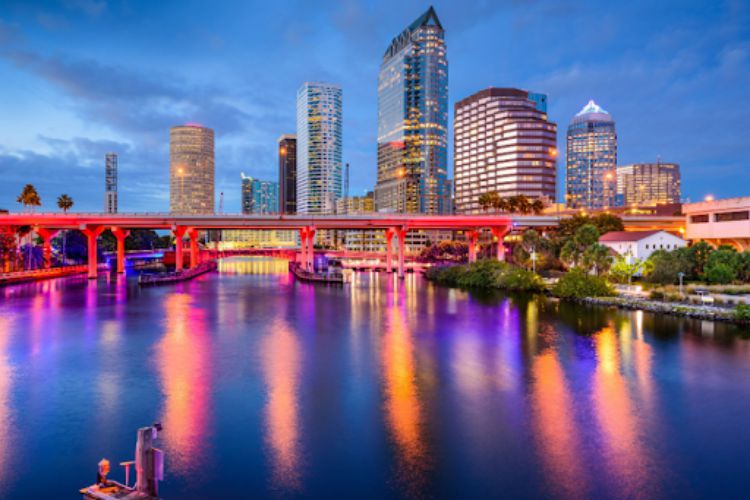 Wondering if Florida is the place for you?
Florida has many benefits that can bring a fulfilling lifestyle. From mild winters to affordable lifestyle choices, you will be able to make your goals a reality.
But there can be some downsides that reveal themselves over time, too. How do you know if it's a place you will feel at home in?
This short guide reveals the pros and cons of living in Florida to help you make a wise decision.
The Pros of Florida Living
Living in Florida has its fair share of advantages and disadvantages. On the positive side, these are:
Climate
The Sunshine State boasts warm, sunny weather almost year-round, perfect for outdoor activities. This beautiful weather also makes it an ideal place for retirees to settle down. 
No State Income Tax
Floridians do not have to pay any state income taxes on their earnings, leaving them with more money to spend on essentials or luxuries. This is especially beneficial for those on fixed incomes or for retirees living on a budget.
Beaches
Florida is known for its beautiful beaches and warm climate, making it an attractive place to live for beach lovers. It has endless beachside living, from the popular tourist spots like Miami Beach to the tranquil and secluded beaches of the Florida Keys.
The abundance of Florida rentals offers a variety of housing options, ranging from affordable apartments to luxurious beachfront properties. 
Outdoor Activities
One of the greatest advantages of living in Florida is having access to a wide variety of outdoor activities year-round. It has numerous state parks and wildlife preserves, providing endless opportunities for hiking, camping, and wildlife observation.
The Cons of Moving to Florida
Moving to Florida is appealing with its sunny weather and beautiful beaches. However, there are some drawbacks to living in Florida:
High Insurance Costs
Florida has high premiums for property insurance, particularly for homes near the coast where hurricanes are frequent. Moreover, the high cost of living in Florida also translates to higher car insurance rates.
Traffic and Congestion
With millions of tourists flocking to popular destinations such as Miami and Orlando, the roads can become overwhelmingly crowded and slow. This leads to longer commute times, stress, and potential accidents.
Hurricanes All Year Round
With the hurricane season lasting from June to November every year, Florida residents are constantly preparing for potential storms and their aftermath. The constant threat of hurricanes can be a major downside, as it can cause property damage and affect daily life.
Economic Disparities
Florida has a high cost of living, making it difficult for low-income individuals to afford necessities. The state also struggles with economic disparities, with some areas being more affluent than others, leading to unequal distribution of resources. This can also impact access to quality education and healthcare.
Learning the Pros and Cons of Living in Florida
The pros and cons of living in Florida offer a balance of benefits and drawbacks to consider before making the move. While the warm weather, sandy beaches, and various recreational activities make it an ideal place to retire or vacation, factors like high cost of living, hurricanes, and traffic can be challenging.
Ultimately, it is important to carefully weigh the benefits and drawbacks and make an informed decision. If you're considering a move to Florida, be sure to research and plan to ensure a successful transition.
Check out our other blog posts for more informative content.