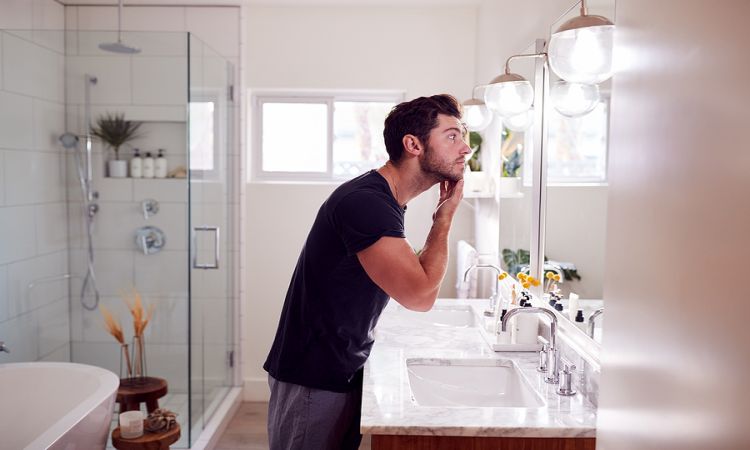 Men and women spend a lot of time grooming themselves in the bathroom. Some of their restroom habits, however, are downright disgusting.
From forgetting to wipe down the sink and not cleaning the toilet seat, these bad bathroom habits can drive people crazy. Thankfully, the solutions are easy. Make their daily habits, and you'll never have to worry about a gross bathroom again.
Clean the Sink
According to BowlsEye, the sink is one of the most important areas to keep clean. It collects a lot of grime from toothpaste, makeup, and hair. Even worse, it can become a breeding ground for germs. That's why it's so important to take the time to clean your sink regularly. Fortunately, it's not as difficult as you might think!
Start by running hot water over the sink to flush out any food particles. Then, use a sponge to scrub the surface of the sink. Be sure to scrub hard-to-reach spots like the corners and the seam around the drain. After scrubbing, rinse the sink with hot water and dry it with a cloth. You can also add a few drops of lemon oil to the sponge, which will leave your sink smelling fresh and clean.
Another tip for cleaning the sink is to pour baking soda over the surface and let it sit. Baking soda will break down grime and can also help to remove any stains. If you have a particularly stubborn stain, sprinkle some baking soda on the surface and scrub it with a toothbrush. This will work best on porous surfaces, such as porcelain.
Finally, don't forget to wipe down the faucet handles and the drain as well! According to University of Arizona microbiology professor Charles Gerba, the drain has the highest bacteria count of any part of the bathroom. That's why it's crucial to wipe down the drain after using the toilet and washing your hands. Adding these little cleaning tips to your weekly routine will keep your bathroom cleaner and germ-free!
Keep the Toilet Clean
Even if it's not your favorite chore, there is nothing that says "this man has his shit together" quite like a sparkling toilet. A dirty toilet can spread germs to other parts of the bathroom, but the cleaning process is actually pretty quick and easy with the right supplies and a good schedule.
Start by sanitizing the toilet handle, flusher, and tank with disinfecting wipes. Then spray a cleaner around the outside of the bowl, getting into hard-to-reach spots like the back of the base and underside of the seat. Next, wipe down the interior of the bowl, paying special attention to the lid, rim, and exterior. Finally, wipe the seat top and bottom and change out the paper towel.
Once the toilet is clean, it's a good idea to keep a pack of disinfectant wipes near the sink for regular wiping, says Andres. This will prevent grime from building up on the seat and handle, making weekly deep cleanings a breeze.
Then, get into a habit of wiping the toilet after every use. This will prevent pee-on-the-seat incidents and can be done in a few seconds with an antibacterial wipe.
And be sure to put the towels and bath mat on a rack or hook where air can circulate so they don't collect smell-causing moisture and bacteria. Washing them once a week in hot water with a laundry detergent or fabric softener helps reduce bacteria and odors as well. Finally, if you have a shower curtain, pull it away from the toilet. This will reduce the amount of splatter that hits it and helps protect the curtain from staining and mold growth.
Keep the Floor Clean
One of the most important things you can do to keep your bathroom clean is to sweep and mop the floor regularly. This will prevent hair from accumulating on the sink, toilet, and floor. Hair strands can get sticky if left on the floor, and they may even fall into your shower or tub water.
To make this task easier, removing all of the furniture and items in the bathroom before you begin to vacuum and mop the floors is a good idea. This will give you the best possible results and help you to avoid missing any spots.
You'll also want to use a good quality floor cleaner. This will make the job much easier and leave your bathroom looking a lot more attractive. Be sure to test your cleaning product on a small section of the floor before using it on the entire area.
It's best to sweep the floor every day or two and mop it at least once a week. Doing this will help keep the floors looking nice and clean and make it less likely that you'll need to do deep cleaning tasks like scrubbing the grout between tiles as often.
Another great way to keep your floor clean is using a sticky roller on the areas where hair most likely accumulates. This will pick up most of the hair and debris stuck to the floor and make it a lot easier to sweep up later.
Finally, be sure to clean up any stains or spills as soon as they happen. This will make the spots much easier to clean and will also help to prevent them from becoming mold or mildew.
Clean the Tub
Getting the bathtub free of soap scum and mineral deposits can make a big difference in how clean the entire bathroom feels. A dirty tub can also be a breeding ground for germs and may even contribute to illnesses. A regular cleaning schedule and a deep clean every month or two are key.
To clean the tub, start by filling a bucket with hot water and a few tablespoons of dish soap. Add a non-abrasive scrub sponge and begin to work away. Make sure to wipe the handles and drain, too. Rinse the tub and wipe away any remaining stains with a towel or rag.
It's a good idea to wear gloves when cleaning the tub, especially if you have children or sensitive skin. This will protect your hands from the potentially harsh chemicals used to scrub a tub. It's also a good idea to wear a face mask when cleaning the tub, particularly if it has a lot of mildew and mold.
If your tub is made of fiberglass or acrylic, you can use an all-natural cleaner like vinegar. Home Depot notes that this method is great for removing stubborn stains, as it's gentler on the tub surface than other cleaners.
For porcelain-enamel tubs, scouring powder or brushes can scratch the surface and leave behind chipping areas. If this is the case, a bit of baking soda should help, but you may need to use more than just this solution. This method is particularly effective for soaking and loosening stubborn soap scum stains, which can be hard to remove otherwise. Be sure to rinse the tub thoroughly with hot water afterward to wash away any residual cleaner.
Keep the Shower Clean
Showers are wet, hot environments that create a breeding ground for bacteria and mildew. They also contain lots of hair, soap scum, and other debris, making them hard to completely clean. This is why cleaning your bathroom regularly and keeping up with a regular bathing routine is important.
Keeping up with this cleaning task doesn't have to be a huge chore, especially if you follow these simple tips. First, ensure you're working in a well-ventilated area, and your bathroom fan is running to help remove any lingering moisture. Next, choose a cleaning solution safe for your bathroom (or at least one that won't damage your shower) and scrub. Be sure to take special care around your shower head, which tends to accumulate the most grime, and don't forget to scrub down the base of the tub to prevent mold and mildew.
When you're done scrubbing, rinse down the shower and bath surfaces with clean, warm water. Once they're dry, grab a squeegee or microfiber cloth, and wipe down any spots you may have missed. Finally, let your exhaust fan run for 10-15 minutes afterward to further reduce humidity in the room.
If your older adult struggles with a negative attitude toward bathing, try using positive reinforcement and rewards to encourage them to get in the habit. For example, offer to escort them to the bathtub with a hand or arm when they're ready. This can help to build a sense of trust and reduce the anxiety that often accompanies bathroom visits. Try pairing bathing with other fun, relaxing activities to make it a more enjoyable experience for them.