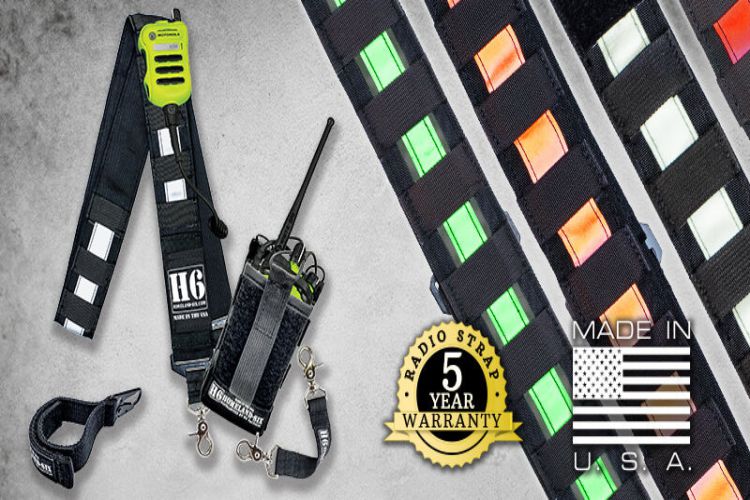 Firefighters are modern-day heroes who face extraordinary challenges and risks in their line of duty. Their equipment is crucial in ensuring their safety and effectiveness during emergencies. Among the many components of a firefighter's gear, Nylon radio straps are essential for maintaining communication and coordination within the team. 
Here are some reasons why nylon is the superior material for these straps.
1. Durability and Reliability
Nylon is renowned for its exceptional durability and resistance to wear and tear. In the demanding environment firefighters operate in, having equipment that can withstand rough handling, extreme temperatures, and exposure to water and chemicals is paramount. 
Nylon's robustness ensures that radio straps remain intact and functional even in the harshest conditions, thus providing firefighters with reliable communication tools when they need them the most.
2. Water Resistance and Moisture Management
Firefighters mostly use water in their work, whether from hoses, sprinkler systems, or natural sources. Nylon's natural water resistance is a significant advantage in this regard. Unlike some other materials, nylon fibers repel water, preventing the straps from becoming waterlogged. 
Waterlogged straps not only add unnecessary weight but can also compromise comfort and functionality. Nylon's ability to manage moisture ensures that the radio straps remain lightweight and comfortable, allowing firefighters to focus on their tasks without distractions.
3. Lightweight Design and Enhanced Mobility
Firefighters carry a lot of equipment and every ounce matters. Nylon's lightweight nature makes it an ideal choice for radio straps, thus reducing the overall burden on firefighters. Lightweight straps enhance mobility, allowing firefighters to move swiftly and efficiently in dynamic and challenging environments. 
Unrestricted movement is vital for performing various tasks, such as climbing ladders, navigating confined spaces, and carrying heavy equipment. Nylon straps provide the necessary support without impeding movement to ensure firefighters can respond effectively to emergencies.
4. Flexibility and Comfort
Nylon's inherent flexibility allows for the design of straps that contour to the body, ensuring a comfortable and secure fit. Firefighters wear their gear for long periods, so comfort is paramount. 
Nylon radio strap is adjustable and customized to fit different body sizes and shapes, thus providing a tailored and comfortable experience for every firefighter. Moreover, the soft texture of nylon minimizes the risk of chafing or irritation, allowing firefighters to focus on their tasks without discomfort.
5. Easy Maintenance and Longevity
Firefighter gear requires regular maintenance to ensure functionality and hygiene. Nylon is relatively easy to clean and maintain, allowing firefighters to keep their radio straps in optimal condition. 
Regular cleaning not only extends the lifespan of the straps but also ensures that they meet safety standards. Nylon's resistance to mold and mildew is another advantage, as it prevents the straps from deteriorating over time.
Summary 
Nylon's durability, water resistance, lightweight design, flexibility, and ease of maintenance make it the best material for firefighter radio straps. These straps are not just accessories; they are lifelines that facilitate communication and coordination, ultimately enhancing the safety and effectiveness of firefighters in the line of duty. 
As technology advances and firefighting techniques evolve, the importance of reliable and durable equipment like nylon radio straps cannot be overstated. Firefighters deserve the best, and nylon delivers on all fronts, making it the material of choice for their essential communication accessories.