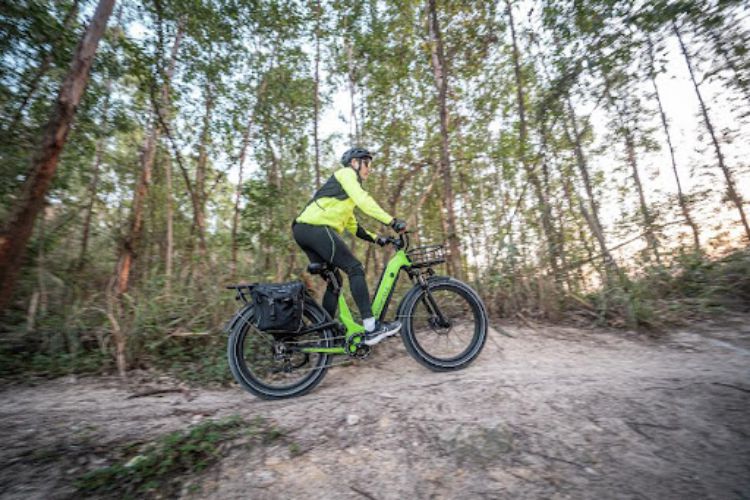 Buying a standard electric mountain bike needs you to consider a lot and make a few decisions, such as the colors, the motor power, battery capacity, or the frame size. It is not simply paying and hopping on the bike. You should know well what kind of rider you are or what are the purposes for purchasing an electric mountain bike.
Moreover, when it comes to buying a full-suspension electric bike, the things to consider will be far more as it is quite a big investment to purchase a full-suspension ebike. In this post, we will cover most things that should be taken into consideration before buying a full-suspension electric bike.
1. Your purpose for riding full-suspension electric bikes
We got a variety of reasons to purchase an ebike. Many people find it convenient to go around and run errands on ebikes instead of driving a car. We don't have to abandon cars, but it could be a waste of money if we need to pay for parking every time we simply drive to a supermarket. In this scenario, a commuter ebike could meet most needs. You don't need fat tire electric bikes to run on city streets. Also, a full-suspension electric bike is not necessarily needed.
For some mountain bike lovers, electric bikes are equipment bringing entertainment. They love to use them for off-road riding to get a stimulating experience. Under this circumstance, full-suspension electric bikes and electric mountain bikes are strongly recommended. After all, they are specially designed for this purpose.
The point is that you are recommended to choose electric bikes based on your purposes in order to avoid the excessive expense or unnecessary troubles. Of course, it is your choice, you could just buy whatever models you prefer.
2. The Amount of Suspension Travel Needed
What is the amount of suspension travel of a full-suspension electric bike? To be specific, it refers to the max distance the bike will go while the rider applies suspension shock. Every ebike expert knows how important it is to have an ebike suspension. It aims to provide more comfort, especially when you are riding on rough terrain. If you tend to ride on smooth and flat streets, it doesn't make a big difference to riding on a hardtail electric mountain bike or rigid ebike. However, to ride off-road, a full-suspension electric bike is mostly needed as it can give you the most comfortable ebike rides by absorbing shocks and vibration.
So how much suspension travel usually do we need? Simply, the more suspension your full-suspension electric bikes have, the better they will be at shock absorption. The travel distance of a full-suspension electric bike can vary between 120mm and 200mm. Without a doubt, you should pick up the full-suspension electric bike with the highest level of suspension travel.
3. Experienced or not
Riding a full-suspension electric bike is not always as easy as you think. It requires skills and experience. Compared with ebike newbies, those experienced ebike riders are capable of tackling rugged terrain.
Here we got some advice for your choice of ebikes. If you are an ebike newbie, full-suspension ebikes are your first choice. They can provide you with smoother handling. A smoother and greater handling guarantees riders' safety and riding experience. You may be wondering why they can provide smoother handling. First, most full-suspension electric bikes are equipped with fat tires. As fat tire electric bikes, they can offer more grip on the ground, making your ebike rides more stable. Also, a lot of full-suspension electric bikes have hydraulic disc brakes. This kind of brake is one of the best ones in its field, which is flexible and responsible. With their help, you will be able to handle any turns and bumps with ease.
If you are an ebike expert, you may not have to select full-suspension electric bikes. Instead, hardtail electric mountain bikes could be preferable. They help experienced riders improve their riding skills to gain more excitement. That is because they have only a front suspension fork so there is no suspension for the rear part of the bike. To avoid those bumps and shocks from the rear part on a hardtail electric mountain bike, riders need to make full use of their skills.
4. Battery Capacity
Electric bikes, including full-suspension electric mountain bikes, are equipped with batteries, which are mostly lithium-ion ones. They could be different mainly in battery capacity as there are all kinds of scenarios for the use of ebikes. For instance, some electric bikes are used for city commuting, while others are applied to mountain bike trails. Both these two scenarios don't necessarily need the same battery capacity. In short, riding on a full-suspension electric bike off-road requires much more energy.
It is kind of an adventure to use full-suspension electric bikes for off-road riding. Compared to riding on flat streets, riders will hit far more bumps and rocks while riding off-road. And this will lead to more energy consumption and loss. Therefore, if you intend to ride off-road with a full-suspension ebike, you'd better choose one with a larger battery.
Normally, battery capacity is measured by voltage. We could always see 36V, 48V, and 52V batteries available on the market, and it is obvious that the higher the voltage, the greater the capacity of the battery. A 52v battery is the first choice.
5. Where to buy a full-suspension electric bike
When it comes to buying a full-suspension ebike, you may try to figure out which ebike brand to buy from. There are a great number of ebike brands around the globe, and it could be confusing and quite difficult to make that choice. Magicycle has made several ebike comparisons, which might help.
Generally, to select an ebike brand, most of us will focus on customer reviews. It could be a fair way to see if it is the very ebike brand you are looking for. However, you know some of those reviews could be fake, so we should look at them objectively.
Another factor that you should consider is the factory. Many ebike brands don't own a factory. For this reason, they have to turn to independent electric bike factories. We don't mean to say that all those independent ebike factories are not good. The thing is that it will be quite hard to keep an eye on quality control if ebike brands don't have a self-operated factory.
Taking Magicycle as an example, every ebike from it is manufactured under strict quality control as Magicycle has its own factory. When it comes to some specific quality issues or suggestions for improvement, Magicycle can react to them immediately and solve all those problems without wasting time and getting involved in disputes.
In a word, a full-suspension electric bike is a comprehensive ebike model, which can be used in diverse scenarios. All you need to do is take the 5 things above into consideration to purchase the best ebike you've ever dreamed of. 
Magicycle Deer Full Suspension Ebike SUV is now available at only $2,600. Now you can use the code FH300 to get $300 off. Limited Offer, come check out and grab one.