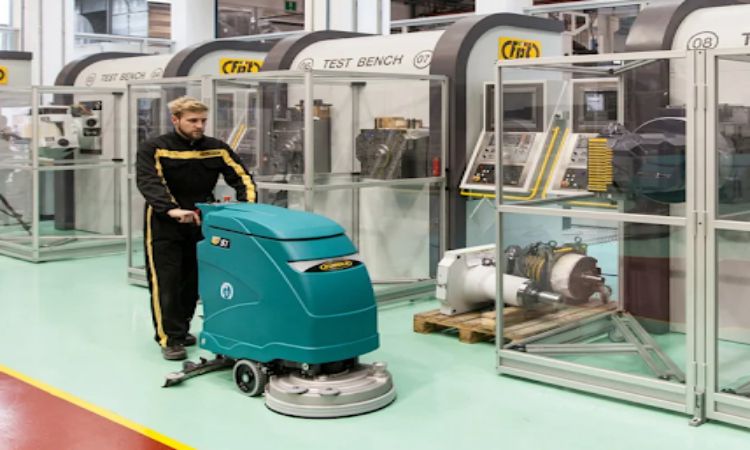 Maintaining clean floors is no mean task, especially in work areas and commercial establishments with constant activity and large footfalls. Keeping the floors clean in high-activity areas can be a non-stop job for the cleaning staff that can be very taxing and exhausting if done manually without the help of dedicated cleaning equipment specially designed for this job.
Various kinds and sizes of cleaning equipment are available based on the area, specific space, and business requirements. Large areas like factories, warehouses, malls, etc. either require an army of cleaning staff to clean the floors and maintain them round the clock, which means handling the team and bearing the expense all year round, or opt for an easier, less bothersome solution of investing in a good industrial floor scrubber.
While industrial floor scrubbers are ideal for large floor areas, they are not suitable for medium-sized or small areas or spaces with constricted open areas to move around with a large cleaning machine. Such spaces need small floor scrubbers that are manually operated and can be easily maneuvered through the space, making sure the floors remain clean.
To make a small floor scrubber work at its optimum to give good results, knowing how and where to use it is important. Small floor scrubbers are best used on hard surfaces to remove accumulated dust and moldy particles. Here are some tips for using a small floor scrubber on floor surfaces:
Using small floor scrubbers on different floor surfaces
1. Brushes:
Floor scrubbers have different brushes specifically created to clean different floors. So knowing the different kinds of brushes and their purposes is important before using an industrial or small floor scrubber.
Poly brush
Nylon brush
Strip-grit brush
Scrub grit brush
2. Rough surface floors:
Floor scrubbers work best on hard surfaces like concrete, terrazzo, hard stone, and cemented floors. Depending on the surface and its state of uncleanliness, you may need to use multiple brushes to scrub an area. Rough surfaces like concrete floors in common areas like loading docks for a small firm or the approach strip to the main office area can be scrubbed clean with a nylon brush attached to the small floor scrubber. Nylon brushes last longer as their bristle bend recovery makes them last longer while tackling rough, hard floors.
3. Tiled surfaces:
Bathrooms and kitchens usually have tiled floors, which can get very dirty, with dirt and grout accumulating in the joints and corners. A polymer or poly brush fitted on a small floor scrubber is best for such areas. Poly brushes are highly resistant and more durable than plastic, and they also do not scratch tiled surfaces.
4. Resilient floors:
Hard-surface resilient floors like tiles, non-slip epoxy surfaces, and terrazzo need a harder brush like the scrub grit brush. You can use an industrial floor scrubber for large areas and a small floor scrubber, also known as a walk-behind scrubber, for smaller areas, both fitted with this extremely durable and minimally aggressive scrub grit brush.
5. Aggressive cleaning:
Some hard surface floors, like concrete or cemented floors, in manufacturing or repair areas become layered with grease, oil, dirt, and dust, making the floor accident-prone and very hard to clean. A strip-grit brush is ideal for areas requiring aggressive scrubbing and cleaning. These brushes can also be used for stripping finishes off tiled floors if you want to replace the tiles or treat them with a different polish or effect.
Small floor scrubbers are best for small areas, as they are easier to operate and direct manually. For specific corners and spots where the scrubber cannot reach, you can clean them manually with specific cleaning tools.
Please note that scrubbers are not recommended for softer and porous surfaces like wooden floors, linoleum, natural stone surfaces like all types of marble stones, granite, synthetic tiles, and all soft and shiny surfaces. Such surfaces require different types of cleaning equipment to clean and maintain them.