Do you have home solar panels, but you haven't been maintaining them? Well, you're not alone. Plenty of homeowners make the mistake of not maintaining their home solar panels.
But if you don't maintain your solar panels, you'll never be able to reap all the benefits that they can offer. If you need help avoiding some of the most common mistakes with home solar maintenance, just keep on reading.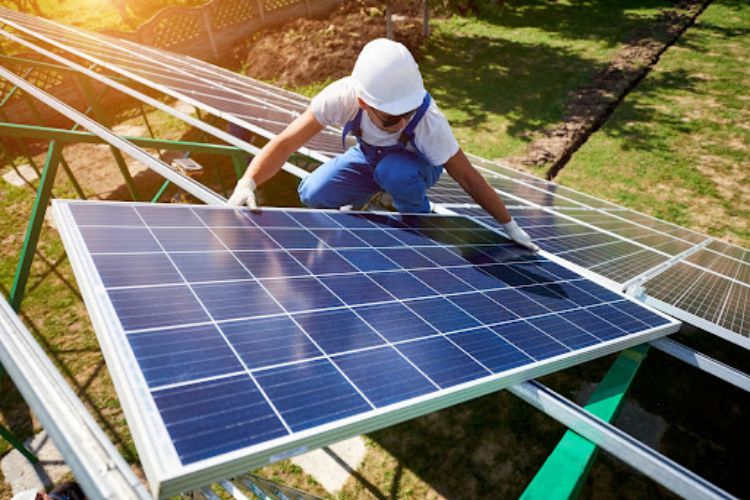 We'll cover some of the most common issues that you should pay attention to.
Read on!
Not Cleaning Your Solar Panels Regularly
Clean and regularly inspecting your home's solar panels is one of the most important steps in maintaining a healthy system. Failing to clean your solar panels will reduce their efficiency and cost you money in the long run. Common mistakes people make with cleaning include forgetting to clean after storms and using abrasive cleaners. This of which can damage the solar cells.
To avoid these kinds of mistakes and ensure the most efficient functioning of your solar panels, it is important to regularly rinse them using a soft-bristled brush and mild detergent. Additionally, you should use a garden hose to rinse off any built-up dirt, pollen, and other residues from the bottom and sides of the panels.
Using Harsh Cleaning Products
Using harsh cleaning products on a solar system can be a common mistake for folks with home solar, as it can damage key parts, like the panels and inverter. For example, using solvents, paint thinner, a degreaser, or other chemical-based solutions can corrode metal components or cause the surface of the panels to degrade.
To avoid making this type of mistake, use a combination of a damp cloth, water, and mild soap to clean your panels and inverters. Additionally, never climb onto the roof or use an abrasive device such as a razor to clean the panels.
These tools can damage the curved surface and reduce the performance of the system. Regular home solar maintenance should be done by a solar specialist to ensure you are reaping the full benefits of your solar power.
Not Checking for Damage or Wear and Tear
Sun, wind, and rain can cause serious damage to solar panels, and if these issues are not addressed, they can become more serious, resulting in costly repairs or replacements. To avoid this mistake, regular inspections of the system should be done every three to six months to check for cracks and other signs of wear and tear.
If any damage is noticed, solar panel repairs should be done as soon as possible. Proper cleaning and regular inspections will ensure the strength of the system and its lifespan.
Not Monitoring Your Solar System's Performance
Without keeping track of the system's performance, you run the risk of not identifying any problems that may arise and, therefore, not being able to quickly rectify them. Simple steps such as regularly inspecting your solar unit(s) for any visual signs, inconsistency, or change in performance, keeping track of the wattage output, and checking the system's alarms and alerts should be part of your solar maintenance routine.
If you are worried about specific areas, such as not having the right data loggers or resources in place, it's worth considering calling in an expert to help. Regular monitoring and maintenance of your home solar system can help make sure its performance remains stable and you are not paying for an inefficient unit.
Not Scheduling Regular Maintenance
Solar systems will eventually start to show signs of deterioration if they are not taken care of regularly. It is important to have a professional schedule a yearly inspection of the system to catch any potential problems before they become big issues. Homeowners should make sure to check the system for issues like broken solar cells or loose connections.
It is beneficial to schedule a professional to do a deep cleaning of the solar panels to remove dust and debris to ensure the system is running efficiently. This will help to extend the life of the system and ensure the homeowner is getting the most out of their investment.
Not Following Safety Precautions
It's important to remember that solar systems use electricity. This can cause electrical shocks and other potentially dangerous situations. Always work on the system in a dry, safe location and follow all associated safety precautions and instructions.
Wear rubber-soled shoes and use non-contact voltage testers when touching any wiring. Make sure that all current measurements are taken before altering any wiring.
Keep an eye out for any damaged wires or components, and always be aware of the system's maximum power output. Make sure to inspect the system for any problems or broken parts before turning it on, and do not forget to check the system's grounding.
Not Keeping Track of Warranties and Contracts
To ensure you're getting the best out of your investment, warranties and contracts should be tracked closely. Some companies will let you know when it's time to look into renewing warranties to keep your system covered for any malfunctions and to be sure you're getting the most out of your contract.
Pay attention to any paperwork you receive from your solar panel company, especially those important documents. Make backups of documents and store them in a safe place. Monitor upcoming due dates for all relevant documents so you don't find yourself out of warranty protection.
Keep in contact with your installer, and request information such as warranty paperwork and other documents that could be of help for future reference. Avoiding this common maintenance mistake is easy if you stay organized and keep on top of your agreement details and be sure that your system's maintenance will be covered by the warranty continually. To keep up with the latest solar panel technology, get information here.
Avoid These Mistakes With Home Solar Maintenance
It is important to remember the mistakes with home solar maintenance to avoid keeping it functioning efficiently. Don't forget to clean your panels and check all the safety features. Make sure to correctly use solar products and regularly inspect for any unanticipated damages.
Visit our blog for more helpful articles!