Are you interested in fishing? Do you want to spend more time fishing with friends and family? Are you looking for the best fishing rods to buy? Do you know what to look for when choosing a fishing rod? In this article, we discuss the important factors to consider when choosing a fishing rod.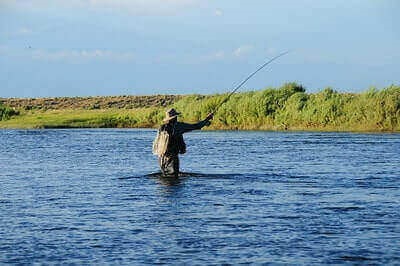 Rod LengthWhen you are deciding on which fishing rod to buy, the length of the rod is one of the most important factors to take into consideration. How you will fish will also determine the length of the rod. If you are a beginner and will try to catch fish from the shore of rivers, ponds, creeks, and streams, then a reasonable rod length will work.

Additionally, the length of the fishing rod will influence how far you can cast. If you are a more experienced fisherman, then you may go for a longer fishing rod that you will use to cast at longer distances whether you are on the banks of rivers or on a boat. You can usually find fishing rods with lengths ranging from 4 to 15 feet.

MaterialWhen choosing a fishing rod, another important factor to consider is the type of material that the fishing rod is made of. Most fishing rods are made of graphite, fiberglass, composite, or bamboo. How well the fishing rod performs when fishing depends largely on the type of material that it is made of.
PowerYour success when fishing has a lot to do with the power of the fishing rod. Most of the time, you will have to wrestle large and powerful fish that will use all of their power and guile to unhook themselves from your line.

How much power the fishing rod has will determine your success in overpowering large and powerful fish that are hooked onto your line. This power will help you win the fight and reel them in. Even though your fishing skills will be important, you will need a good amount of power to win the fight. The power of fishing rods is usually rated from ultra-light, light, medium, medium-heavy, heavy, and ultra-heavy.

ActionThe action of the fishing rod is another important performance component to take into consideration when choosing one. It indicates how much and where the fishing rod will bend. Additionally, the action also controls the speed at which the rod reverts back to its original position from the position of being loaded. There are basically three main rod actions: fast, medium, and slow.
Rod GuideRod guides keep the fishing lines moving evenly and smoothly in the designated path for you to successfully fish. Rod guides reduce the stress on the line allowing you to cast with more precision. They are made of metal with a ceramic coating on the inside which allows it to move smoothly by reducing the friction on the line.
Rod HandleWhen you are fishing, you want it to be as comfortable as possible. Most of the time, you will spend many hours fishing and a comfortable fishing rod will make it easier and more fun. Additionally, when you are wrestling with a large and powerful fish that is hooked on your line, a comfortable fishing rod will also make it easier for you to overpower and reel in the catch.

Moreover, most rod handles are made of cork or EVA. Cork is a more comfortable and sensitive material than EVA. But EVA is more durable and less expensive than cork. Cork is also harder to clean and gets more dents than EVA.

ShapeThe shape of the fishing rod handle is also important when you are choosing one. They are designed in a number of different shapes. However, the pistol grip and the trigger stick are two of the most popular shapes available on the market.

The pistol grip features a short and contoured handle with a hook for the index finger. It is ideal for casting accuracy and precise jigging movements. The trigger stick, on the other hand, allows you to cast with both hands since it is a longer handle. It allows you to cast farther than the pistol grip and is ideal for wrestling large and powerful fish.

Conclusion

Fishing is an exciting and rewarding outdoor activity that is gaining more popularity each year. To fish, you will need equipment to be successful and the fishing rod is one of the main equipment that you will need to get.

With so many different brands and models of fishing rods on the market today, it can be a little confusing to choose the best one for your fishing trips if you don't have any experience or guidance. In this article, we discussed the main factors to consider when choosing a fishing rod.

If you are also interested in baitcasting reels, then you can read about the best baitcasting reels on the market today. Moreover, you can get more fishing tips and strategies to catch a wide variety of fish from this link.