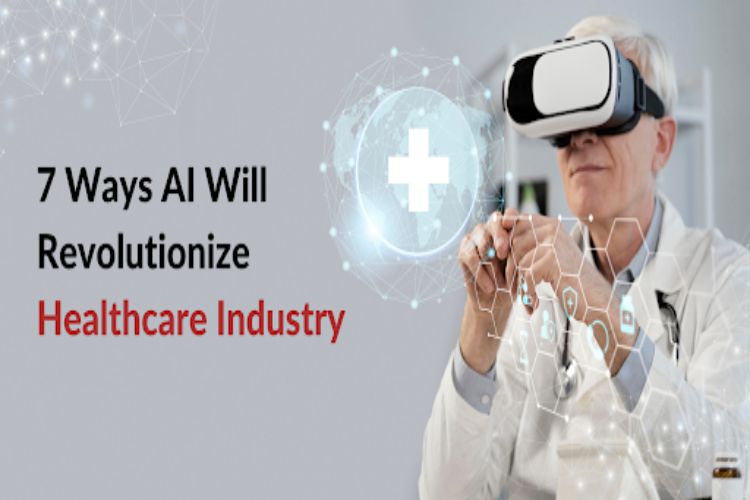 Globally, AI is revolutionizing every industry, including healthcare. To achieve the best outcomes, several of the market's major players have already invested in AI technology in healthcare, big data, and similar technologies. The most important attribute an application of AI in healthcare gives to humans is its capacity for pattern recognition.
From accelerating improvements in drug and pharmaceutical business development through faster diagnosis and treatment. Their influence on the healthcare industry is unmatched!
In this blog, we'll go into more detail about AI and how AI development services are changing the healthcare industry.  
The Impact of Applications of AI in the Healthcare Industry!
AI software development is redefining healthcare procedures and has the potential to save many lives while reducing costs by billions of dollars annually. 
It has changed the way we perceive healthcare, moving it away from routine clinical care and toward intricate procedures. The sector has benefited from artificial intelligence's enhanced clinical treatment and diagnostics, innovative medicine development, early identification of key pain points, and effective decision-making.  
These days, AI-enabled robots are also contributing to an increase in successful treatments. The robots have surgical tools, motorized arms, and cameras. Every region of the human body may be reached by them, and they offer a more transparent, magnified image of the surgical site than what the human eye can. These treatments lessen discomfort, take far less time, and help patients heal more quickly.  
Moving ahead, let's discuss,  
Top Ways in Which AI Will Revolutionize the Healthcare Industry!
By enhancing current solutions and conquering challenges more quickly, AI in healthcare has the potential to assist professionals in many facets of patient care and administrative procedures. 
Here are a few ways how AI development services are used in healthcare:  
1. Accurate diagnosis 
Misdiagnosis is a primary concern for both patients and healthcare professionals. Doctors can accurately analyze MRI reports, CT scans, and other types of images using AI development services and digital medical tools like computer vision.  
2. Virtual assistants 
Applications of AI in healthcare help with tasks like reminding patients about impending medical appointments and directing people to the appropriate hospital or doctor to match their medical needs. 
Their availability around-the-clock is one of their advantages for patients and healthcare facilities. Without a doubt, such software goes beyond the conventional voicemail decision tree to a process that utilizes AI technology in healthcare to make wise selections based on examining patient data and input.  
3. Risk analysis 
To provide preventative care, you can identify individuals at risk of contracting a particular disease using a pattern recognition algorithm. Healthcare practitioners, on the other hand, can make wise decisions with timely insights by utilizing applications of AI in healthcare.  
4. Radiology 
In radiology, doctors manually evaluate the patient's medical records and photographs to find disease. With AI technology in healthcare on the field, the time needed to do the same activity is multiplied, and the procedure is hassle-free for both the patient and the doctor.  
AI applications in healthcare can considerably enhance patient care since they optimize several workflows, saving time and money that can then be applied to the patient's care. On the other hand, applications of AI in healthcare also produce a ton of useful data during the process that wasn't previously available. 
5. Workflow administration 
One-sixth of doctors' working hours are spent on administrative chores that have no influence on patient treatment. Healthcare providers can now focus on the crucial aspects of patient care because AI in healthcare app development has dramatically reduced administrative chores. 
Ordering tests, filling prescriptions, and taking notes on charts can all benefit greatly from speech recognition software that permits voice-to-text transcriptions. 
6. Data management
Electronic medical records often contain unstructured, challenging-to-read medical reports. Not to mention that in the sea of billions of data points, important data can be lost and impact patient care, diagnosis, and preventative medicine. 
The healthcare sector has an excellent opportunity to save money and fatalities by using AI-assisted medical data management. Using algorithms to process data can help the pharmaceutical and medical industries save billions of dollars annually.  
AI in healthcare records has user-friendly benefits in addition to boosting data discovery, extraction, and treatment suggestions. Clinical fatigue brought on by manually entering data into electronic medical records can be reduced by using virtual healthcare assistants and AI-based healthcare software development. 
7. Fraud detection 
Claims assessment can be automated using AI development services. The processing, validation, and payment of valid claims are accelerated thanks to machine learning models, which also identify invalid claims before they are paid for. 
However, AI in healthcare app development is also capable of detecting other types of fraud. AI is helpful when it comes to charging for services a patient never had, upcoding (billing for a basic procedure as for something more complex), or preventing the theft of patient data.  
It also helps in the following: 
Quicker processing of insurance. 

Cheaper premiums for patients and decreased healthcare expenditures. 

Greater data security for personal healthcare. 

Increased patient satisfaction.  
Conclusion
AI software development has a strong and pledging use case in custom healthcare software development and in improving patient care and communications, focusing healthcare professionals more intently on tasks unique to their field and offering healthcare organizations a more cost-effective approach.  
It would be wise for healthcare organizations to consider getting more involved in AI innovation. By making long-term investments in AI applications with the help of a top healthcare software development company, healthcare organizations will be better able to compete, grow profitably, engage customers, and deliver individualized experiences.