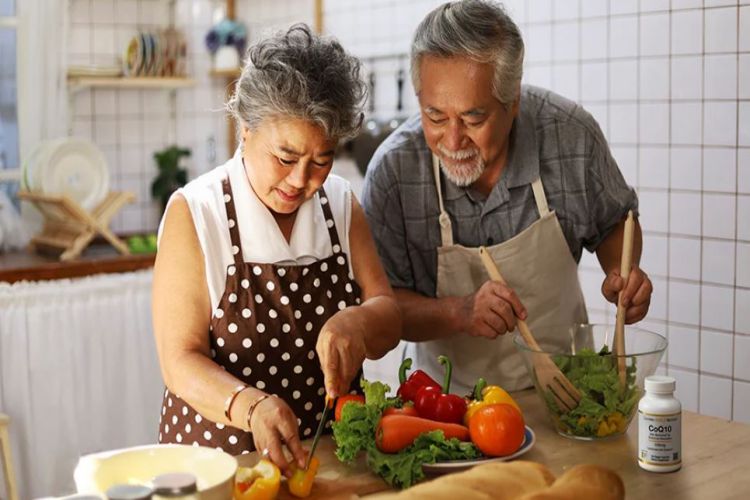 Heart disease is one of the most significant threats seniors face living in the United States face. Nearly 11 percent of adults over 45 in the US have coronary heart disease that prevents them from living the full life they crave. The likelihood of your heart health decreasing as you move toward senior age is high, but there are several things you can do to lower your cholesterol and add to your life.
You can prevent heart disease by consuming a healthy diet and stopping unhealthy habits. The best tips will help you lower your blood pressure and enjoy the best years of your life when friends and family.
Fortunately, you've come to the perfect place to learn about eight habits to start if you want to keep heart disease at bay. Continue reading to boost your heart health and happiness today!
Follow the Right Diet
The diet you're consuming is the first thing to focus on when improving heart health at a senior age. Food has a massive effect on heart health; the wrong foods raise blood pressure and increase the risk of heart disease. The goal is to design your diet around foods high in vitamins and minerals but low in calories.
Foods high in starch and fiber are also beneficial when tailoring your diet to improve heart health. Focus on colorful fruits and fresh vegetables to lower the risk of heart problems.
It's also beneficial to check the nutritional value label on each food item you contemplate purchasing. Limit your saturated and trans-fat consumption. Eat a healthy daily breakfast, and limit your alcohol and high-fat dairy consumption.
Quit Smoking
If you haven't done so already, quitting smoking is imperative as you reach senior age to prevent heart disease. Smoking has several adverse side effects on the body and mind. It's the leading cause of preventable death in the US.
The most significant risk factor of smoking is the damage you cause to the artery walls. No matter how late you start, quitting lowers the risk of heart disease and adds years to your life. You're also reducing the risk of cancer and strokes when you put the cigarettes and cigars down.
It's best to talk with your doctor about your options to help you quit smoking. You can also join a support group of local seniors with the same goal: a healthy heart.
Get Active
An active body and mind are the most significant keys to heart health. Starting and building an exercise program into your routine will help you shed excess body weight and improve your overall fitness. It's one of the best and most natural ways to improve your wellness and lower the risk of cardiac issues and heart disease.
Your fitness plan will help you lower your blood pressure and cholesterol. You don't need to run a marathon or become an Olympic power lifter to enjoy the benefits of physical activity for your health. Brisk walking, hiking, dancing, and gardening are all excellent ways to stay active and boost your heart health when you reach senior age.
Control Your Cholesterol
Controlling your cholesterol is a critical factor in reducing the risk of heart disease. The two most significant risks that cause heart disease are high blood pressure and high cholesterol. High blood pressure causes your arteries to stiffen, making it more difficult for blood to flow through your body.
High cholesterol is bad for heart health because it clogs the veins and arteries with plaque. The plaque could cause a heart attack or stroke since it inhibits blood flow in your body.
You can boost your heart health by finding ways to control your cholesterol and blood pressure. Consider using supplements like semaglutide online to reduce stroke or heart attack risk. Work with your doctor to lower your cholesterol and get your blood pressure in a healthy range.
Minimize Your Stress
Minimizing stress is one of the best methods to improve heart health when you reach senior age. High-stress levels often trigger heart attacks and other heart health issues. Many people with high blood pressure also have high stress levels, but there are several activities you can try to manage stress.
Eating a healthy diet is one of the best ways to mitigate stress's short and long-term effects on the mind and body. Meditation and yoga are other activities to try if you're concerned about your stress levels.
Learn Your Symptoms
Your health symptoms are the body's way of communicating that something is wrong. Learning about and listening to your symptoms is an excellent way to promote heart health in seniors. Numbness and tingling sensations are signs that your heart and arteries are struggling.
Chest pain, lightheadedness, and confusion are other clear signs that your heart health is deteriorating. Talk to your doctor and create an action plan to reverse these symptoms and live a healthy life.
Understand the Risk
Understanding the risk of heart disease is one of the best ways to make lifestyle changes and lower cholesterol and blood pressure. Your risks are higher if you're battling obesity and high blood pressure. Talking to your doctor is the best way to understand the risks you face and the steps to take to improve heart health.
Get More Sleep
Getting plenty of quality sleep each night will help you enjoy a rested mind and a healthy heart. Most people in the US need to get the ideal amount of sleep. Failing to get enough sleep increases the likelihood of obesity, high blood pressure, and diabetes, but you can go to bed earlier to lower the risk of heart disease.
Improve Your Heart Health at Senior Age Today
Improving your heart health at senior age is more attainable than most think, and it starts with a few simple lifestyle changes. Quitting smoking and eating a healthy and nutritious diet will do wonders to lower cholesterol and blood pressure. Use stress-relief activities and get more sleep to give your body the rest it needs to recover and prevent heart disease.
Prioritizing your health pays massive dividends as you age. Take control of your future with more tips and guides from our Health and Fitness blog content today!