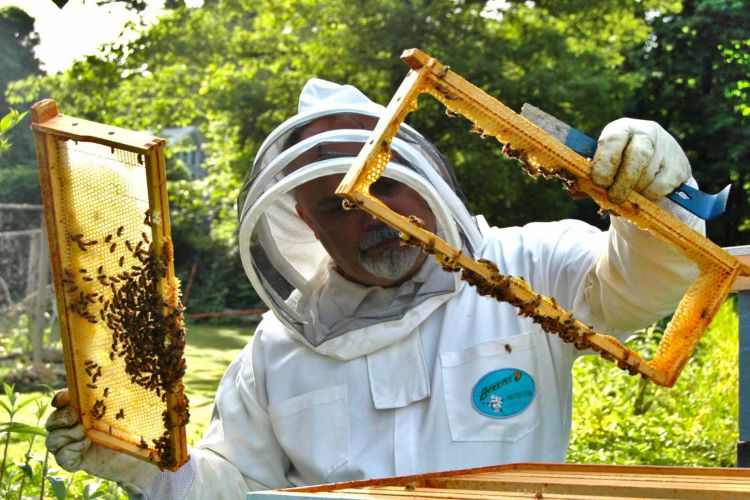 It is something that was once associated with rich people who have retired; the keeping of bees. 
However, in 2023, more people are becoming curious about this hobby because, in simple terms, it is fun, it is quirky, and it allows you to make and have your own honey in the morning!
Of course, bees sting and are not like other animals or invertebrates you may be caring for. You have to keep an entire hive happy and healthy, as well as make sure that your neighbors are safe too. 
So, with that in mind, what are some of the key things you will need to get to keep bees? Here's a simple shopping list.
The Bees
The first thing you need to order is the bees. Is it a good idea to order them before ordering a hive? Yes, because most suppliers of bees only have them for sale during set periods of the year, like spring, so it is best to put in your order as early as possible. You can buy queen bees UK from BS Honey Bees, as well as a nuc or nucleus colony. Or, if you want to, you can buy a hive that has already been put together to make the process a bit easier.
The Hive
As you wait for your buzzing friends to arrive, you will need to choose the hive. There are typically two choices to buy; the first is the Langstroth hive, which are boxes that are stacked, each containing frames that the bees will build their comb and make the honey. Physically, they look like drawers.
Then there is the top bar hive, which is arranged vertically and is pulled out from the top. In this system, the bees will make their honeycomb without a system.
Beekeeping Supplies
You need to get the beekeeping supplies before you begin keeping bees, not as you go!
One of the absolute must-haves is a bee smoker; this is used to blow smoke into the hive to calm the bees down when you want to remove a frame to collect honeycomb or to collect honey. Also, it's just a good idea to have on hand when you are near bees, as you don't want to get stung.
You can also invest in some extra frames for your hive, as well as hive tools, which will help you to pry the frames apart. Honey is a great glue, after all!
Protective Clothing
Of course, you will also need to buy protective clothing, or a bee suit, to protect you against stings. Usually, these are made from cotton canvas and will have a detachable hood with a mesh area at the front which will allow you to see and breathe. You will also need to get gloves, which are very similar to thick gardening gloves, as well as boots.
Bee Food
Ideally, your bees will be getting nectar from local flowers, but if your hive is urban, it may be the case that there are no wildflower meadows near you. So, for this, you will need to invest in bee food and place it outside the hive to promote natural behaviors. This can be raw honey, crystalized honey, or refined white sugar.