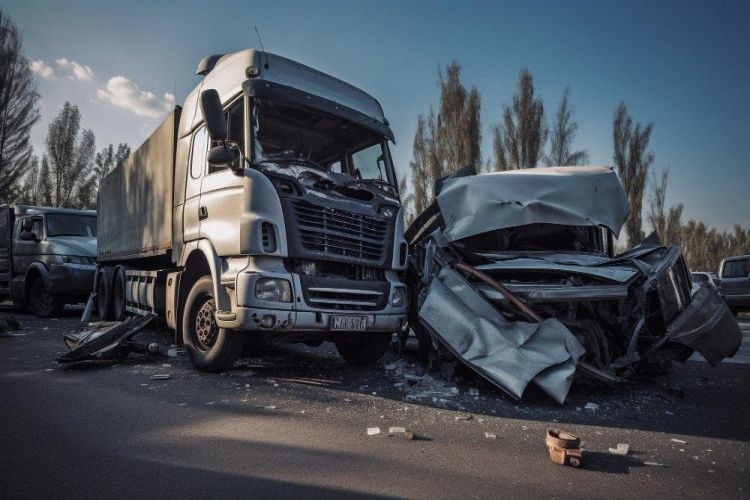 Truck accidents have unfortunately become a common occurrence. Every year, thousands of people end up in critical situations due to these incidents. Understanding the steps to take following a truck accident is of utmost importance for anyone who uses the road, either as a driver, a passenger, or a pedestrian. These steps range from ensuring personal safety, contacting emergency services, and reporting the incident to seeking medical attention and contacting insurance companies. All these measures can mitigate the impact of a truck accident and ensure your rights are protected. This article aims to present a knowledgeable guideline on what immediate actions should be taken following a truck accident. Knowing what to do and having a well-formulated plan can make a significant difference in the aftermath of such an unfortunate event, potentially lessening both physical and emotional trauma.
Immediate Steps After a Truck Accident
The moments immediately following a truck accident can be overwhelming and chaotic, but it's essential to remain calm and have as much clarity as possible. The first step is to assess your personal safety and health. This includes checking if you are injured and if you are, trying to move minimal parts of your body to minimize further harm. If others are involved in the accident, it's vital to gauge their health conditions as well, as long as it's safe for you to do so.
The next step in the emergency scenario should be to contact applicable authorities. In most regions, dialing 911 would get you connected to the police and medical teams swiftly. After ensuring everyone's immediate safety, if possible, it's advisable to move to a safe location away from the traffic and wreckage. This is to prevent any additional accidents from incoming traffic and mitigate further injuries or damages.
Reporting the Accident
After dealing with the immediate concerns for safety and health, it's essential to report the accident to the appropriate authorities. A thorough police report plays an indispensable role in clarifying the circumstances surrounding the truck accident. The report contains a complete account of events from both parties involved, potentially serving as a critical piece of evidence if any legal implications arise. Contact the police without delay, let them perform their professional assessment, and ensure you get a copy of their report.
Given it's safe to do so, collecting supporting evidence at the scene can also significantly aid in the claims process or any possible litigation. This includes taking photographs of the wreckage from multiple angles, capturing the weather conditions, snapping the road conditions, and any other surrounding elements you think could have contributed to the accident. Documenting witness testimonies, if any, could also be critically beneficial. Please remember to gather their contact information for future needs. Keeping clear records of this will bolster your version of events if the liability of the accident is contested.
Legal Steps to Take Next
After you've reported the accident to the police and have taken the necessary immediate steps, it's time to notify your insurance company about the incident. Contact them as soon as you can – delay can sometimes lead to complications. Be candid yet concise in the information you provide, sticking to facts only. A detailed explanation of what took place should be left to your attorney to avoid the risk of making any self-incriminating statements.
This brings to the next critical step – hiring a personal injury lawyer. Familiar with all the legalities involved, an attorney will help steer you through the complex legal process and fight for your rights. The attorney can help determine if any negligence caused the accident, to what extent each party is liable, and also accurately estimate the rightful compensation owed to you. It's essential, first and foremost, to understand your rights before you proceed with anything, and that's where an experienced attorney proves invaluable. They ensure you are not mistreated or misguided at any stage of the claim process.
Compensation You May be Entitled To
Accidents, by definition, are unforeseen events that can drastically affect your income, health, and lifestyle. If you align with the right legal steps, you may be eligible for just compensation to cover your financial loss following a truck accident. The compensation generally covers direct financial losses, such as medical bills and lost wages, due to being unable to work during the recovery period. Medical bill coverage includes both initial emergency treatment costs as well as ongoing expenses related to follow-up visits, physical therapy, medications, and any future medical costs that will arise due to the accident.
Your compensation claim can also include intangible losses that are often harder to quantify, such as pain and suffering. This aims to compensate for the grief, stress, inconvenience, and the overall negative influence the accident had on your quality of life. Your compensation may extend to cover property damage involved in the accident. It could include repair or replacement of your vehicle and any other personal property that was damaged. It's important to gather all invoices and receipts related to your damage to be reimbursed accurately. Remember, the objective of compensation is to restore, as nearly as possible, your pre-accident status – both physically and financially.
It is imperative to ensure that an unfortunate event like a truck accident doesn't lead to further distress due to ignorance or indecisiveness. The preparation starts way before any such event occurs, with knowledge being the vital first step. Every road user should be equipped with this information as it not only protects them but allows them to help others effectively if such a situation arises. The steps discussed in this article – ensuring personal safety, reporting the accident, seeking medical attention, taking legal actions, and appropriately dealing with insurance companies – are designed to ensure that victims are protected physically, legally, and financially.