Your bathroom serves as more than just a practical area; it's a haven where you can relax, revive, and spend some priceless time taking care of yourself. Among the essential elements that make your bathroom a haven of comfort, the bathroom vanity takes center stage. It's where style meets functionality, and every decision you make regarding its design can significantly impact your daily routine. With over a decade of experience in copywriting, I'm here to guide you through the art of creating the perfect bathroom vanity.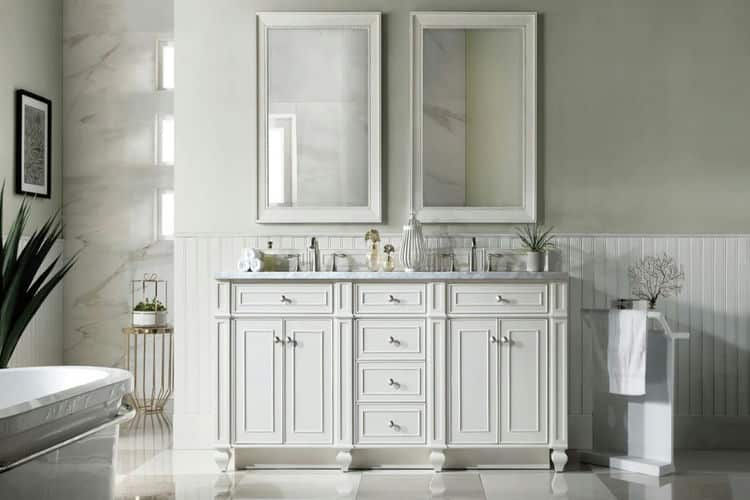 The Elements of a Perfect Bathroom Vanity
A bathroom vanity comprises several key elements, each playing a crucial role in the overall aesthetics and functionality of the space. These elements include cabinets, countertops, and hardware. To achieve the perfect bathroom vanity, it's vital to consider how these elements harmonize.
Choosing the Right Cabinets
Cabinets are the backbone of your 72 inch bathroom vanity. They serve as storage for all your essentials, from toiletries to towels, and can also contribute to the overall visual appeal of the space.
Types of Cabinets
Wall-Mounted: These cabinets are ideal for smaller bathrooms as they maximize floor space and create a more open, airy feel. However, they offer limited storage compared to freestanding or built-in options.
Freestanding: Freestanding cabinets provide a classic, versatile look. They can be moved around, making them suitable for those who enjoy rearranging their bathroom layout. However, they occupy valuable floor space.
Built-In: Built-in cabinets are customized to fit seamlessly into your bathroom, utilizing every inch of available space. They offer ample storage but require professional installation and can be costly.
Selecting the Right Size and Style
Choosing the right size and style of cabinets depends on your bathroom space and personal preferences. If you have a smaller bathroom, opt for wall-mounted or freestanding cabinets to maximize space. In larger bathrooms, built-in cabinets can offer generous storage without overwhelming the room.
When it comes to style, consider the overall theme of your bathroom. Contemporary bathrooms may benefit from sleek, minimalist cabinet designs, while traditional bathrooms can shine with ornate, detailed cabinetry. Don't forget about the practical aspect – cabinets with drawers and shelves offer more storage flexibility than those with just doors.
Quality Materials Matter
Given the moisture and daily use that bathroom cabinets endure, quality materials are paramount. Solid wood and moisture-resistant engineered wood are excellent choices. They not only stand up to humidity but also age gracefully, adding character to your bathroom over time.
Selecting the Perfect Countertop
The countertop is the vanity's crowning jewel. It must be both aesthetically pleasing and durable to withstand daily use and exposure to water.
Materials for Countertops
Granite: Granite countertops are known for their natural beauty and durability. They're heat and scratch-resistant, but they require periodic resealing to maintain their integrity.
Marble: Marble offers timeless elegance and comes in various color options. However, it's porous and can stain, making it high-maintenance.
Quartz: Engineered quartz is a low-maintenance option with a wide range of colors and patterns. It's non-porous, making it resistant to stains and bacteria, but it's not as heat-resistant as granite.
Choosing the Right Color and Style
Selecting the right color and style of countertop is an art in itself. Consider the color palette of your bathroom, your cabinets, and your personal preferences. Light-colored countertops can make a small bathroom appear more spacious, while darker ones lend a cozy, dramatic feel. The style should complement the overall design, whether it's a sleek, modern look or a warm, rustic ambiance.
Maintenance Requirements
Different countertop materials come with varying maintenance demands. Granite requires periodic sealing, while marble needs more frequent care to avoid staining. Quartz, on the other hand, is virtually maintenance-free, needing only routine cleaning. Choose a countertop that aligns with your lifestyle and willingness to maintain it.
Choosing the Right Hardware
Hardware, including knobs, pulls, and hinges, might seem like small details, but they play a significant role in the functionality and aesthetics of your bathroom vanity.
Selecting the Right Hardware
Hardware should be chosen to complement your cabinets and the overall design of your bathroom. Sleek, modern cabinets look fantastic with minimalistic hardware, while traditional cabinets benefit from ornate or vintage-style options. Ensure that the hardware is easy to grip and can withstand the humidity and daily use that bathrooms endure.
Quality Matters
Quality is non-negotiable when it comes to bathroom hardware. Choose materials that can withstand moisture without rusting or deteriorating. Stainless steel, brass, and zinc alloy are excellent choices. Cheap, low-quality hardware might initially save you money, but it can become a headache in the long run.
Conclusion
The perfect bathroom vanity is a harmonious blend of style and functionality. Selecting the right cabinets, countertops, and hardware is not just a matter of personal taste but a reflection of your lifestyle and the daily routines that take place in your bathroom. With over a decade of experience, I've seen how the right choices in these elements can elevate a bathroom from a mere functional space to a sanctuary of relaxation and beauty.
In conclusion, remember that your bathroom vanity should be a reflection of your personality and taste. Don't hesitate to seek professional advice or consult with experts to ensure you make the right choices. The bathroom is an intimate space, and creating the perfect vanity is an investment in your daily comfort and well-being.
So, put on your creative hat, take these tips to heart, and embark on your journey to designing the perfect bathroom vanity. Whether you're starting from scratch or planning a renovation, your ideal bathroom oasis is within reach.