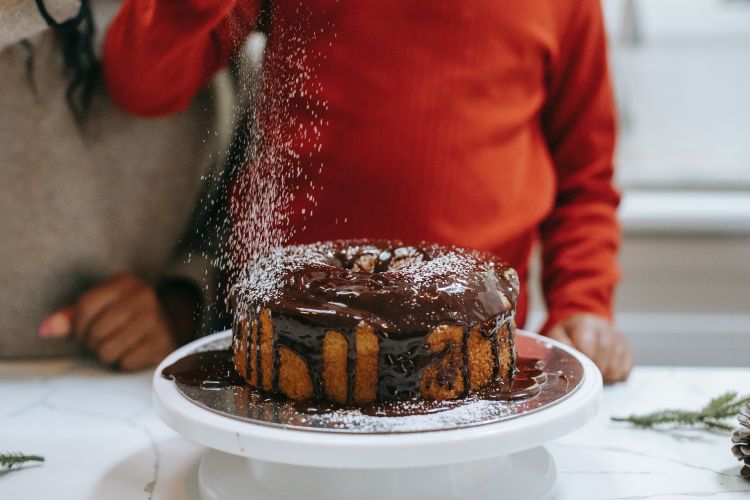 Excited for Christmas? Well, who isn't? Delicious food, beautiful decor, lots of laughter, and good memories – Christmas has a joyous vibe. What adds to the merriness are the delicious desserts. From decadent brownies to crunchy cookies, there is something for everyone. 
So, have you finalized your desserts for this year? If not, we have some exciting recipes that are easy to make and look divine. So, put on your aprons and get ready to wow your guests with these delectable treats.
1. Lemon Bundt Cake
Nothing beats a moist and refreshing lemon cake. From the aroma to the looks, it's irresistible. Our recipe here is special because it only uses basic pantry supplies. No urgent runs to the grocery store, no hassle.
Here's a fail-proof recipe for you to try this year:
Set your oven to 320 degrees and prepare your bundt tin.

Use your stand mixer to beat butter and sugar until creamy. Crack eggs in the mixture one at a time. Add sour cream, a whole lot of lemon zest, and lemon juice. The mixture might curdle, but it's okay.

Sift in the flour and mix. Now, add baking powder and soda and mix again until you get a smooth batter.

Fill the bundt tin and gently hit the tin on the countertop to get rid of air bubbles.

Bake the cake for about 50-55 minutes.

Prepare your syrup in a pan by mixing lemon juice and sugar.

Allow the cake to cool for ten and then dress it with the syrup.

Glaze the cake and enjoy.
An easy lemon bundt cake recipe will be the perfect idea for your Christmas dessert. If you want to make the cake look even more festive, top it off with some cranberries and mint leaves.
2. Chocolate Peppermint Truffles
There's no such thing as "too much chocolate" when it comes to Christmas. And these chocolate peppermint truffles are the perfect balance of rich chocolate and refreshing mint. 
Plus, they look like cute snowballs dipped in chocolatey goodness. The best part? There's no baking, no heating, just mixing and rolling. 
Here's how you can make them:
Crush some Oreo cookies in a bag with a rolling pin.

In a bowl, combine cream cheese, crushed Oreos, and peppermint extract.

Roll the mixture into small balls and place them on a lined tray.

Freeze the truffles for 15 minutes.

Melt some chocolate chips with milk (or cream) and dip the frozen truffles in it. Let them cool down on parchment paper.

Crush some candy canes in a ziplock bag and sprinkle over the truffles while they're still wet.

Place them back in the freezer for 5-10 minutes.
3. Chocolate Chip Cookies
No one turns down a warm and gooey chocolate chip cookie. Plus, when you can stuff cookies into your mouth without feeling guilty, why stop? 
We all have our go-to cookie recipe. But if you want to add a festive flair to it, try adding some nuts, candies, or even pretzels to your cookie dough. You can also wrap them in little holiday-themed packages and share them with friends.
Here's a perfectly fail-proof chocolate chip cookie recipe:
Cream butter and sugar till you get a fluffy mixture.

Add in vanilla extract and an egg. Mix well.

Add flour and baking soda, sprinkle salt, and combine everything. Now comes the fun part – adding chocolate chips. Chopped nuts and candies will work, too.

Plastic wrap your dough and leave it to chill for 30 minutes or overnight. 

Make small dough balls and place them on a lined tray.

Bake for 10-12 minutes in a preheated oven or until lightly golden brown.

Let them cool before digging in. 
4. Rum Balls
Here's another quick recipe you can make ahead of time and serve when you want. Making these no-bake, hand-held boozy treats in advance will also enhance their flavor and make your life simpler. Of course, it's simply adult-only. 
Tweak the rum balls to your liking by using your favorite wine and chocolate source. Oreos, stake brownies, gingersnaps, and wafers – they all work well. 
Eager to find out the recipe? Here's one:
Melt chocolate chips in your microwave.

Sift powdered sugar in the melted chocolate, and add some corn syrup, rum of your choice, and salt.

Mix everything till you get a smooth mixture.

Add some crushed wafers and nuts and mix again.

Cover your mixture with a plastic wrap and let it chill overnight. If you're short on time, chilling for an hour will work, too. 

Make 1-inch small balls with the mixture and coat them with powdered sugar or cocoa powder.

Keep them in the fridge for about five days for a more flavorful bite.
5. Sweet Potato Pie with Pecans
If you're not a fan of traditional Christmas desserts like fruitcake or gingerbread cookies, this sweet potato pie is the perfect alternative. It's creamy, has a delicious and crunchy pecan topping, and adds some veggie power to your menu.
Here's a simple recipe that'll never disappoint:
Heat your oven to 350 degrees.

Mix mashed sweet potatoes, melted butter, brown sugar, cinnamon, nutmeg, and eggs in a bowl until well combined.

Pour the mixture into the readymade pie crust and smooth out the top.

Bake your pie for 30 minutes.

Meanwhile, prepare your pecan topping. Mix chopped pecans, melted butter, brown sugar, and a pinch of salt to do so.

Take out the pie after 30 minutes and drop the pecan mixture on top. Bake for 15 more minutes.

Let the pie cool down before slicing.
Conclusion
Christmas is just the right excuse to indulge in some sweet treats. And while traditional desserts like fruitcake, gingerbread cookies, and Yule logs are scrumptious, it's always fun to mix things up a bit. Pick the recipe that speaks to you and give it a try. Remember, the holidays are all about spreading joy and happiness, so don't forget to share your treats with your loved ones.