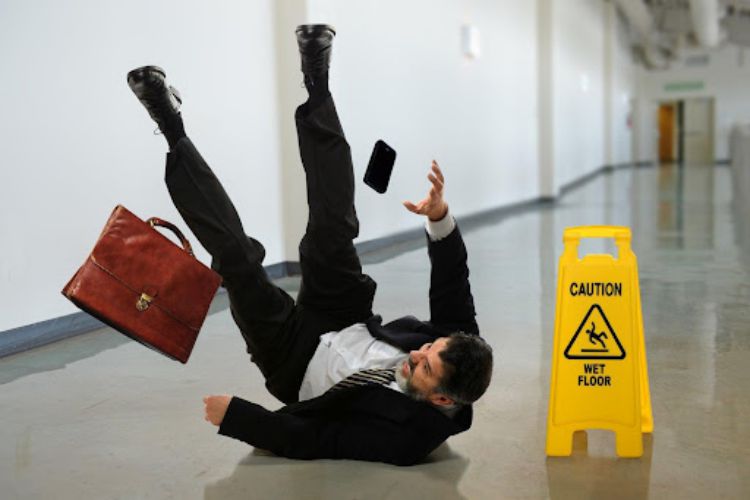 Imagine clocking into work, thinking it's just another day. Then, out of nowhere, you're on the ground, reeling from a slip and fall. No one plans for this, but it happens more often than we'd like to admit.
This article isn't about scaring you; it's about preparing you. We're diving into the immediate actions to take after experiencing a slip and fall at work. From seeking medical attention to gathering evidence, we've got you covered.
Stick around; you'll want to know this stuff. Trust us, it's better to be prepared than to find yourself scrambling in the moment.
Why Immediate Action is Crucial
The moments right after a slip and fall at work are pivotal. Immediate action is essential for several key reasons.
Time is of the Essence
After a fall, you might be disoriented. But time is not on your side. Medical conditions can worsen, and evidence can disappear.
Legal Implications
Thinking about filing a claim for your slip and fall injury? You'll need evidence, and it's best to collect as soon as possible.
Protecting Your Rights
Reporting the incident immediately helps protect your rights. It creates an official record, which can be invaluable later.
Medical Necessity
Your health is the top priority. Immediate medical attention can prevent minor injuries from becoming major ones, and a doctor's report can serve as crucial documentation for any legal steps you might take later.
Seek Medical Attention
You've taken a tumble, and maybe you're thinking it's not that bad. But here's the deal: you're not a doctor. Even if you feel okay, internal injuries or complications can arise later. So, making a beeline for medical help is non-negotiable.
It's the first and most crucial step in dealing with a slip and fall at work.
Why Seeing a Doctor is Non-Negotiable
Immediate medical attention is essential for two main reasons. First, you need to assess the extent of your injuries. Second, the medical records serve as vital evidence if you decide to take legal action.
What Happens at the Doctor's Office
Once you're at the doctor's, expect a thorough examination. They'll check for fractures, sprains, and any other injuries you might not be aware of. You'll likely undergo some tests and maybe even imaging like X-rays. This isn't just about your well-being; it's also about creating a medical record of the incident.
That record could be pivotal if you decide to take legal action later.
Report the Incident
After you've sought medical attention, the next step is reporting the incident. This is a critical part of the process, and it's not something to be taken lightly.
Who to Report To
Typically, you'll need to report the incident to your immediate supervisor or the human resources department. If neither is available, find the highest-ranking person on site. Make sure to get their name and position for your records.
How to Report
Most companies have a formal process for reporting incidents like a slip and fall at work. This usually involves filling out an incident report form. Be as detailed as possible, and if you can, include photos or sketches.
The Role of Documentation
Documentation is more than just paperwork; it's your proof. It establishes a timeline and provides evidence that can be crucial if you decide to take legal action. Make sure to keep copies of everything, including any correspondence related to the incident.
Gather Evidence
Once the incident is reported and you've seen a doctor, gathering evidence is your next move. This step is vital for both your health and any potential legal actions.
Types of Evidence to Collect
First off, you'll want photos of the area where the slip and fall at work occurred. If there were any hazardous conditions like a wet floor, capture that. Also, collect the names and contact information of any witnesses.
If there are security cameras, make a note of their locations.
How to Properly Store Evidence
Storing evidence is as important as gathering it. Use a dedicated folder, either physical or digital, to keep all your evidence in one place. Include photos, witness statements, and any other relevant documentation. Make sure to back up digital files in more than one location, like a cloud service and an external hard drive.
By gathering and properly storing evidence, you're building a strong foundation for any future actions you may need to take.
Document Everything
Documentation isn't just a bureaucratic step; it's a safeguard for your future. It's essential to keep a detailed record of everything related to the slip and fall at work.
Importance of Documentation
Documentation serves as your timeline and your proof. It can be crucial in legal proceedings or in disputes with your employer.
What to Include in Your Documentation
Include all medical records, incident reports, and any correspondence with your employer or insurance company. Don't forget to add the evidence you've gathered, like photos and witness statements.
Consult a Legal Advisor
After you've taken the above steps, it might be time to consult a legal advisor, especially if you're considering filing a claim.
When to Consult a Legal Advisor
The best time to consult a legal advisor is after you've gathered all your evidence and documentation. This ensures that you have all the necessary information to discuss your case effectively.
What to Expect During the Consultation
During the consultation, the legal advisor will review your case, assess the strength of your claim, and guide you through your legal options. They can also help you understand the complexities of Recovery Law Center workers compensation laws and what you're entitled to.
Have You Suffered a Slip and Fall At Work?
Navigating the aftermath of a slip and fall at work can be overwhelming. But taking immediate action is crucial for your well-being and any potential legal proceedings. Remember to seek medical attention first, report the incident to the appropriate parties, gather and store evidence meticulously, document everything, and consult a legal advisor. Each step is a building block toward safeguarding your health, your rights, and your future.
If you found this article informative, there's plenty more where that came from. Visit our blog for more insights on a wide range of topics that matter to you.