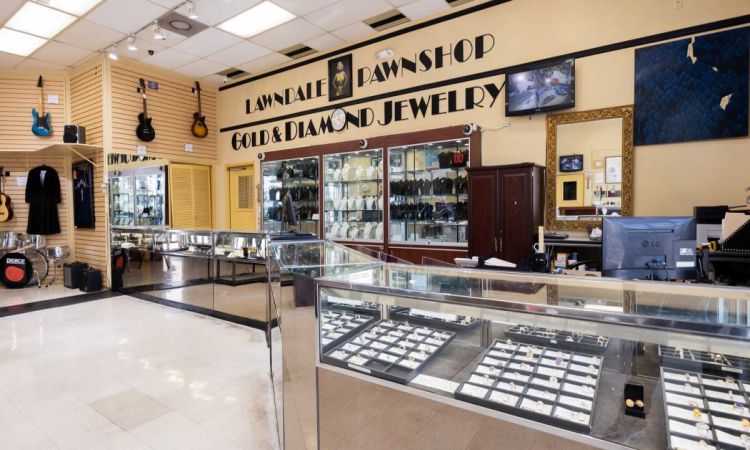 Pawn shops have been a part of our society for centuries, playing a unique role in providing financial services and opportunities to individuals in need. While they sometimes may have been subject to misconceptions and stereotypes, the truth is that pawn shops offer a wide array of benefits and can be a valuable resource for those seeking quick cash or unique finds. If you've ever been curious about how pawn shops operate, what they accept, or the intricacies of their business model, you're in the right place. We'll delve into the world of pawn shops, give you a comprehensive overview of how they operate, and answer the most common questions you probably have. From understanding the pawn process to exploring the treasures that can be found within their walls, join us as we unlock the mysteries and demystify the misconceptions surrounding pawn shops. So, if you've ever wondered about everything you wanted to know about pawn shops, get ready to have your questions answered. Let's dive in!
Where do pawn shops come from?
Pawn shops have a remarkable history that spans centuries and continents. Originating in ancient China during the 5th century BCE, these establishments swiftly gained prominence, offering immediate loans to individuals in need of quick cash. The Middle Ages witnessed the rise of pawnbroking as an essential lifeline in Europe, providing loans to those facing financial hardships. The iconic symbol of three golden balls, associated with pawn shops, finds its roots in the influential Medici family of Florence, Italy, who were prominent figures in the pawnbroking trade.
The 17th century marked the birth of modern pawn shops in England, and by 1785, the Pawnbrokers Act introduced regulations that laid the foundation for their growth and development. In the United States pawnbroking thrived throughout the 19th century, serving as a vital support system for immigrants and individuals seeking economic relief. As the country faced economic challenges, pawn shops emerged as beacons of hope, extending loans to those struggling to make ends meet.
The Great Depression of the 1930s saw a significant rise in the number of pawn shops across the United States. In dire times, people turned to these establishments, pawning their possessions as a means of survival. As time progressed pawn shops evolved, expanding their services beyond loans. They transformed into bustling marketplaces, facilitating the buying and selling of diverse items, such as jewelry, electronics, and musical instruments.
In the contemporary landscape, pawn shops continue to hold immense importance. They provide accessible short-term loans, offering individuals immediate financial support during times of need. As sustainability gains traction, pawn shops serve as platforms for the sale and purchase of pre-owned goods, promoting economic efficiency and reducing waste.
Today's pawn shops successfully navigate the digital era, combining traditional values with modern conveniences. Their enduring presence highlights their vital role as indispensable contributors to our financial ecosystem.
From ancient origins to the present day, pawn shops have stood the test of time, transcending borders and cultures. Their resilient nature and unwavering commitment to serving their communities make them a fascinating and enduring part of our collective history.
Answering your questions about pawn shops
As with any industry, pawn shops often raise questions in the minds of those unfamiliar with their practices. Here we've highlighted answers to some frequently asked questions that you may have when visiting a pawn shop.
Can you negotiate prices at a pawn shop?
Yes, negotiation is a customary practice in pawn shops. Pawnbrokers often expect customers to engage in friendly negotiations to find mutually agreeable prices. It's essential to approach negotiations respectfully and armed with knowledge about the item's value. By being prepared, you increase your chances of securing a favorable deal. However, it's important to note that not all items may be eligible for negotiation, particularly if they have a fixed price or are in high demand, so always try to be reasonable in your expectations.
What type of items can I pawn?
Pawn shops usually accept a wide range of goods. Pawning jewelry or watches you no longer need may be your best option to get some quick cash, but pawn shops will usually also accept electronics, tools and equipment, musical instruments, antique items and collectibles, designer accessories, and sports goods, and in some cases even firearms and vehicles.
How long do pawn shops hold items?
Pawn shops typically hold items for a specific period, known as the pawn term. The length of this term varies depending on local regulations and pawn shop policies. It is commonly around 30 days, but it can be shorter or longer. During this period, customers have the option to reclaim their items by repaying the pawn loan, along with any associated fees and interest. If the borrower fails to redeem the item within the specified term, the pawn shop may assume ownership and proceed to sell it.
What happens if I can't repay a pawn loan?
If you find yourself unable to repay a pawn loan within the agreed-upon term, communication with the pawn shop is crucial. Depending on the pawnbroker's policies and local regulations, you may have several options. Extensions or renewals might be available, allowing you to extend the loan term by paying additional fees. Some pawn shops may also offer the option to surrender the item and close the loan without any further financial obligation. Keep in mind that failing to repay a pawn loan can result in the loss of the pawned item.
Are pawn shop items stolen?
Pawn shops are subject to strict regulations and operate under specific licensing requirements. Reputable pawn shops have comprehensive procedures in place to ensure that the items they accept are legally obtained. This includes verifying identification and collecting detailed records of the individuals pawning or selling items. Pawnbrokers also collaborate with local law enforcement agencies, regularly sharing information about items received to help identify and prevent the sale of stolen goods. Having said that, it is always advisable to exercise caution and only deal with reputable and licensed pawn shops.
Final thoughts
Pawn shops are multifaceted institutions that offer financial services and unique merchandise. Through this guide we hope we've debunked some misconceptions and answered your most common questions, revealing the valuable role pawn shops play in our communities. By better understanding the pawn process you can make informed decisions and maximize the benefits of engaging with pawn shops. So, embrace the possibilities and explore the treasures that pawn shops hold, knowing you have the knowledge to navigate this fascinating industry!