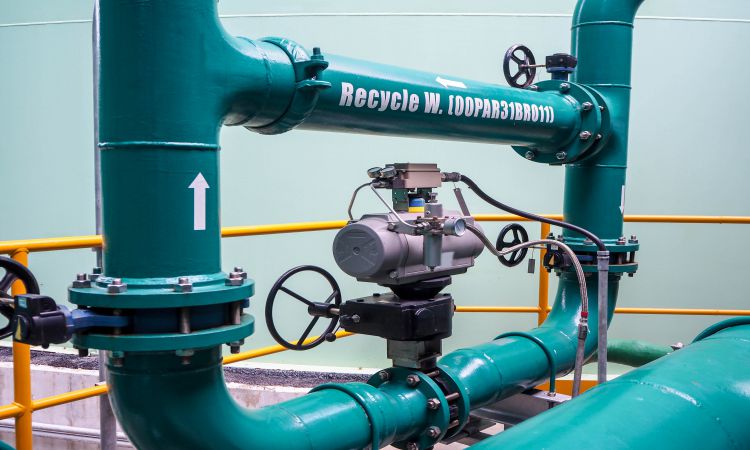 As industries continue to evolve, the importance of precise flow control systems becomes increasingly evident. A key player in this domain is the actuated butterfly valve, a device designed to regulate and isolate the flow of different media in a pipeline.
Actuated butterfly valves are components of a more extensive system designed to control the flow of fluids or gases within a pipeline. The valve features a disc in the middle of the pipe, and a rod passing through the disc is linked to an actuator placed outside the line.
When the actuator is engaged, it rotates the disc to open or close the valve. The simplicity of its design allows for easy maintenance and cost-effectiveness, while its versatility makes it ideal for various applications, from water treatment to petrochemical plants.
The role of actuators
Actuators play a significant role in the operation of butterfly valves. They provide the force to rotate the disc, allowing for precise flow control through the pipeline. Actuators come in various types, including pneumatic, electric, and hydraulic, each with advantages and limitations.
Pneumatic actuators, for instance, are cost-effective and easy to operate but may not be suitable for high-pressure applications. On the other hand, electric actuators offer precise control and can handle higher pressures, but they may be more expensive and require a power source.
The type of actuator chosen depends on the application's specific requirements, such as pressure, flow rate, and transport medium. Proper selection and installation of actuators are crucial to ensuring efficient operation of butterfly valves.
Dynamics of butterfly valves
The dynamics of an actuated butterfly valve can be understood by looking at the three main components, namely the disc, actuator, and positioner. The disc controls the flow through the pipeline, while the actuator provides the necessary force to rotate it.
The positioner is the component that monitors and adjusts the valve's position to ensure precise control of flow. These components work together in a closed-loop system, continuously changing based on sensor feedback to maintain a set flow rate or pressure.
The dynamics of butterfly valves are affected by several factors, including the type of medium transported, pressure fluctuations, and temperature changes. These variables can impact the valve's performance and require careful consideration during the design and selection.
Applications of actuated butterfly valves
Actuated butterfly valves are highly versatile and can be applied across various industrial sectors. In water treatment plants, these valves are crucial in controlling water flow through multiple stages of the treatment process, ensuring optimal efficiency and quality. Reliability and precision make them indispensable in maintaining the desired flow rates and pressures.
In the oil and gas industry, the butterfly valves act as vital components in pipelines, effectively regulating the flow of crude oil, natural gas, and other fluids. Their robust construction and ability to withstand high pressures and temperatures make them ideal for ensuring the safe and efficient transportation of these valuable resources.
Actuated butterfly valves are also extensively employed in power plants, chemical processing plants, and food production facilities. In power plants, they enable precise control of steam and cooling water flow, contributing to the plant's overall efficiency. In chemical processing plants, these valves regulate various chemicals and fluids, ensuring safety and accuracy. In food production facilities, actuated butterfly valves offer hygienic and reliable control over the flow of ingredients and materials, meeting stringent quality standards.
Advancements in technology
Advancements in technology have led to the development of highly sophisticated and intelligent actuators designed explicitly for butterfly valves. These cutting-edge actuators utilize advanced sensors and integrated control systems that enable real-time monitoring and precise adjustments, ensuring optimal performance at all times.
Their ability to operate the valves and gather valuable data and insights about their performance sets these intelligent actuators apart. By continuously monitoring various parameters, such as pressure, temperature, and flow rate, these actuators provide crucial information that can be used for predictive maintenance and flow control optimization. This proactive approach helps prevent unexpected failures, reduces downtime, and improves industrial application efficiency.
The integration of intelligent actuators has revolutionized the functionality of butterfly valves, offering a level of sophistication and reliability that was previously unimaginable. This technological advancement has significantly enhanced operational efficiency, enabling industries to achieve higher productivity and cost savings while ensuring optimal performance and safety.
Future prospects of actuated butterfly valves
As industries continue to evolve and strive for greater efficiency, the demand for highly efficient and reliable flow control systems is expected to rise significantly. Actuated butterfly valves are positioned to play a crucial role in meeting this growing demand in this changing landscape.
With continuous technological advancements, these valves offer enhanced precise control and real-time monitoring capabilities, ensuring optimal performance and seamless operation in various industrial applications. Their ability to adapt to changing conditions and deliver reliable flow control makes them valuable for industries seeking to optimize their processes and maximize productivity.
Final thoughts
Actuated butterfly valves play a crucial role in industrial flow control systems by offering precise and reliable regulation of fluid and gas flow through pipelines. These valves' simple yet versatile designs find applications in various industries. Actuated butterfly valves are used in oil and gas industries and water treatment to ensure efficient and accurate flow control.
Continuous technological advancements are further enhancing the performance and efficiency of these valves. Innovations such as intelligent actuation systems and advanced materials are improving their durability, reliability, and ease of maintenance. As a result, actuated butterfly valves are a preferred choice for industries requiring precise and efficient flow control solutions.