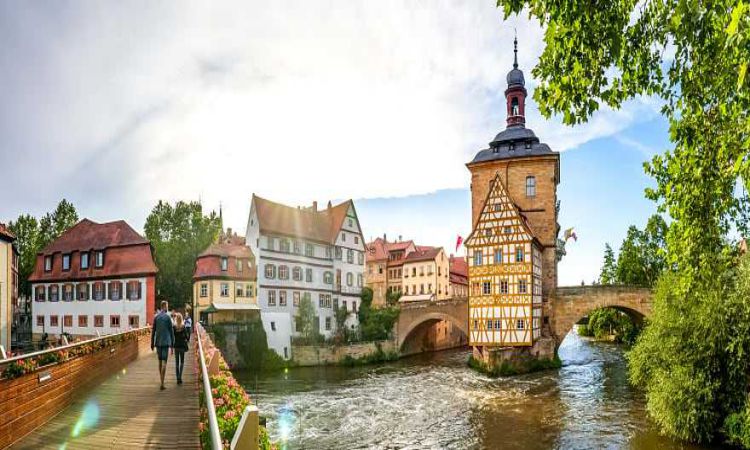 Well known for its rich history, packed with diverse scenic landscapes, and amusing altitudes of nature, Germany is one of the most popular tourist destinations. In addition, what makes Germany, also known as Deutschland, meaning 'peoples land'  is the diverse landscapes with extensive technological development in contemporary times. The cityscape witnesses thousands of migrants every year, including students and the workforce.
Traveling through these mesmerizing German territories can be soul-satisfying. You can enrich varied experiences, ranging from the urban center of Berlin to the picturesque beauty of Bavaria. The road trip from Berlin to Bavaria promises an unforgettable experience. However, before embarking on the road trip you must prepare with essentials and itinerary. Essentials include an esim to stay connected as you wander around the remote locations yet share your stories with the world.
Top 5 places to visit in Germany
Berlin
Berlin, Germany's capital, is the largest metropolis holding historical significance. The city attracts visitors with its glam, vibrant culture, and attractive architecture.  Visit the Brandenburg Gate if you're ever in Berlin. It was constructed between 1788 and 1791 by Frederick William II of Prussia. The gate is an essential entry point to the enchanting city of Berlin.
Another exciting location you probably shouldn't skip is the Hitler's Bunker and the Holocaust Museum. Terrifying flashbacks of war that snatched millions of lives still linger around this place.
The river Spree flowing through the metropolis offers a captivating panoramic view from the bridges of Berlin. This breathtaking scene will no doubt make you romanticize life.
Potsdam
This splendor land of gardens and palaces truly enchants its visitors. Being part of the UNESCO World Heritage Site Potsdam showcases the captivating Prussian architecture. Do visit the Sanssousci palace and explore the captivating gardens. You can also visit Marvel at the opulent interiors of Cecilienhof Palace, where the historic conference of 1945 took place. You can share the historical reminiscence online with your active esim from Holafly, which works well even in remote locations.
Leipzig
This city is a must-visit for music lovers, offering a rhythmic experience with its unique musical history. The city has been home to classical composers such as Bach, Mendelssohn, and Wagner.
Take a visit to St. Thomas Church, and you are surely going to fall in love with this place. Enjoy the musical performance by the St. Thomas Boys Choir and bless your ears.
Weimar
Weimar in Germany is a true gem waiting to be explored. It will surely not disappoint its visitors with its alluring architecture. Do visit the City Castle and Green Castle. These beautifully structured castles are adorned with a wide range of architectural designs ranging from medieval to baroque. To conclude the trip, taking a long walk along the banks of river Ilm will surely enrich your soul with positivity.
Bavaria
If you are a nature lover, this place will prove to be a paradise for you.  The most scenic area throughout Central Europe will sweep you off your feet with its picturesque landscape. Explore the romantic route to Bavaria and it will make you fall in love with it. You can have some aesthetic clicks by having some short halts.
The city is surrounded by the national park, you can explore the diverse flora and fauna here. Lastly, the magnificent view of the Bavarian Alps Mountain range will surely bewitch you.