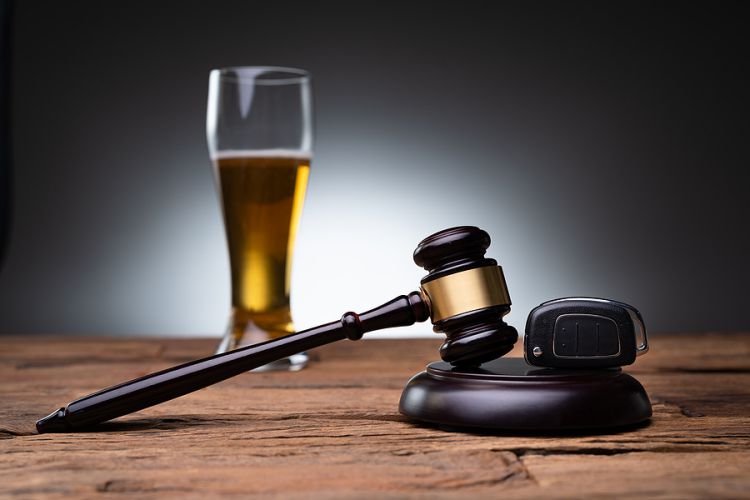 Driving Under the Influence (DUI) is a severe criminal offense in every corner of the globe, including the United States. It is committed when an individual operates a vehicle after consumption of alcohol or drugs, impairing their ability to drive safely. The gravity of the crime is reflected in strict laws, severe penalties, and the potential for significant injury or loss of life. Understanding the implications of DUI charges is essential for drivers to realize the potential consequences of their actions and to make responsible decisions while using the road. 
According to the Centers for Disease Control and Prevention (CDC), over one million drivers were arrested for DUI offenses in the U.S. during 2016. Substance Abuse and Mental Health Services Administration's (SAMHSA) National Survey on Drug Use and Health states that 20.5 million people aged 16 or older drove under the influence of alcohol in the same year. Repeat offenders may face escalating legal penalties and long-term personal, social, and economic consequences. Their behavior poses a heightened risk to public safety and indicates a pattern of behavior that may require intervention.
First-Time DUI Offenses
A first-time DUI offense refers to a situation where an individual is charged with a DUI for the first time. Unlike subsequent offenses, first-time DUIs typically carry less severe penalties, though this can vary depending on the specific circumstances of the case. Legal repercussions often start with legal fees spent in court and on any DUI lawyers. A conviction usually results in the suspension of the driver's license for a varying period determined by state laws. Further, the convict might be put on probation or ordered to perform community service, reflecting the seriousness carried by DUI offenses. 
Long-Term Implications of a First-Time DUI 
An initial DUI charge can result in a significant increase in insurance rates. Insurance companies habitually view DUI convicts, even first-timers, as high-risk drivers, thereby hiking the utmost rates or even denying coverage. In terms of career, a DUI conviction might affect opportunities. Some employers may hesitate to hire someone with a DUI on their record, especially for positions that require driving. Additionally, a DUI charge can impact professional licensing, resulting in severe career implications for lawyers, doctors, teachers, and truck drivers, among others.
Repeat DUI Offenses 
A repeat DUI offense refers to any subsequent charge of driving under the influence following an initial conviction. As the number of repeat offenses increases, so do the legal penalties. Further offenses amplify fines drastically and may result in longer periods of license suspension, possibly even permanent revocation. Jail sentences are more likely with each subsequent offense, extending to years based on the breadth of damage and danger caused. Multiple DUIs may also upsurge charges to a felony level, especially in cases leading to serious injury or loss of life. 
Impact of Repeat Offenses
Repeated DUI offenses can place great strain on familial and social relationships, often leading to isolation or fractious relationships. Career opportunities may continue to diminish and obtaining gainful employment could prove challenging. Despite these grueling consequences, there's still a beam of hope through offender programs and rehabilitation. These initiatives are designed to help repeat offenders break their dangerous habits, restore their lives, and reintegrate into society. They address the underlying issues often connected with repeated DUI offenses, such as alcoholism or drug addiction. By participating in such programs, repeat offenders are offered the tools and support to make positive changes and avoid future DUI charges.
Differences Between First-Time and Repeat DUI Offenses
The legal consequences of first-time and repeat DUI offenses differ significantly in their severity. While first-time offenses typically result in fines, license suspension, probation, and community service, the effects of repeat offenses are harsher and compounded. Repeat offenders face increased fines, lengthier or permanent license suspensions, longer jail sentences, and elevated charges including potential felony convictions. The intention is to impose penalties severe enough to deter individuals from re-offending and endangering the public. 
Societal Perception and Psychological Impact 
Societal perception of individuals charged with DUI offenses varies directly according to the frequency of offenses. A first-time offender, while still viewed unfavorably, may be perceived as someone who made a mistake. Repeat offenders, however, are seen as reckless and potentially dangerous individuals posing a consistent threat to public safety.
First-time offenders may experience guilt, embarrassment, and anxiety, but repeat offenders often face amplified psychological distress. The stigma and harsher penalties may contribute to feelings of despair, depression, and a sense of hopelessness. This emphasizes the importance of prevention, intervention, and rehabilitation efforts to assist both first-time and repeat offenders.
The Importance of Legal Representation for DUI Offense
Legal representation in DUI cases is highly significant and beneficial. An attorney specializing in DUI cases brings to the table expertise in understanding complex legal procedures and rules that an average person may find daunting. They work diligently to investigate the case, gather evidence, ask relevant questions, challenge the prosecution's evidence, negotiate plea deals if necessary, and represent the client during court proceedings. 
For both first-time and repeat offenders, professional legal representation provides numerous benefits. A skilled attorney can help reduce penalties or even get the charges dropped, depending on the strengths of the case. For repeat offenders, where the stakes and potential penalties are higher, an experienced DUI attorney is often indispensable. They can identify details that can dramatically impact the case outcome. It goes without saying that proficient legal counsel significantly improves the odds of a more favorable outcome.
The severity and implications of DUI offenses, whether it's a first-time or repeat offense, cannot be downplayed. They carry significant legal, personal, and psychological repercussions that can dent an individual's life. Therefore, it's necessary to observe sober driving habits for personal safety and the well-being of others on the road, and if charged, seek professional legal guidance to ensure proper representation and defense.