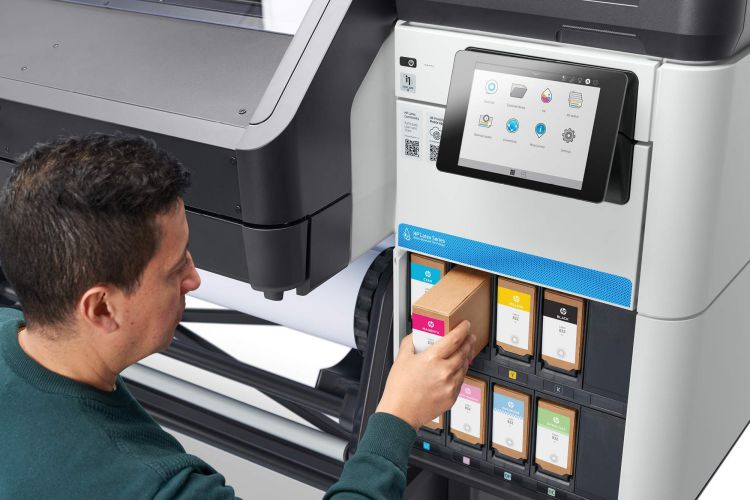 Latex printing technology has gained significant attention in recent years. The major reason for this spike in interest is its eco-friendly nature, combined with the durability of its prints. But how long do these prints genuinely last? This article will discuss the lifespan of prints produced by a latex ink printer.
Understanding Latex Printing
Before delving into the specifics of print longevity, it's essential to have a foundational understanding of latex printing. Latex stands out in digital printing because it combines the best attributes of solvent inks and water-based inks. This combination allows for vibrant prints that are also environmentally friendly.
Factors Influencing Print Longevity
There isn't a one-size-fits-all answer to the lifespan of a latex print, as it often depends on several key factors:
Type of Media Used:
The material or medium on which the image is printed can significantly affect its longevity. For instance, prints made on premium glossy photo paper will generally last longer than those on standard paper, mainly due to the quality and finish of the material.
Exposure to Elements:
Latex prints displayed outdoors, such as banners and signages, are exposed to environmental elements like sun, rain, and wind. Over time, these factors can affect the print's quality and longevity. In comparison, indoor prints are less susceptible to such external influences.
Quality of Inks:
The quality and composition of the latex inks used can also make a difference. Premium quality inks are designed to be fade-resistant and can significantly extend the lifespan of the print.
Post-Printing Treatments:
Several post-printing treatments, such as laminating or using UV protective coatings, can further protect the print from external elements and potential wear and tear. These treatments can significantly enhance the print's durability.
General Lifespan of Latex Prints
With the factors mentioned above in mind, latex prints made for indoor use, shielded from direct sunlight and external elements, can last anywhere from 10 to 30 years. However, outdoor prints exposed to environmental elements generally have a lifespan of around 3 to 5 years. Of course, this duration can be extended with protective measures and regular maintenance.
Comparing with Other Printing Methods
To appreciate the longevity of latex prints, it helps to compare them with other popular printing methods:
Solvent Inks:

While solvent inks can produce vibrant colors, they are often less durable than latex inks when exposed to external elements. Their prints might last for around 3 years outdoors.

UV Inks:

UV-cured inks are known for their durability, especially when used for outdoor applications. These prints can rival the longevity of latex prints, often lasting 3 to 5 years or more.

Dye-Sublimation:

This method is predominantly used for fabric printing. While the colors are vibrant and sharp, the longevity, especially in outdoor settings, is typically less than that of latex prints.
Caring for Latex Prints
To ensure that latex prints live up to their potential in terms of lifespan, certain care measures can be adopted:
Avoid placing them in direct sunlight for prolonged periods.

Clean the prints gently using a soft cloth to avoid scratching or damaging the surface.

Consider using protective laminates or coatings for added protection, especially for outdoor prints.
Benefits Beyond Longevity
Eco-friendliness:
Latex inks are water-based and contain fewer volatile organic compounds (VOCs). This reduces the printer's environmental impact and means safer indoor air quality, as there's no need for special ventilation.
Versatility:
A latex ink printer can print on a wide variety of media. From vinyl and fabrics to wallpapers and more, the options are expansive, making them a go-to choice for various applications.
Quick Drying:
Due to the combination of water-based inks and the printer's heating mechanism, latex prints dry quickly. This means quicker turnaround times for projects.
Vibrant Colors:
Over the years, the color quality of latex prints has only improved. Today's latex printers can produce rich, vibrant colors, making images and graphics pop.
The Future of Latex Printing
Given the numerous advantages, it's safe to say that latex printing has a bright future ahead. As sustainability becomes a more pressing concern globally, industries, including printing, are searching for eco-friendly alternatives without compromising quality.
Manufacturers continue to innovate, and as newer models of latex printers emerge, one can expect even more enhancements in terms of efficiency, color quality, and, of course, the longevity of prints.
Final Thoughts
In a world where digital printing options are plentiful, latex ink printers have carved a niche. Their ability to offer long-lasting prints without sacrificing environmental concerns is commendable. By understanding the various factors contributing to print longevity and the broader benefits of this technology, individuals and businesses can make informed decisions for their printing needs.