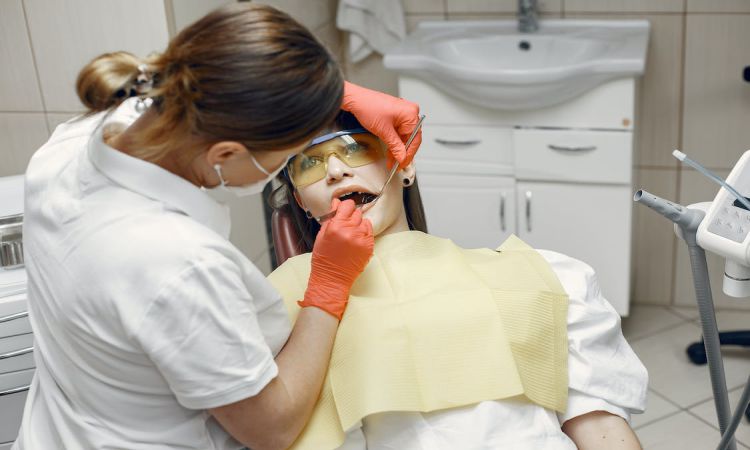 It starts with something seemingly harmless, like skipping your nightly brushing routine for a few days. Or maybe you got too busy to floss after dinner one night. Before you know it, your teeth have become a breeding ground for plaque and bacteria—leading to gum inflammation.
Whether you notice it or not, poor oral hygiene can cause damage to your gums as your mouth is exposed to bacteria. If left untreated, the inflammation can progress and become a more severe gum issue, such as periodontal disease. Here are eight ways to help prevent gum inflammation and keep your mouth healthy.
Take Medications
When antibiotics are prescribed to treat gum inflammation, doctor's orders must be followed. Take the medications on time and at the right dosage.
You can't self-diagnose, so be sure to see your dentist if any of the symptoms worsen. You might need anti-inflammatory medications if an unresolved health problem, like diabetes or arthritis, causes your gum inflammation.
Furthermore, to help reduce inflammation and pain associated with gum disease, ibuprofen plus lidocaine and naproxen sodium may be prescribed. And if you want to save money buying medications, there is an Ibuprofen Coupon available online.
Brush Your Teeth Regularly
This one seems obvious, but brushing your teeth twice a day is an absolute must to prevent gum inflammation. Brushing removes food particles and plaque from the surfaces of your teeth and helps reduce bacteria in the oral cavity.
Additionally, brushing your tongue or using a tongue scraper can help remove bacteria and reduce bad breath. It's also essential to use a soft-bristled brush, as stiff bristles can damage your gums.
Floss Every Night
Research shows that flossing can reduce inflammation in healthy and inflamed gums. Flossing helps remove plaque and bacteria from between your teeth and along the gum line, which can be difficult for a toothbrush to reach.
Make sure to floss at least once daily, preferably more often if you're prone to gum inflammation. And if you're having trouble getting into the habit, try setting a reminder on your phone or setting aside a particular time every night to floss.
Rinse With an Antibacterial Mouthwash
Antibacterial mouthwash can help in the decrease of bacteria in the mouth that might cause gum inflammation. You can prepare your own mouthwash using salt and warm water if you want a more natural option.
In addition, using an antibacterial mouthwash can help reduce gum inflammation in those who have gum disease. It's important to note that mouthwash is not a substitute for brushing and flossing, but it can help enhance your oral hygiene routine.
Avoid Cigarettes and Other Tobacco Products
Cigarettes and other tobacco products have been related to increased gum inflammation, among other oral health problems. The nicotine in these things, according to experts, decreases the flow of blood to the gums, lowering their ability to fight off bacteria that can lead to gum infection.
Also, smoking can reduce the effectiveness of certain medications prescribed for gum inflammation. It's best to quit smoking and other tobacco use altogether or at least reduce your consumption.
Visit Your Dentist Regularly
Visiting your dentist for regular cleanings and checkups can help prevent gum inflammation from developing or worsening. And if gum inflammation has already developed, your dentist can provide proper treatment to reduce the damage.
Make sure to get a cleaning at least every six months, but if you're prone to gum inflammation, talk to your dentist about more frequent visits. It's also important to tell your dentist if you're experiencing any signs of gum inflammation, such as redness or tenderness.
Watch Your Diet
A healthy diet can help reduce your risk of gum inflammation. Fruits and vegetables, which are full of vitamins and minerals, can help protect your gums by distributing essential vitamins. Moreover, sugary foods and drinks might increase the risk of gum inflammation.
Drinking plenty of water is also essential, as this can help flush away bacteria and food particles that can lead to gum inflammation. Finally, try not to chew on hard items, such as ice cubes or pen caps, as this can cause irritation to the gums.
Use Natural Remedies
Many natural remedies can help reduce gum inflammation. For instance, rinsing your mouth with warm water and salt can help soothe inflamed gums. It can also help reduce discomfort and swelling. In addition, several studies have suggested that rinsing with green tea might help decrease gum irritation.
Finally, massaging your gums gently with a warm compress or oil can also be beneficial. Not only will it provide relief from discomfort and swelling, but it may also help promote better circulation to the gum tissues.
Final Thoughts
Taking care of your gums is a significant part of dental hygiene, and making efforts to avoid gum inflammation before it begins is essential. Flossing, mouthwash, avoiding cigarettes and other tobacco products, visiting your dentist on a regular basis, eating healthy food, and using natural treatments can all decrease the chance of gum inflammation.