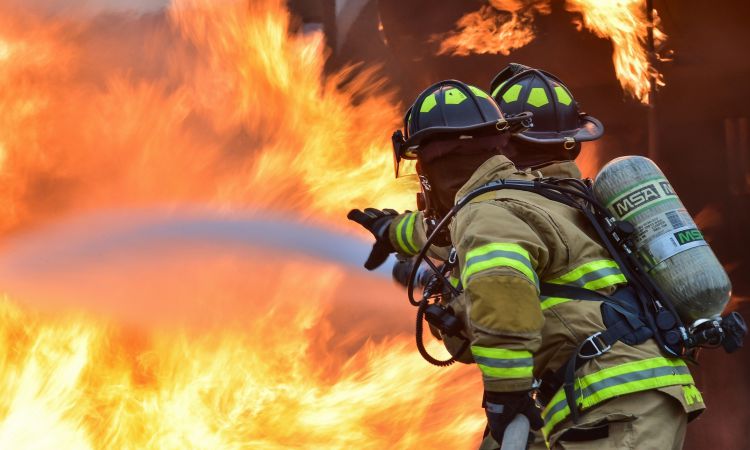 A fire watch is a security service where trained safety professionals patrol settings with an increased risk of fire, identify fire hazards and prevent fire outbreaks before they occur. This service is important, especially in today's world, where the equipment and power sources businesses depend on are potential fire sources.
To ensure safety in the workplace, it is important to mitigate fire hazards and create an environment where professional tradesmen and skilled laborers feel safe and valuable assets are protected.
Below, we get into the nitty-gritty of fire watch services and explore various scenarios where these services are necessary.
What are fire watch services?
Fire watch services are preventative security services where trained safety professionals monitor employees performing work activities in processes that can ignite combustible materials. These professionals are competent within refinery settings and environments that require the containment and extinguishment of hot work sparks, eliminating the likelihood of ignition.
Moreover, these professionals support the coordination, permission, and housekeeping duties that come with hot work activities; are trained in hot work requirements, fire extinguishers, fire chemistry, and refinery safety; and they possess the knowledge and skills to cut down on fire risks and create a safe working environment.
When employees are performing hot work activities (such as soldering, welding, or cutting), trained safety professionals monitor the area to identify fire hazards, contain hot work sparks, and eliminate ignition potential. If they discover a fire, they notify the Fire Department immediately and initiate evacuation procedures, preventing loss of life and preserving valuable property.
When are fire watch services necessary?
Fire watch services are not restricted to businesses and industrial settings. They are also necessary in other settings, such as construction sites, power plants, and industrial facilities. Here's how:
During Construction Projects
If you have ever been to a construction site, you know that construction workers perform multiple tasks simultaneously. It is common to find multiple activities taking place, such as electrical work, soldering projects, and welding operations, and notice temporary power sources for construction work and combustible materials, such as timber and wood, all of which present a higher risk of fires.
During construction projects, fire watch services are essential to monitor hot work activities, identify potential fire hazards, and prevent potential disasters. Trained safety professionals can detect fires, suppress combustion, and ensure a fire is not started.
During Electricity Generation And Distribution
Power plants deal with sensitive equipment, complicated wiring, and high-voltage systems. Equipment error, human error during the wiring process, or voltage fluctuations can cause electrical fires, putting employees' lives at risk and causing significant damage.
Fire watch services are essential in such environments. Skilled personnel can monitor switchgear rooms, identify potential electrical fire risks, and eliminate the risk of fire. They can detect signs of overheating, implement strategies to return the temperatures to normal levels, and prevent devastating electrical fires.
In Industrial Facilities
The processes that take place in industrial facilities emit heat and usually involve flammable substances. Employees in such settings, including welders, electricians, and heavy equipment operators, typically perform hot work activities that create sparks and generate high heat.
Fire watch services reduce the risk of fire by monitoring hot work activities and ensuring that employees comply with safety protocols. Fire watch personnel are adept in conducting routine inspections, identifying potential fire hazards, and minimizing the devastating effects of fires, creating a safe working environment for all.
Safeguarding Trades And Labor With Fire Watch Services
Ensuring the safety of employees and protecting valuable property is important in professional trades and skilled labor. With fire watch services, employees working in settings where fire hazards are prevalent can enjoy an added layer of security since trained professionals conduct internal safety audits and patrols over the workplace, preventing fire outbreaks and preserving life and property.