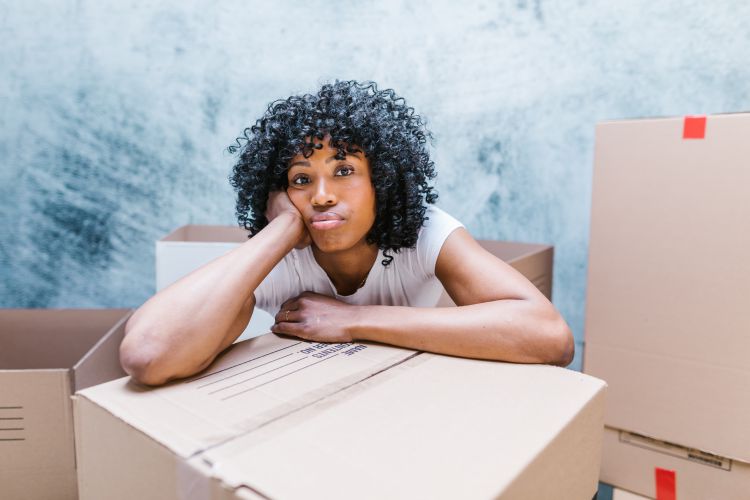 You're going to move somewhere very far away, and you're at a loss about how you're going to get all of your stuff to your brand-new home. You can't exactly fit everything you own into the back of your car and drive it to your new address. 
So, what should you do with all of your stuff?
Purge Your Junk
Before you start wrapping your belongings with newspaper and shoving them into cardboard boxes, give every item a good once-over. Do you actually need it? You might be better off purging it from your packing list altogether than bringing it with you. This will give you fewer things to transport.
These are some items you can toss into the "junk" pile:
Clothes that don't fit anymore

Books that you don't want anymore

Piles of papers and documents that aren't important

Broken electronics

Furniture that is in bad condition 
There are some things that you should get rid of, even if they're not technically junk. You may love your houseplants, but you shouldn't try to bring them on the move. Plants are very delicate to transport. You could risk damaging them or outright killing them by the time you reach your new address. More importantly, moving companies often refuse to transport plants across state lines.  
Moving companies will also refuse to transport food and household hazardous goods. So, you will either need to donate or dispose of these before your big moving day.
Leave Some Items Behind
Some items just can't come with you during your move. You'll have to leave them behind and get replacements when you move to your new address. 
Large appliances like refrigerators, oven ranges, dishwashers, washing machines, and dryers are often left behind by homeowners. Some homeowners even include these appliances in their real estate purchase contracts. Your new address might come with these appliances, so you won't have to worry about bringing your old ones with you.
Even if your new location doesn't come with these appliances, it will be easier to replace them instead of moving with them. These appliances are big and heavy, and they can be a real strain to pack up, transport, and re-install. Order them from an appliance dealer near your new address so that they can be quickly delivered there. You can also hire a nearby professional to connect devices like dishwashers and washing machines right after you move in. 
These are some more items that you should leave behind:
Curtains and curtain rods

Light fixtures

In-ground features, like mailboxes and firepits

TV wall mounts

Built-in furniture (for example, built-in bookshelves)

Bathroom mirrors
Get a Shipping Container
You're trying to pack up an entire house, garage, and garden shed and move to your new address in a single trip. A simple moving van isn't big enough to do that. 
A better solution would be to use a shipping container. Shipping containers come in standard 20ft and 40ft lengths, so you can rest assured that you'll be able to squeeze in all of your belongings without trouble. With a sizable shipping container, you can manage to transport everything you have in a single trip. Look up more information about moving shipping containers long-distances if this solution sounds right for you. 
Shipping containers make long-distance transportation easier. A container can be attached to a delivery truck and driven across state lines to your new address. It can also help when you're moving overseas! Your container can be sent across the ocean via a cargo ship to your new home country. After the container lands at the country's port, a delivery truck can pick it up and deliver it to your new address.
Don't get overwhelmed with the packing process. Following these steps should make everything a lot simpler. You'll find that your big moving day goes over without a hitch.