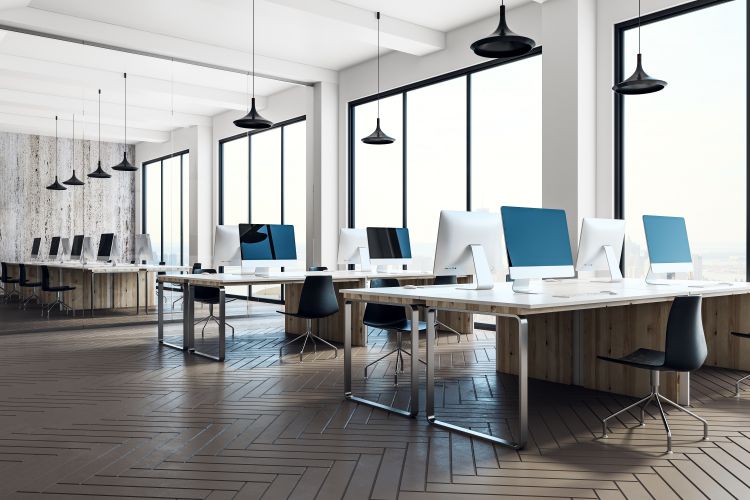 The debate between open offices and cubicles has been going on for years. There are pros and cons to both, but which one is more productive? It's time to take a closer look at the two ideas and see which one comes out on top in terms of productivity.
What is an open office?
An open office is a type of work environment where employees have their own workspace, but there are no physical barriers between them. This means that there is more collaboration and communication between employees, as well as more flexible working arrangements possible. By default, it's a layout preferred where there's a lot of teamwork, so if your business involves lots of joint efforts, it may be a good idea to consider this option.
What are the benefits of an open office?
There are many benefits to an open office, such as increased creativity and productivity due to the stimulating atmosphere as well as better and smoother communication because of the physical presence of all team members in a single place. A typical open office layout will also provide more natural lighting, which is something everyone in the office will surely appreciate.
What are the drawbacks of an open office?
There are a few drawbacks to an open office design that can impact productivity. First, there can be more distractions in an open office since there are more people and activities around you. This can make it more difficult to focus on the task at hand. Second, open offices can be noisy, which can also make it tough to concentrate. And finally, if you're not comfortable with working in close proximity to others, an open office layout may not be ideal for you.
What is a cubicle?
A cubicle is a type of office workspace that typically consists of several walls that divide the space into small, individual workstations. These workstations are usually arranged in rows, and each one typically has a desk, chair, and some storage space. Cubicles are often used in open office layouts, where they can provide some privacy and reduce the overall level of noise.
What are the benefits of a cubicle?
Think of a cubicle as an office within an office. It is typically enclosed on three sides by walls and one side by a door or partition. Cubicles are usually arranged in rows, with each row containing multiple cubicles. And there is a number of benefits that come with the adoption of this solution. First, there's increased privacy, which is self-explanatory given the design of a cubicle. This can be beneficial, especially for employees who work on projects that require more focus. Next, there are fewer distractions. The walls of a cubicle can isolate the user from other employees and reduce the overall noise levels in the office. Cubicles give also more opportunities for customization – employees can decorate their cubicles to reflect their individual style and personality. Lastly, there's the matter of security and confidentiality. It's much easier and safer to work with confidential information inside a cubicle than in an open-plan office, let's face it.
What are the drawbacks of a cubicle?
There are a few drawbacks of working in a cubicle that can impact productivity. First, cubicles can be quite small and cramped, which can make it not that comfortable to focus and get things done. Second, because they are often located in close proximity to other cubicles, they can still be quite noisy – which can again make it difficult to focus. Finally, people working in cubicles may sometimes feel like they are constantly being watched and judged by their co-workers or supervisors, which can lead to stress and anxiety.
The best of both worlds
When it comes to office design, there is no one-size-fits-all solution. The best way to create a productive work environment is to find the right balance between the open office model and the cubicle model. And there are solutions that can make it possible – like the Hushoffice work booths, which let you give your people as much space to work together and exchange ideas as they need but also a place to get away for the office buzz and do some heads-down work effectively. The hybrid approach may be the way to go.