Warm up
Light aerobic exercise is a great way to warm up your body before engaging in more intense physical activity. It helps your body to prepare for the movements and intensity of the workout that follows, reducing the risk of injury and improving performance.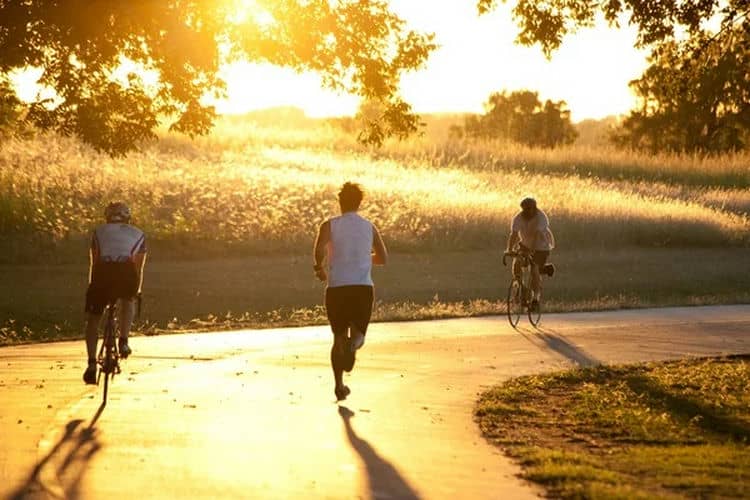 Light aerobic exercise can include activities such as jogging, walking, skipping rope and cycling. These exercises are low-intensity but help increase your heart rate and get your blood pumping. They also help warm up muscles for upcoming workouts by increasing their temperature and flexibility, helping them move more easily through an increased range of motion or you can also contact Musclemania for exercise steps.
Light aerobic exercise also helps improve muscle coordination by stimulating nerve impulses that coordinate movement between different muscle groups during physical activity. This can help you perform better during higher intensity workouts such as strength training or interval training sessions because it increases fluidity between movements.
In addition to being beneficial before a workout session, light aerobic exercise can also be used after a workout session as part of a cool down routine in order to gradually lower your heart rate back to its resting state while allowing lactic acid buildup in your muscles to dissipate faster than if you stopped abruptly after an intense session. This can reduce post-workout soreness and improve recovery time so you're ready for the next day'
Stretching
Stretching is an important part of any fitness routine, as it helps to improve flexibility, reduce the risk of injury, and enhance muscular performance. Stretching can be done before or after a workout and should target major muscle groups for optimal results.
When stretching before a workout, focus on dynamic movements that warm up the muscles and activate them while they are still relaxed. This will help increase blood flow to the muscles and get them ready for activity. Good stretches to try include arm circles, leg swings, butt kicks and shoulder rolls. Hold each stretch for 10-15 seconds and repeat 4-5 times per side or body part being stretched.
After a workout is when static stretching comes into play. This type of stretching involves holding positions with little or no movement in order to lengthen muscle fibers and increase flexibility over time. Focus on large muscle groups such as your chest, back, hamstrings, quads and calves when static stretching post-workout; hold each stretch for 30 seconds or more in order to really feel it working its magic!
Cardio
Cardio is an important part of any workout routine, and increasing the intensity and duration of aerobic activity can have a significant impact on overall fitness levels. Cardiovascular exercise has many benefits, including improved heart health, increased energy levels, weight loss, improved mood and enhanced athletic performance. In order to get the most out of your cardio workouts, it is important to gradually increase their intensity and duration over time.
For those just beginning a cardio program, start slowly by doing activities such as walking or jogging for 15-20 minutes at a steady pace three times per week. Once you are comfortable with this level of activity you can begin to increase the intensity by running faster or changing up your route to include hills or other challenging terrain. Additionally, you can add intervals into your workout by alternating between bursts of high-intensity effort followed by periods of rest or low-intensity exercise. This strategy will help challenge your body while providing periodic recovery time so that you can push yourself further with each session without becoming overly fatigued too quickly.
Strength Training
Strength training is an integral part of any workout routine. It doesn't matter if you're a beginner or an experienced athlete — learning the proper form for exercises like lifts, push-ups, planks and squats can help you reach your fitness goals faster.
First and foremost, it's important to understand the basics of strength training. This type of exercise involves using resistance to increase muscle size and strength. This can be done through free weights, machines or bodyweight exercises like push-ups or squats. Strength training is typically performed in sets that involve 3-4 repetitions for each exercise with a break in between sets. It's also important to ensure that you are working with appropriate weight levels so as not to overexert yourself unnecessarily.
When performing any strength exercise, it's essential to maintain proper form at all times in order to prevent injury and maximize results from your efforts. Proper form includes keeping your back straight while making sure that you are using the right muscles during each repetition — this will help ensure that you do not injure yourself while maximizing the effectiveness of each move being performed. If unsure about how an exercise should be done correctly, consult a professional trainer who can provide assistance with form as well as monitor progress over time if desired.
Cool down
If you're an avid exerciser, then you know the importance of a proper cool down. Cooling down after a high intensity workout can help to reduce soreness and speed up recovery time. Cooling down is simply reducing the intensity of exercise gradually with light stretching or walking for several minutes at the end of your workout.
Cooling down helps to bring your heart rate and breathing back to pre-exercise levels, which helps reduce stress on your body. When you don't cool down after exercise, lactic acid can build up and cause cramping and stiffness the following day.
When cooling down, start by slowing your pace until it becomes comfortable enough for light stretching or walking – this should take about five minutes. Dynamic stretches are great for cooling down; they involve slow movements that stretch out tight muscles while also increasing blood flow throughout your body. Examples include leg swings, arm circles, side bends, etc. These stretches should be done slowly with no bouncing motions that could cause injury or strain muscles further when they are already exhausted from intense exercise.
If you prefer not to stretch after working out then try taking a 5-10 minute walk at a slow pace instead; this will help gradually lower your heart rate.
Relaxation/Meditation
Relaxation and meditation are a great way to calm your mind, body, and soul. Many people have found that taking a few moments out of their day to focus on their breath or visualizing a calming environment can help them manage stress, reduce anxiety and depression, improve mood, and increase overall wellbeing.
When you take time to relax and meditate, you are allowing yourself the opportunity to take control of your thoughts. By focusing on your breath or visualizing a peaceful environment, you can learn how to become aware of your thoughts without judging them. This helps create an inner stillness which allows stress levels to decrease while also allowing clarity in decision-making.
Meditation is also known for its physical benefits such as reducing inflammation in the body and improving immune system response. It can also lower blood pressure and improve cardiovascular health by increasing oxygen flow throughout the body's cells which leads to improved circulation throughout the entire body.
Another benefit of relaxation is that it helps clear away distractions from everyday life and allows us to connect with our inner selves more deeply than ever before. Taking time out for ourselves gives us an opportunity for self-care which helps us stay balanced emotionally as well as mentally during challenging times in our lives.