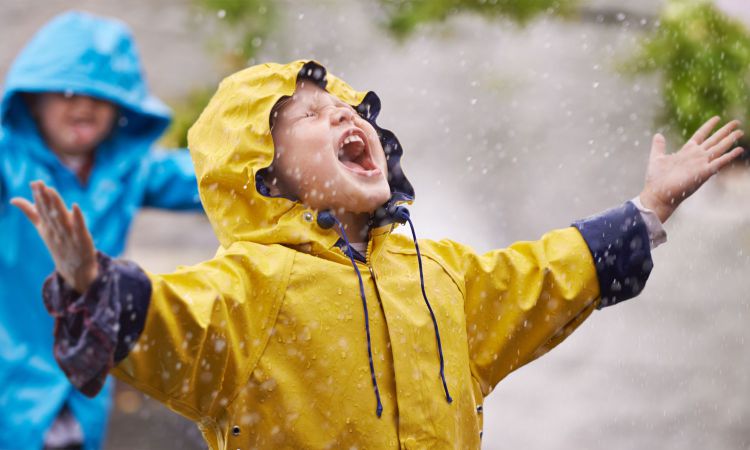 Rainy days are the best days. Who can forget the joy of curling up in bed and hearing the rain patter against your window? The smell of wet earth as you step outside, or even just look at the beautiful rainbows created across a cloudy sky. It's enough to make anyone feel peaceful. And then there are all the fun activities we can do on rainy days.
Kids especially enjoy rainy days — going out in their rubber boots and splashing around in the puddles; making paper boats and sailing them down streams; playing tag under umbrellas; collecting worms from muddy gardens, and sliding down slippery hills.
Rainy days provide a wonderful opportunity for creativity, with children being able to explore different ways to have fun and make the most of the wet weather. Even better, rainy days are a perfect excuse for some cozy time indoors, with hot chocolate, warm blankets, and good books.
Rainy days are the ideal opportunity to relax and reset your mind, allowing you to take some time away from the craziness that can sometimes come with our busy lives. Let's take a look at some of the many fun and creative ideas that you could try with your kids next time those rain clouds form.
What About an Indoor Picnic?
Having an indoor picnic is a great way to have some fun on a rainy day! Kids love the excitement that comes with pretending they are having a picnic in the park but without getting wet. You can bring out blankets and pillows, indoor games, puzzles, books, or whatever else you'd like to do while eating lunch.
It's also super simple to set up — no need for elaborate decorations or fancy food. Simply spread out a blanket, lay down some snacks and drinks, and let your kids' imaginations run wild! Plus, it's easy to clean up afterward — just fold up the blanket and put away games until next time.
Indoor picnics allow kids to use their creativity and imagination to make the experience special. They can come up with fun activities, like making stuffed animals out of socks or creating stories with action figures.
No matter what they come up with, having an indoor picnic is sure to be a memorable experience for the entire family. It's an excellent way for kids to stay active on rainy days and find some calm in the chaos of everyday life. So why not give it a try?
Board Game Marathon
Rainy days can be the perfect time to get creative with entertainment. A board game marathon is a great way to have fun and keep kids engaged when they're stuck inside. Not only do board games provide hours of competitive and cooperative fun, but they can also help foster problem-solving skills.
On top of that, you can make it extra cozy by setting up comfortable sleepover beds for all the participants. This will give everyone a place to rest in between rounds, and you'll be able to enjoy some quality bonding time as you play your favorite classic board games like Monopoly, Life, Chess, or Trouble.
If those don't fit your fancy, ask around for more obscure options. There are plenty of new and exciting picks these days. Ultimately, having a Board Game Marathon is a great way to make the most of a rainy day while spending quality time together and building relationships.
Grab your friends or family members and get ready for an afternoon of fun. Maybe you'll even shed some tears from laughter as you play. Who knows? It's sure to be an unforgettable experience.
Make It an Arts and Crafts Day
Having an arts and craft day on a rainy day is a fun and creative way to keep the kids entertained. Arts and crafts offer open-ended, imaginative play opportunities that stimulate creativity and help build a child's problem-solving skills.
Arts and crafts also provide hours of enjoyment with endless possibilities — painting, drawing, building things out of recycled materials, creating collages from magazines or junk mail, or even playing pretend with puppets (after making the puppets).
Arts and crafts are a wonderful way to get kids of all ages engaged in something fun, especially on those days when you can't go outside and play. Not only is it enjoyable, but it will also help them develop important skills like problem-solving, cooperation, fine motor control, and creative thinking.
Don't Let the Rain Get You Down
When you really think about it, what's not to love about a good old-fashioned rainy day? So next time it starts pouring down outside, don't reach for an umbrella — reach for some board games, crafts, or rain boots! Make the most of it!