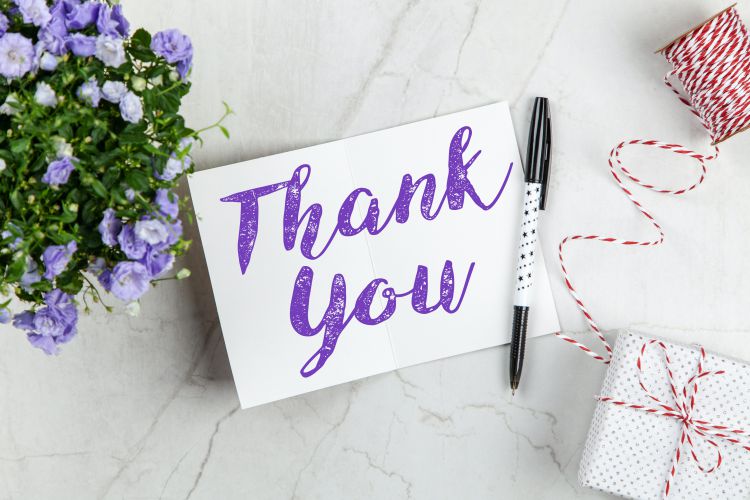 We say 'thank you' every day —to the clerk at the grocery store, the customer service team member on the end of a phone line, and to the waiter when we're dining out at a local restaurant. For most, this is a common form of social etiquette and a part of our day-to-day lives. That said, we often unintentionally forget to express just how much we appreciate those closest to us — through complacency, comfort, and a misunderstanding about how important it is to show genuine gratitude for both the recipient and you.
Maybe your dad has stepped up with babysitting duties over the past year. Maybe a co-worker has helped you overcome a huge work hurdle. Perhaps your best friend has supported you during a particularly devastating breakup. While you're sure to have said a quick 'thank you,' going one step beyond with an elevated thanks will make you both feel great.
Fantastic Ways to Express Your Gratitude
If you're looking for ways to express your thanks beyond a quick text message, some excellent ideas for consideration include sending a thoughtfully scripted e-card; cooking an elaborate dinner; buying tickets for a favorite group; or sending a carefully crafted, gourmet gift basket straight to their door. One notable provider of gift basket solutions is NutcrackerSweet.com. They provide a wide selection of luxury baskets for every taste and every occasion. They can ship across North America and can allow you to truly express your gratitude with style — showing the recipient just how valued they are.
Feeling Appreciated Is Energizing
When you go out of your way to express your thanks, you make the person on the receiving end feel valued and respected. Hearing their efforts were needed and appreciated will boost their confidence while strengthening your connection and relationship.
Ultimately, by conveying gratitude, you're letting someone know that they're a cherished part of your life.
Expressing Gratitude Is Good for You Mentally
Not only does express thanks make the person on the receiving end feel fantastic, but it can also help you mentally and physically, too.
Being grateful has been tied to having a positive sense of well-being and a greater sense of happiness. Those who take the time to relish the positive emotions that come with gratitude feel a greater connection to others and a higher level of compassion.
Further, thankful people experience better mental health and have improved immunity, blood pressure, and heart health.
Being Grateful Strengthens Your Relationships
In both romantic and platonic relationships, expressing gratitude will strengthen your bond. Communicating thanks deepens our connections to others on a personal level; it's also humanizing in a professional environment. Overall, appreciation affords us a sense of peace in our relationships.
These are just a couple of the reasons why appreciating those closest to you can make you feel better physically and mentally.
Saying 'thank you' is necessary on a daily basis; however, on some occasions, going one step beyond and expressing an elevated thanks can make both you and the recipient feel great.