Introduction
 Metal braces are the traditional form of orthodontic treatment used to address malocclusions, or misalignment of the teeth and jaws. Metal braces have been in use for decades and are still a popular option for orthodontic treatment. They are versatile and effective, offering an array of advantages to improve both dental health and aesthetic appearance. This introduction will explore some of the benefits associated with metal braces, as well as their potential drawbacks.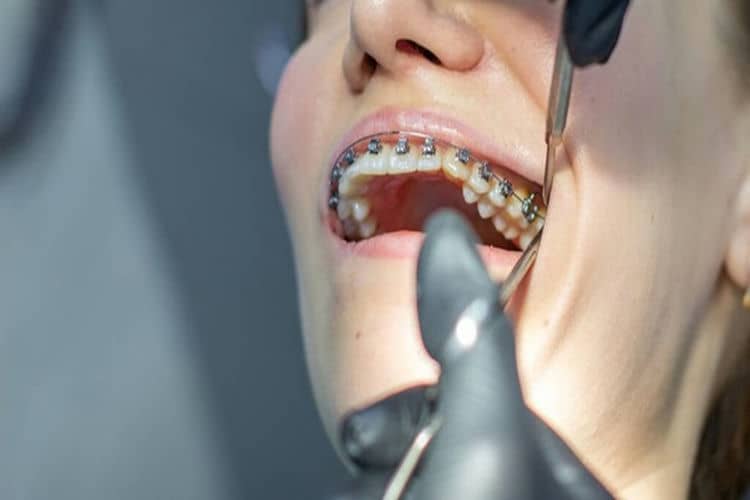 Types of Metal Braces
Metal braces in Sydney are one of the most common and reliable forms of orthodontic treatment for people with crooked or misaligned teeth. They are made from stainless steel and offer a much more affordable option than clear braces. While metal braces may not be as attractive as other types, they offer superior strength and durability which makes them a great choice for those looking to straighten their teeth without breaking the bank.
The most basic type of metal braces consists of brackets that are affixed to each tooth with an archwire running between them. This archwire is used to gradually move the teeth into position over time. The brackets can come in a variety of shapes, sizes, and colors depending on the patient's needs. Some common shapes include square, round, rectangular, heart-shaped, and butterfly-shaped brackets. Standard metal braces also include rubber bands or "ligatures" which help hold everything in place while providing additional support to ensure maximum comfort throughout treatment.
Self-ligating metal braces provide an even simpler solution by eliminating the need for rubber bands or ligatures altogether; instead they use unique clips that slide onto the archwires allowing them to move freely without any extra attachments needed for support.
Benefits of Metal Braces
Metal braces are a popular choice among patients looking to straighten their teeth. They have been around for many years and have been improved over the years so that they are now more comfortable and less noticeable than ever before. While metal braces may not be the most aesthetic option, they offer several benefits that make them worth considering as part of your orthodontic treatment plan.
Durability is one of the biggest advantages of metal braces. Metal brackets and wires are designed to withstand strong forces, making them ideal for people with severe misalignment or overcrowding issues that require significant pressure to correct. Metal braces can also be adjusted easily throughout a patient's treatment, allowing for quicker results than other types of braces such as ceramic or clear aligners.
In addition to their durability, metal braces also tend to be less expensive than other orthodontic treatments such as Invisalign® aligners or lingual (behind-the-teeth) braces. Furthermore, because metal brackets and wires remain in place throughout treatment (unlike removable aligners), fewer visits to the orthodontist may be required during treatment – saving both time and money on appointments!
Disadvantages of Metal Braces
Metal braces are the most traditional type of orthodontic treatment and have been used for many years to help people achieve a straighter, healthier smile. Although metal braces have many benefits, there are also some drawbacks that must be considered before undergoing this type of orthodontic treatment. Here are some of the main disadvantages of metal braces:
1) Unsightly Appearance: Metal braces are very noticeable when you smile or talk and can be embarrassing for some people who don't want to draw attention to their mouth. The metal brackets and wires make it obvious that someone is wearing braces which can make them self-conscious in social situations.
2) Irritating Comfort Level: The metal brackets and wires used in traditional braces can cause discomfort in the mouth as they rub against the inside of the lips and cheeks. This can cause irritation which may last several days until the patient gets used to wearing them. In addition, tightening appointments may also be uncomfortable if done too frequently as it puts pressure on teeth roots causing pain or discomfort for days after each adjustment appointment.
3) Difficult Maintenance: Traditional metal braces require daily maintenance including cleaning around each bracket with special floss threaders or interdental brushes.
Cost and Maintenance of Metal Braces
Metal braces are one of the most popular and effective orthodontic treatments for straightening teeth. While this treatment may not be as discreet as other options such as clear aligners, metal braces come with many benefits that make them a great choice for many people looking to improve their smiles. However, before investing in metal braces, it's important to understand the associated costs and maintenance involved with this treatment.
The cost of metal braces will depend on a variety of factors including the severity of your misalignment, the type of braces you choose (traditional or self-ligating), and your location. Generally speaking, traditional metal braces tend to be less expensive than self-ligating ones which require fewer adjustments throughout treatment due to their innovative design. On average, patients can expect to pay anywhere from $2,500-$8,000 depending on their individual needs and circumstances.
When considering these costs it is important to take into account that they may include additional fees such as retainers or visits for checkups throughout your treatment process which are essential in maintaining healthy oral hygiene during orthodontic care.
Conclusion
Metal braces remain the most popular and effective orthodontic treatment for straightening teeth. They are a reliable and long-term solution that can be used to correct many types of dental issues, such as overcrowding, misalignment, and overbite. Metal braces are also very affordable and accessible, making them an excellent choice for those seeking orthodontic treatment. With proper care and maintenance, metal braces can provide a lifetime of beautiful smiles.