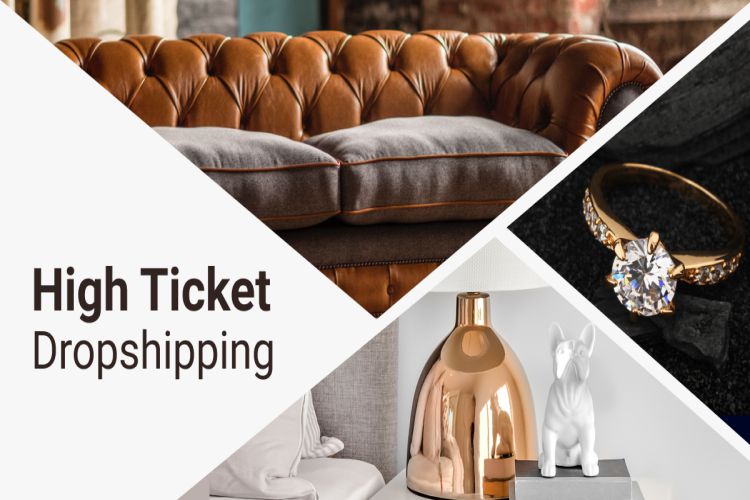 Dropshipping is a popular business model that has gained traction in recent years. It allows entrepreneurs to start a business with low upfront costs by sourcing products from suppliers that ship them directly to customers. High-ticket dropshipping takes this model to the next level by selling high-priced items like luxury goods or high-end electronics. For the more basic consumer goods like apparel – consider partnering with a quality print-on-demand dropshipping partner like Printify. Check printify vs printful comparison guide for more details.
While high-ticket dropshipping can be lucrative, it requires a different approach to marketing than traditional dropshipping. This article will cover the dos and don'ts of marketing high-ticket dropshipping products.
DO: Focus on Quality
One of the most important things you can do when marketing high-ticket dropshipping products is to focus on quality. Customers willing to spend significant money on a product expect it to be of the highest quality. This means that you must choose your suppliers carefully and ensure they provide products that meet your standards.
In addition, your website, marketing materials, and customer service should all reflect the high quality of your products. This can help you build a reputation as a premium brand and attract more high-end customers.
DO: Use Influencer Marketing
It can be a powerful tool for promoting high-ticket dropshipping products. You may reach a bigger audience and gain the trust of potential customers by collaborating with influencers who have a sizable following and considerable power over their audience.
When choosing influencers to work with, look for those who strongly connect with your target audience. For example, if you sell luxury watches, you should work with fashion bloggers or influencers specializing in luxury lifestyle content.
DON'T: Compete on Price
One mistake that many drop shippers make is to compete on price. While this might work for low-priced items, it's not a sustainable strategy for high-ticket products. Customers who are willing to spend a lot of money on a product are often looking for quality and value, not just the lowest price.
Instead of trying to undercut your competitors, focus on providing value in other ways. This might mean offering exceptional customer service, providing free shipping or returns, or offering exclusive deals and promotions to your loyal customers.
DO: Build a Strong Brand
Building a strong brand is essential when marketing high-ticket dropshipping products. Your brand should reflect the quality and value of your products and your commitment to customer satisfaction.
Invest in creating a professional website, logo, and marketing materials that reflect your brand's values and identity. Use social media to build your brand's online presence and engage with your audience. By creating a strong brand, you can differentiate yourself from competitors and build a loyal customer base.
DON'T: Neglect Customer Service
Customer service is important for any business but especially crucial when selling high-ticket items. Customers who are spending a lot of money want to feel confident that they're making a good investment, and they expect to receive exceptional service throughout the buying process.
Ensure you have a clear and easy-to-use return policy and be responsive to customer inquiries and concerns. Consider offering personalized support, such as live chat or phone support, to help customers feel more confident in their purchases.
DO: Provide Detailed Product Information
When selling high-ticket items, it's important to provide detailed product information that helps customers make informed purchasing decisions. This might include detailed product descriptions, specifications, and high-quality photos or videos.
In addition, consider providing educational resources or guides that help customers understand the value of your products and how to use them. By providing this information, you can build trust with potential customers and differentiate yourself from competitors who provide less detailed information.
In conclusion, marketing high-ticket dropshipping products requires a different approach than traditional dropshipping. By focusing on quality, building a strong brand, providing exceptional customer service, using influencer marketing, and providing detailed product information, you can differentiate yourself from competitors and attract high-end customers willing to spend more on quality products.
However, avoiding common mistakes such as competing solely on price and neglecting customer service is also important. By following these dos and don'ts, you can create a successful high-ticket dropshipping business and build a loyal customer base that values quality and value over price.
Remember, in the world of high ticket dropshipping, the quality of the product and the service you provide set you apart from the competition. By building a strong brand, establishing yourself as an authority in your niche, and providing exceptional customer service, you can confidently create a successful business that sells high-ticket products.
Author Bio: 
Trevor James founded eCommerceParadise.com, a blog about eCommerce and high-ticket drop shipping. He owns multiple eCommerce stores selling high-ticket items in the USA while living in southeast Asia most of the year. At the same time, his team of over 10 virtual assistants worldwide manages everything from operations and management to research and marketing for him. Trevor teaches entrepreneurs like you how to start and grow their profitable online businesses. Read his post to find out more about this fascinating online business approach like the Top 10 Best Drop Shipping Products for High-Ticket Dropshipping. Trevor is also present on Instagram and Facebook.