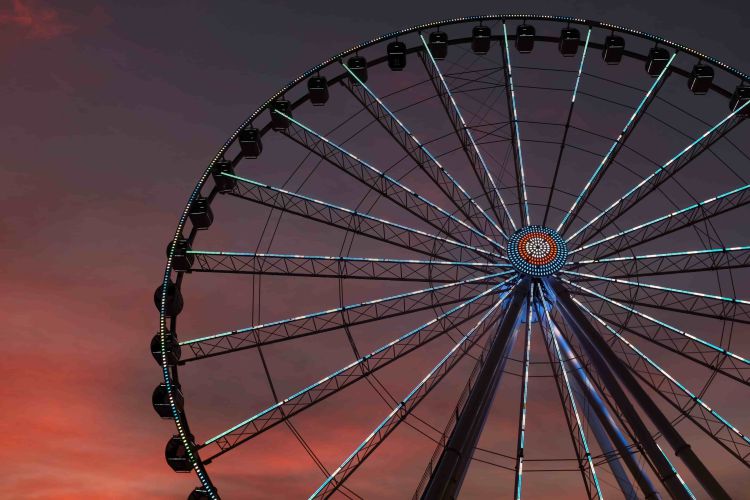 Pigeon Forge, nestled in the Smoky Mountains of Tennessee, offers an appealing blend of natural beauty and wholesome entertainment. It's a place where families and friends can reconnect, unwind, and create unforgettable memories. 
Make your trip to this gorgeous location as special as you can if you're planning one. Here are some tips to help you get the most out of your Pigeon Forge experience.
Take Advantage of the Great Outdoors
Pigeon Forge is surrounded by the breathtaking beauty of the Great Smoky Mountains National Park, so it would be a missed opportunity not to explore the outdoors. Begin your adventure with a scenic drive around Cades Cove, where you'll have the chance to see deer, black bears, and even coyotes in their natural habitat. 
For a more active experience, take a hike on one of the many trails. Laurel Falls and Abrams Falls are popular choices that offer moderate hikes and a beautiful waterfall at the end as your reward.
Of course, it's not all about hiking and sightseeing; there are also opportunities for horseback riding, fishing, and white-water rafting. Pack a picnic basket and spend a day at Metcalf Bottoms Picnic Area, which provides a tranquil setting beside a refreshing mountain stream. 
It's a perfect way to escape the hustle and bustle while enjoying the company of loved ones.
Staying in a Hotel to Make the Experience Super Comfy
Your choice of accommodation can make or break your vacation, and in Pigeon Forge, the options are plentiful. However, staying in a hotel can add an extra layer of comfort and convenience to your trip. 
When looking for hotels in Pigeon Forge TN, it's essential to find ones that offer not just a room but an experience. Amenities like indoor pools, hot tubs, and onsite restaurants can add a touch of luxury to your stay.
Many hotels in Pigeon Forge also offer stunning mountain views right from your room's balcony, allowing you to start and end your day soaking in the natural beauty of the Smokies. 
Plus, staying in a hotel often means you're centrally located, giving you easy access to attractions, dining, and shopping. Be sure to ask for recommendations from hotel staff—they're usually locals who can provide valuable insider tips to make your trip even more memorable.
Embrace Local Arts and Crafts
Pigeon Forge and the surrounding areas are well-known for their community of artisans. You'll find a host of local craft stores that offer everything from handmade quilts to intricately designed pottery. For a particularly enriching experience, consider a visit to Old Mill Square, where you can watch potters, candy makers, and other craftsmen at work.
Another way to embrace the artistic spirit of the area is by attending a local fair or festival. The Smoky Mountain Trout Tournament and Wilderness Wildlife Week are events that offer a blend of education, entertainment, and community involvement, all set against the backdrop of the gorgeous Smoky Mountains. 
With interactive workshops and exhibitions, these events provide a deeper insight into the local culture and natural environment, making your trip truly unforgettable.
Dine Like a Local
When in Pigeon Forge, eating should not merely be a necessity; it should be an experience. Forget chain restaurants and fast food; dive into the local cuisine that makes this region special. For an authentic Southern breakfast, try croissant French toast or a hearty portion of biscuits and gravy at a local eatery like Sawyer's Farmhouse Breakfast.
When it comes to lunch and dinner, don't miss out on family-run barbecue joints where the pulled pork sandwiches are to die for. If you have a sweet tooth, you're in for a treat with Southern specialties like pecan pie and peach cobbler available at many restaurants. 
Dining like a local allows you to connect with the heart and soul of Pigeon Forge, elevating your trip from mere sightseeing to a cultural immersion.
Opt for Unconventional Entertainment
While Pigeon Forge is known for its staple attractions, it's often the lesser-known activities that make a trip truly unique. Have you ever tried mini-golf in a glow-in-the-dark setting? How about experiencing a mountain coaster that lets you control your speed as you zip down the hills? These unconventional attractions add an element of surprise and excitement to your trip.
Consider taking a scenic helicopter tour of the Smokies. Seeing the mountain range from above offers a new perspective on its majesty and might just become the highlight of your trip. If you prefer keeping your feet on the ground but still want an adventurous experience, consider renting ATVs or dune buggies for a rip-roaring journey through the forest trails.
Escape rooms are becoming popular, and Pigeon Forge has some truly creative options that can be fun for the whole family or as a date night. They offer an interactive way to challenge your brain while having fun. Another entertaining option could be to visit one of the local petting zoos or farms, where you can get up close and personal with animals and even learn a bit about farming.
Some people find joy in the simpler things, like sitting by the Little Pigeon River, skipping stones, and watching the water flow by. It's those quiet moments that often become the most memorable parts of a vacation.
By adding a mix of unconventional entertainment options to your itinerary, you'll not only have fun but also make unforgettable memories that will make your trip to Pigeon Forge stand out from the rest.
Plan a Balanced Itinerary
Pigeon Forge offers such a wide range of activities that it's easy to feel overwhelmed. The key to a memorable trip is to strike a balance between relaxation and adventure. Schedule a few key activities each day, but leave room for spontaneous exploration. 
Keep some evenings free to stroll down the Parkway, catch a local band performing, or simply relax in your cozy hotel room.
Remember, vacations are not just about seeing and doing as much as possible; they're also about disconnecting, recharging, and spending quality time with loved ones. So take it slow, savor each moment, and let the natural charm of Pigeon Forge work its magic on you.