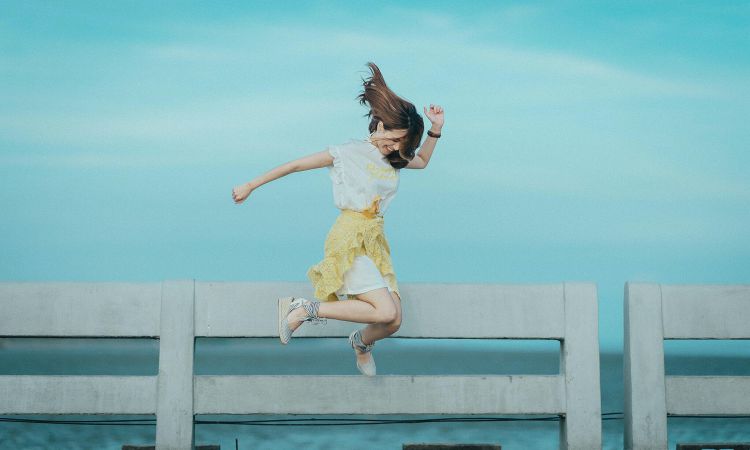 Confidence is such a difficult thing to define, but one of the best things about it is the fact that acting as though you're confident is indistinguishable from actually being confident. Because it's a state of mind, all you need to do is tell yourself that you are confident and you will be, but there are some things that make it a lot easier to maintain a confident approach:
Wear well-fitting clothes
We all have something in our wardrobes that we are hoping will fit properly at some point in the future, or that doesn't really suit us but looks amazing on the hanger. Wearing these items does nothing to make you feel confident as you worry that your shirt might gape, your skirt might be riding up, or that your pants dig in when you sit down.
As tempting as it might be to keep hold of these, they don't do your confidence any favours, so rid yourself of anything that doesn't fit well and instead fill your wardrobe with pieces that make you feel good like a super trendy biker short romper.
Accessorize
Being confident can mean wearing eye-catching outfits without worrying about drawing people's attention, but you don't need a wardrobe full of bold prints or loud colours to achieve this look. Accessories are a great way to make a statement, and they can be used to give any outfit a lift from ordinary to extraordinary.
A plain black dress can be ideal office wear, transformed into a glamorous look for a night out with the addition of a statement necklace, bright belt, or spectacular shoes. Your hair, nails, and makeup all contribute to your look as well, and being well-groomed is a great shortcut to self-confidence.
Dress for yourself
It can be helpful to observe other people and take elements of their look that work for you, but it's important to remember that you are ultimately dressing for yourself. Going out in an outfit that you aren't sure about will not help your confidence, whether that's the cut, the length, the fabric, or the colour.
Dress in clothes that make you feel good and don't chase a look that isn't going to flatter you just to emulate your favourite style icon.
Keep your clothes in good condition
It's hard to feel confident if you're worried that you could reveal a stain at any moment, or that your underwear might show through a hole in your shirt. While we all have comfortable clothes that we struggle to part with, sometimes an item needs to be relegated to 'at home only' wear, or even thrown out altogether.
Even when you take good care of your clothes, they will show signs of wear eventually, whether that's baggy knees on your comfiest pair of leggings, a frayed hem on the cuff of that perfect shirt or faded colour on your favourite summer dress. You can give your clothes a longer life span by making sure you follow the washing instructions, don't use harsh cleaning products on them, and make sure you store them correctly when you aren't wearing them.
Fill your wardrobe with confidence
While your clothes can't make you confident on their own, they can go a long way to helping you feel good about yourself. Fill your wardrobe with pieces that make you look and feel good so that whatever combination you choose, you will be wearing well-fitting, flattering clothes.
Most of us have a favourite shirt, a pair of pants that are comfortable and stylish, or a pair of shoes that make us feel fabulous, and there's a lot to be said for maximizing the benefits of those unicorn items. Buy more than one of your favourite items, in different colours if possible, so that you can always be dressed in your top-rated pieces.
While it's perfectly possible to feel confident in sweats and a holey shirt, it's a lot easier to keep your chin up and head high when you know you look amazing. Your clothes will help you tap into your inner confidence and allow your best self to shine through.