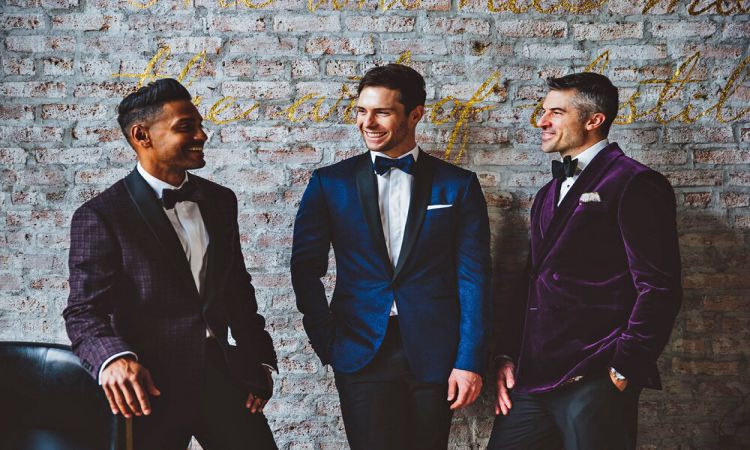 In the world of wedding attire, the fashion landscape is continuously evolving, giving grooms a plethora of choices to express their unique style. This article delves into the latest wedding suit and tuxedo trends, ensuring you'll stand out on your special day.
Embracing Modern Color Palettes in Wedding Attire
In recent years, grooms have begun to challenge the status quo, breaking free from the confines of traditional wedding attire. Instead of the expected black or navy tuxedos, modern grooms are embracing a more diversified and contemporary color palette in their wedding suits. These fresh choices reflect the evolving trends in men's fashion and the increasing desire to infuse personal style into one's nuptial garb.
Earthy colors like rich emerald and deep burgundy have seen a noticeable increase in appeal. These colors, while remaining true to the formality and sophistication expected of wedding attire, offer a breath of fresh air from the standard, often monochromatic options. They offer an attractive alternative for those looking to bring a sense of originality and personality to their look.
The incorporation of these colors not only modernizes the attire but also enhances its depth and character. A suit in deep burgundy, for example, conveys a sense of warm sophistication, while an emerald suit communicates a sense of vibrancy and life. These colors are not just stylish alternatives but speak volumes about the groom's unique character and taste.
Furthermore, the choice of color can play an integral role in the overall aesthetics of the wedding itself. A harmonious integration of the groom's attire with the wedding theme or color scheme elevates the event's ambiance and creates a pleasing visual symmetry. Thus, this modern approach to wedding attire proves not only chic but also symbolically cohesive, adding an extra layer of depth to the memorable event.
The Rise of Textured Fabrics
The texture is redefining fashion, and wedding attire is no exception. Traditional suits and tuxedos can now be styled in more fashionable materials like velvet and paisley. For example, a velvet dinner jacket adds a distinctive and fashionable touch to your wedding attire, giving you a chic and distinctive appearance.
The Appeal of Slim-Fit and Tailored Attire
Today, grooms want tailored, slim-fit suits that highlight their body type and give them a contemporary, elegant image. Tapered sleeves, tailored jackets, and slim-fit pants are important design elements to consider. These styles give conventional wedding dresses a contemporary touch, ensuring that the grooms seem dapper and fashionable.
Accessorizing for a Personal Touch
Accessories are now an essential component of a groom's bridal attire. Accessorizing with bow ties, fashionable neckties, patterned pocket squares, and distinctive cufflinks allows grooms to improve their appearance. Experimenting with unusual textures, colors, and materials gives your wedding decor a personalized touch that fits in with the overall concept.
Importance of the Perfect Fit
When it comes to a suit or tuxedo, fit is paramount. The ideal sleeve length on your jacket and the perfect hem length on your pants can significantly enhance your overall look. Consider using a professional consultant to advise on the ideal fit for your body type and offer alterations to perfect the look.
The Cost-Effective Solution: Renting
High-quality suits aren't cheap. The material and construction determine the quality, feel, and longevity of the suit. Renting offers a high-quality look without the hefty price tag, providing you with a professional consultant and the latest trends in men's fashion.
Renting a Tuxedo or Suit: A Game Changer
The landscape of men's fashion is a dynamic one, with trends ebbing and flowing in their ceaseless rhythm. This constant evolution can make it a real challenge to stay in touch with the latest fashions, particularly for those who can't or prefer not to revamp their wardrobes frequently. However, there is an accessible solution to this conundrum – consider the option of renting a tuxedo or suit for your next big event. This approach is not only cost-effective but also empowers you to sport the latest styles without being saddled with the hefty commitment of a purchase.
Rental services offer a broad variety of up-to-date styles to choose from, allowing you to pick a tuxedo or suit that aligns seamlessly with your aesthetic preferences and the occasion. Whether you are attending a black-tie event, a wedding, or a business meeting, you can easily adapt your look to fit the required formal dress code.
It might surprise you just how transformative the right outfit can be. The elegance, fit, and comfort of a freshly pressed tuxedo or well-tailored suit can provide an immeasurable boost to your confidence. It enhances your overall appearance and the way others perceive you. Thus, renting a suit or tuxedo could potentially be a true game-changer in your sartorial journey.
Your Next Event: Give Renting a Try
Next time you're a guest at a wedding, a formal event, or a black-tie gala, consider renting your outfit. Enjoy the event and prepare for compliments to come your way.
Conclusion
In conclusion, the latest trends in wedding attire offer a myriad of options for grooms to express their unique style. Embrace these trends and create a wedding look that will leave a lasting impression on your special day.