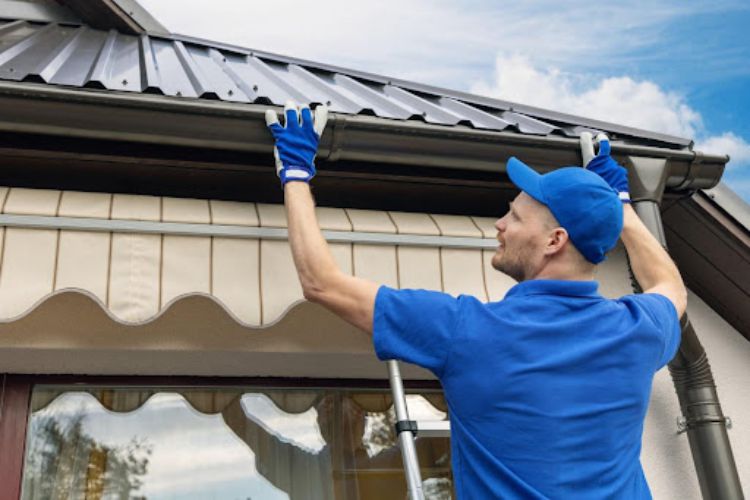 Are you looking to install new gutters for your metal roof?
Choosing the right type for your roof can seem tricky, and you want to get it right the first time! Do you know the differences between the options available to you?
If not, we're here to help you out. Below are the metal roof gutter types that you should know about. By knowing more about your options, you'll be more capable of making an informed decision.
Read on and let's get started.
Seamless Aluminum Gutters
Many people prefer seamless aluminum gutters for metal roofing. Manufacturers create them from a continuous piece of aluminum. This ensures that they lack seams or joints.
This seamless design reduces the chances of leaks and clogs. Aluminum gutters have a lightweight build, resist rust, and are easy to maintain.
They come in various colors to complement your roof's aesthetics. Seamless Gutter Installation is also not that complex. To be sure though, it would be best to hire the experts to do it for you. 
Keep in mind though that they may have a higher initial cost. Despite this, their durability and minimal upkeep make them a wise investment.
Steel Gutters
Steel gutters are another robust option for metal roofs. They are often chosen for their strength and longevity. Steel gutters come in various thicknesses, with thicker ones providing better durability.
You can galvanize these gutters to resist rust. You can also coat them with paint to enhance their appearance.
Keep in mind that steel gutters can be heavier than other materials. With this in mind, make sure that your roof's structure can support them.
Copper Gutters
Copper gutters are a premium choice that adds an elegant touch to your home. Over time, they develop a beautiful patina that gives your house a unique character.
Copper home gutters are exceptionally durable and resistant to corrosion. This makes them a top choice for homeowners who want a long-lasting solution.
Vinyl Gutters
Vinyl gutters are a cost-effective option for homeowners on a budget. While they are not as robust as metal gutters, they are lightweight and easy to install.
Vinyl gutters are resistant to rust and corrosion. This makes them a suitable choice for areas with moderate rainfall.
Remember though that they may not be the best choice for heavy rain or extreme weather conditions. This is because they can become brittle over time.
Zinc Gutters
Zinc gutters are a less common but highly durable choice for metal roofs. They are often known for their strength and resistance to rust and corrosion. Over time, zinc gutters develop a protective patina that enhances their appearance.
These gutters are well-suited for areas with frequent rainfall. This is because they are capable of handling large volumes of water.
Zinc gutters might be more expensive to install. However, their extended lifespan and low care requirements make them a good investment.
Know the Types of Gutters for Metal Roofs
Knowing the different metal roof gutter types is crucial for ensuring proper installation and maintenance. With different options available, it is important to select the best fit for your home.
Don't overlook this important aspect of your roof. Contact a trusted roofer today to get started.
Did you find this post helpful? If so, head back to our website for more informative content.