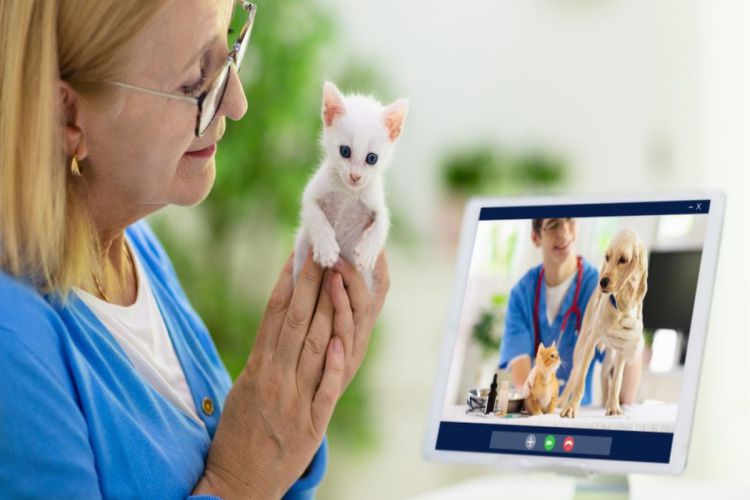 Is your pet acting strange? Is he behaving unusually or in pain? Then it might be time for your first online vet visit.
Instead of making a costly trip to the veterinarian in person, with traffic and fees, your pet can have a health evaluation done over the Internet. The truth is that telemedicine is more popular and helpful than you might think.
Check out this guide to know what to expect when online visiting your online veterinarian.
You'll Be Asked for Information Before an Appointment
When you go for your first online vet visit, you can expect the vet to ask for some information before the appointment. This information can include details about your pet:
diet and lifestyle

health history

prior medical issues
Your vet may ask if you have any questions or concerns regarding your pet's health and may ask you to provide photos of your pet to give the vet a better understanding of your pet's physical condition. During the appointment, your vet will conduct a virtual physical examination and may suggest tests or procedures for further care.
You Will Be Given Medications Based On the Virtual Check
Based on your information, the veterinarian may recommend medications to treat any underlying conditions. Regardless of the medications prescribed, the professional will also provide directions on how to administer them correctly and provide additional guidance regarding potential side effects.
Furthermore, the veterinarian may suggest lifestyle changes to improve your pet's overall well-being. This could include:
dietary changes

physical activities

other lifestyle changes
With the help of online vet visits, people can now provide their pets with the best possible care from the comfort of their homes. They may also go over any vaccinations. The online visit can be used as a preventative measure or for urgent health issues.
Your Pet Will Be Covered By Insurance
Taking your pet to the vet for the first time online can feel like an intimidating experience. That said, fetch insurance for your pet can help take some of that stress away. With most pet insurance plans, you can expect your pet's vet visit to be covered in most circumstances.
This means you won't have to worry about the financial cost of taking your pet to the vet. Furthermore, some pet insurance plans offer extra benefits like coverage for:
annual check-ups

lab work

other tests

x-rays
Your insurance plan will dictate exactly what is and what is not covered. Read the fine print and speak with your insurance provider if you have any questions or concerns. Taking your pet to the vet for the first time online can be a great experience overall if you are adequately prepared and financially covered.
Know What to Expect From an Online Vet Visit
An online vet visit can be a great way to access medical care from the comfort of your home. You should know what to expect, such as talking to the vet via video chat, being asked to provide a series of photos, and potentially having to provide a urine sample.
Choose a reputable and trustworthy vet before scheduling an online visit.
Should you wish to read more articles aside from what to expect from a virtual vet visit, check out our main blog.