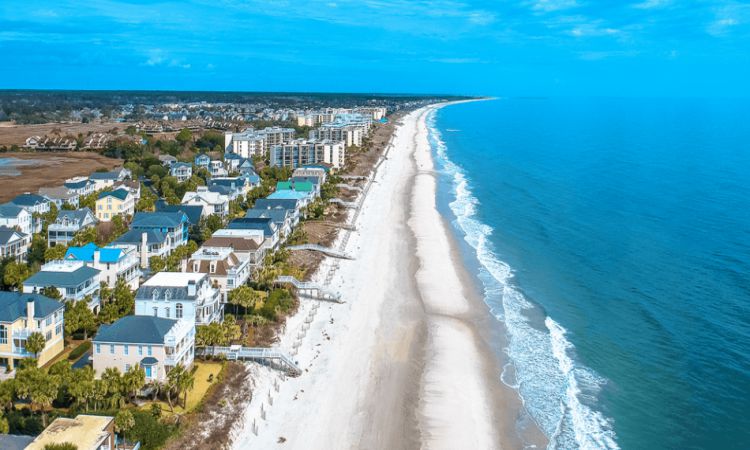 Have you heard about Pawley's Island in South Carolina? Are you thinking about a summer vacation on Pawley's Island? Off Grand Strand in Myrtle Beach, on the Atlantic coast, is a barrier island called Pawley's Island. It is one of South Carolina's best-kept secrets. It is one mile wide and about four miles long with sand dunes, oak trees, and beaches. In this article, we discuss some of the amazing things that you can do on Pawley's island while on vacation.
1. Huntington Beach State Park
This state park is an oasis of coastal wetlands and wildlife that will keep you staring and taking in the natural beauty of the island. It has a number of trails to traverse. The Sandpiper Pond Nature trail is just one of the trails that you can choose which has an observation deck to watch many species of birds.
The Kerrigan Nature Trail features a boardwalk that goes over a freshwater lagoon. With its vast and pristine sandy shores, you can enjoy the beach of this trail. Moreover, you can also camp and fish on this trail.
2. Atalaya Castle
Visit Archer Huntington's former residence, the Atalaya Castle, where he lived with his wife Anna and lived as the son of a wealthy robber baron. There are 30 rooms in this castle, which is constructed in a circle around a central courtyard. There are guided tours of the castle and its grounds during the summertime peak travel period.
3. Kayak Tours
If you enjoy kayaking, you can sign up for guided kayak trips that explore South Carolina's tidelands, including the marshes of Huntington Beach State Park, Sandy Island Wildlife Preserve, and the Waccamaw River Cypress-Tupelo Preserves.
Throughout the summer, you can sign up for kayak rides under the stars and for brief twilight tours of Georgetown Harbor.
4. Fishing
If you love fishing, then you can sign up for one of the many fishing charters on Pawley's Island. Some of the fishing charters will include destinations like Bulls Ray and Cape Romain in South Carolina. Sea trout, bull reds, and much other fish can be caught on these fishing charters. If you like to learn more about fishing as well as tips and tricks to catch more fish, then click here.
5. Surfing
Surfing is another activity that you can engage in while vacationing on Pawley's island.  You can take surfing lessons, and buy or rent surfing gear at surf shops on the island. Surf the Earth is a surf shop that offers lessons, rentals, sales, and tours on Pawley's Island. Surf the Earth offers weeklong surf camps as well as lessons in a private or a group setting. You can also learn to surf fish and how to surf fish for beginners will give you tips to be successful at surf fishing.
6. Golfing
If you love golfing, then you can spend some time vacationing on Pawley's Island to keep your golfing skills active. There are golf clubs with courses and challenging tracks.
7. Pawley Island Historic District
If you like history, while vacationing on Pawley's Island, you can visit the historic district. It dates back to 1780 and comprises 12 buildings. You will gain a good insight into the early inhabitants of Pawley's Island and get a deeper appreciation for this secret of South Carolina.
8. Sumptuous Dishes
There are a good number of places to dine when vacationing on Pawley's Island. You can enjoy local and traditional dishes at restaurants as well as beverages to keep you filled while enjoying all of the attractions on this little-known island in South Carolina.
9. Dolphin Tours
You can get a dolphin tour in Murrells Inlet. Blue Wave Adventures Dolphin Tour is a tour company that offers
family-friendly dolphin tours. While on the tour, you and your family will be educated by the tour guide about the history, wildlife, and other interesting facts. There are tours all days during the week weather permitting. You get to see an array of birds and other animals like eagles, jellyfish, sharks, dolphins, turtles, rays, and many more.
10. Visit the Art Galleries
Whether you love art or not, you can visit some of the art galleries on Pawley's Island. They have on display the works of local artists such as paintings, sculptures, ceramics, and other art.
11. Apache Pier
The Apache Pier is the longest wooden pier on the East Coast. It provides many fun activities for visitors and local residents. It is open year-round you can rent fishing equipment, and buy bait and lure if you want to fish off the Apache Pier.
12. Brookgreen Gardens
Brookgreen Gardens is a nature preserve and a sculpture garden. It covers 9,000 acres with trees, plants, and flowers. It is home to an impressive collection of sculptured pieces, with about 2,000 pieces of works waiting to be discovered. They were created by 430 artists, these sculptures are fully integrated into the gardens making it the home of the most comprehensive collection of American sculpture pieces in the country.
Conclusion
Pawley's Island is one of South Carolina's secrets that is waiting for you to discover on a vacation trip. There are many exciting things from surfing to castle tours to keep your day filled with interesting activities.  You can get more fishing information to enhance your skills if you love fishing while on vacation by clicking here.