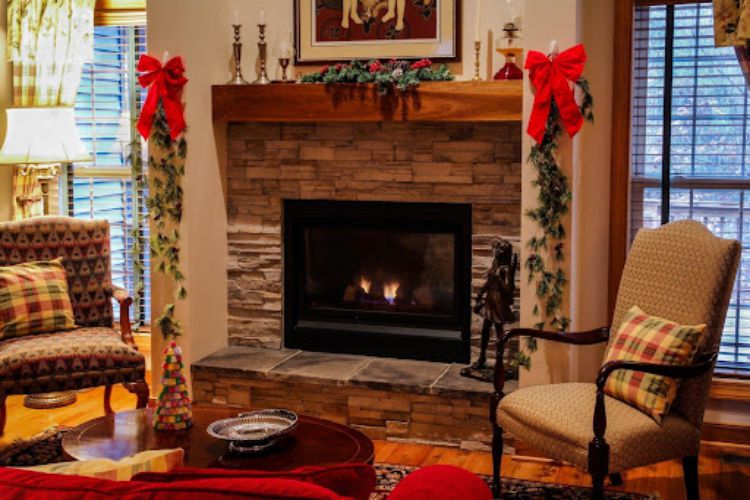 Are you looking to maximize your interior design choices? Are you trying to find a cozy place to relax with a new addition – your fireplace? Have you thought about keeping it in a small living room but aren't sure how to make it work?
In a lot of cases, people want to downgrade to a more manageable size. This frequently entails selling a large home, preemptively or as part of a divorce, and moving into a small living space.
With a few useful tips, you can make it a hot spot in your home! Check out these small living room ideas with a fireplace to get started.
Wall-mounted TV Above the Fireplace
One popular trend is to place a wall-mounted TV above the fireplace, making the most of limited space while creating a focal point in the room. This allows for a seamless integration of the TV and fireplace, making for a sleek and modern look.
Cozy seating near the fireplace can also be maximized by using versatile furniture pieces such as ottomans or stools that can double as extra seating when needed. With a fireplace and a wall-mounted TV, a small living room can become a comfortable and functional space for relaxation and entertainment.
Floating Shelves
These shelves can be mounted directly above the fireplace, creating a vertical display that draws the eye upwards and makes the room feel larger. They can also serve as a functional storage solution for books, photos, and other decor.
To maximize the impact, choose shelves in a complementary color to the fireplace or paint them the same color as the walls for a cohesive look. Adding small plants or scented candles on these shelves can also add a cozy and inviting ambiance to the room. 
Multi-Functional Furniture
This is where multi-functional furniture comes in handy. A storage ottoman can serve as a place to prop up your feet and a spot to store extra blankets and pillows for those chilly evenings by the fire.
A compact sectional sofa with a hidden pull-out bed can provide extra seating and sleeping arrangements for guests. These multi-functional furniture pieces are essential for creating comfortable and functional living room fireplace ideas in a small space.
Light Colors and Mirrors
Light colors, such as white or light gray, can make the room feel bigger and brighter, creating a more open and airy atmosphere. Mirrors, strategically placed across from the fireplace, can reflect the natural light coming in from windows or the fireplace itself, making the room feel more spacious.
Mirrors can also add a touch of elegance and sophistication to the room. By combining light colors and mirrors, a small living room with a fireplace can feel more spacious and welcoming while still maintaining its cozy charm.
Space-Saving Furniture Arrangement
Utilizing space-saving techniques, such as pushing furniture against the walls and using vertical shelving, can open up the room and make it feel larger. Placing a small loveseat or armchair in front of the fireplace not only creates a cozy seating area but also allows for a focal point in the room. Using multipurpose furniture, such as storage ottomans or side tables with hidden compartments, can also help maximize space.
Translucent Furniture
This type of furniture allows light to pass through, creating a sense of openness and preventing the room from feeling cramped. A transparent side table would be a perfect addition, providing a functional surface while maintaining a light and airy atmosphere.
To add some warmth to the room, consider a translucent armchair or sofa with soft, plush cushions. This combination of translucent furniture with a fireplace creates a perfect balance between modern and traditional elements.
Customized Cabinetry
This is where customized cabinetry comes in. By incorporating storage solutions such as built-in shelves, and hidden compartments, clutter can be minimized, and the room can appear more spacious. Also, with the use of personalized cabinetry, the fireplace can be the focal point of the room, adding a touch of warmth and character.
Foldable or Stackable Furniture
Foldable chairs or stools can be easily stored away when not in use, while a stackable table can be expanded for entertaining guests. A foldable sofa bed can provide extra seating and can be converted into a comfortable sleeping space for overnight guests. These flexible furniture options not only save space but also add versatility to a small living room with a fireplace.
White Oak Box Mantel
The natural grain and warmth of the white oak wood add a touch of elegance to the room while still maintaining a rustic charm. The clean and simple design of the mantel allows it to blend seamlessly with any decor style. It also provides a convenient spot to display family photos or decorative items. Whether the fireplace is in use or not, the white oak mantel adds character and adds to the overall charm of the small living room.
Cozy Nook Design
A cozy living room with a fireplace can be the perfect warm and welcoming space. Consider the placement of the fireplace, as it can serve as a focal point for the entire room. A simple arrangement with a comfortable armchair and a soft throw blanket can transform the area into a cozy reading spot.
To add some visual interest, hang a piece of artwork above the fireplace and incorporate some plants for a touch of nature. A plush rug and some soft lighting will complete the cozy atmosphere in this small living room with a fireplace.
Create Your Small Living Room Ideas With a Fireplace Today
Incorporating small living room ideas with a fireplace can add warmth and coziness while also maximizing space with clever design strategies. From utilizing vertical space to incorporating multifunctional furniture, there are endless possibilities for creating a stylish and functional living room with a fireplace.
So why wait? Let these small living room ideas with a fireplace inspire you to transform your space. Start planning and designing today! 
Was this article helpful? Keep scrolling to discover more lifestyle tips and tricks here on our blog.