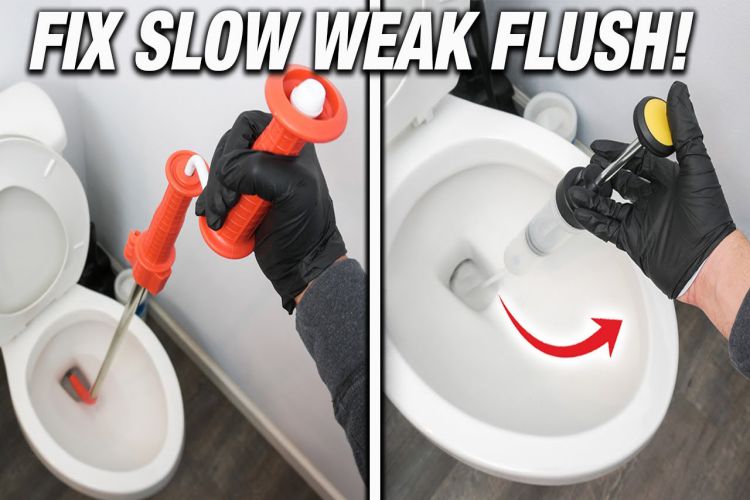 A weak flush can be a real nuisance, causing the toilet to take forever to empty and leaving behind an unpleasant smell. Luckily, there are simple solutions for fixing this problem at home without having to call in a plumber. 
With just some common items from around the house, you can easily get your toilet flushing like new again.
Here are some of the best ways of doing so!
If you need help with your weak flushing toilet, you can always rely on the team at Diamondback Plumbing to help you find the solution.
Using Household Items to Fix a Weak Flush
You can use the following items to fix a toilet with a weak flush. Best of all, most homeowners have the following items in their homes already! This means you don't have to take a trip to your local hardware store to get supplies.
#1 — Plunger
Using a plunger to fix a weak flush is one of the most common methods used by homeowners. A plunger creates suction and pressure, which helps loosen any clogs from the pipes that are causing the low water flow.
#2 — Baking Soda and Vinegar
If you don't have a plunger on hand, baking soda, and vinegar can be effective as well. Adding a cup of baking soda down the toilet followed by two cups of white vinegar will create a fizzy reaction that can help break apart any blockages in your pipes or tank. Let the mixture sit overnight before flushing it with hot water.
Other Methods of Dealing With a Toilet With a Weak Flush
Unfortunately, you may not be able to deal with some stubborn issues by simply using household items and cleaners. You may need to try out some different techniques if you want to find the solution to your problem.
You can also try out these useful techniques if you can't fix the weak flush with household items:
Adjusting the Water Pressure Level
You may need to adjust the water pressure level if your home has an adjustable valve near its main pipe leading into your house (usually located outdoors). This simple adjustment can help get more outflow when flushing your toilet if it's set too low or has been knocked off the balance over time due to wear and tear on plumbing fixtures inside your home such as toilets, sinks, etc. 
Remove the Tank Components for Cleaning
Tank components may need cleaning from time to time, so if you notice any build-up in the tank remove these components and clean it out with a brush before replacing them. This may help boost water pressure and flush performance as well.
What Can You Do If You Can't Fix the Weak Flush With Household Items?
Homeowners should call a plumbing professional if they are unable to fix their weak flushing toilet by themselves. This is due to the fact that a plumber has the experience and expertise needed to diagnose and repair your toilet.
When calling in a plumber, it's important to ensure that they have the right certifications and experiences, as well as insurance in case of any accidents. 
A qualified technician will be able to identify the cause of your weak flush quickly, while also providing you with a comprehensive quote for repairs. They may even suggest additional upgrades or replacements of old fixtures such as your toilet's tank components to improve performance and prevent future issues from occurring.
In addition, a plumber can help you determine how often your toilet should be serviced or inspected in order to keep it running smoothly. Regular maintenance is key when it comes to avoiding serious plumbing issues like overflowing or clogged toilets, which can end up costing homeowners hundreds of dollars in repairs.
Finally, it's always best practice for homeowners to call a professional if they're unable to fix their weak flushing toilet themselves. Not only does this ensure that the job is done properly and safely, but it also provides peace of mind knowing that your problem has been solved quickly and effectively by an experienced expert.
Ways to Fix Weak Flush Using Common Items At Home — Conclusion
It is clear that there are several ways homeowners can fix a weak flush using common items at home. From the plunger to baking soda and vinegar, these methods can help loosen any clogs from pipes that may be causing low water flow.
However, if none of these solutions work for you then it's best to call in a professional plumber who has the experience needed to fix your toilet.
This will ensure your problem is solved quickly and effectively while also providing peace of mind knowing that no further damage was caused by attempting DIY repairs. Overall, fixing weak flushes requires both knowledge and practice; so remember to always consult an expert when dealing with plumbing problems.