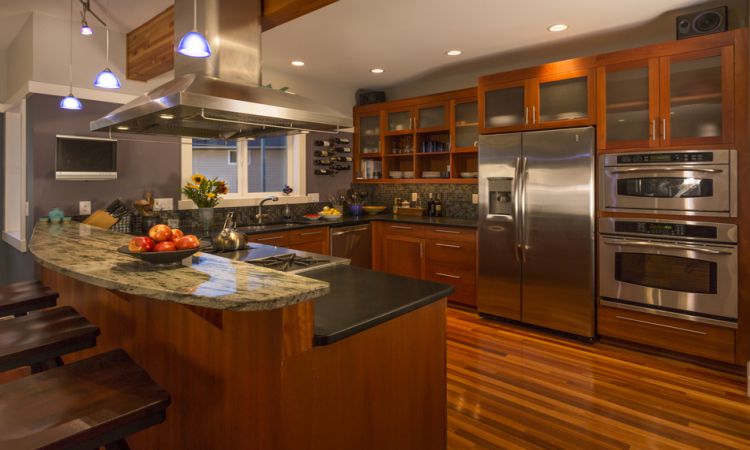 Do you have beautiful wood kitchen cabinets? Do you feel like they need a facelift?
Wood cabinets can add warmth, style, and value to your home. But left alone, they can also look dated and drab. Masonry, wood's natural inclination to show every speck of dust and dirt makes updating your kitchen super challenging.
If you have wood cabinets that you love but want to personalize them, read on. These 3 styling tips will help you update your cabinets and make them pop in your space.
Embrace a Splash of Color
One of the best kitchen cabinet upgrades you can do is to add a touch of color. Choose a color that complements the natural tones of the wood, creating a harmonious balance. Soft pastels or bold jewel tones can work wonders.
For instance, a muted blue can add a calming vibe, while a rich emerald green introduces a touch of opulence.
As you consider colors, remember to think about the overall theme of your kitchen. For those pursuing a rustic feel, earthy tones like terracotta or mustard can work well. On the other hand, if your kitchen leans towards a more modern aesthetic, sleek grays or navy blues might be the way to go.
Experiment with different swatches and envision how they interact with your wood cabinets before making your final choice. If you're unsure about which color to pick, consult with professionals who specialize in kitchen remodeling. For example, you can get expert advice from contractors found in Northern Virginia.
Mix and Match with Hardware
Your kitchen cabinets can benefit from a hardware facelift. Swapping out your current knobs and handles for something fresh can drastically alter the cabinet's appearance. This simple change can be a game-changer style.
Consider the finishes that are currently present in your kitchen. If you have stainless steel appliances, matching hardware can create a cohesive look.
Alternatively, you might choose to go for contrasting finishes. For instance, matte black hardware against lighter wood cabinets can create a striking visual contrast.
When sourcing hardware, be sure to consider both the aesthetic and the functionality. You'll want hardware that not only looks good but is also comfortable to use. Don't forget that hardware comes in various shapes and sizes, so select those that fit the scale of your cabinets perfectly.
Illuminate Your Space
Proper lighting can accentuate the beauty of your wood cabinets. A well-lit kitchen not only looks inviting but also highlights the texture and color of your cabinets. Incorporate a mix of ambient, task, and accent lighting for optimal results.
Under-cabinet lighting is an excellent choice to illuminate your wood cabinets. It casts a warm and inviting glow, making your kitchen feel cozy and welcoming.
Pendant lights above a kitchen island can draw attention to the wood cabinets and create a focal point. Additionally, consider adding LED strips inside glass-front cabinets to showcase your prized kitchenware.
Give Your Wood Kitchen Cabinets an Instant Facelift Today
These tips are a great starting point for styling and organizing your wood kitchen cabinets. Remember to have fun and get creative with your design, and don't forget to keep safety in mind. Embrace a modern look and set yourself up for success in the style department.
Don't wait – start styling today!
Do you want to know more? If so, please feel free to check out our blog and other articles right now!