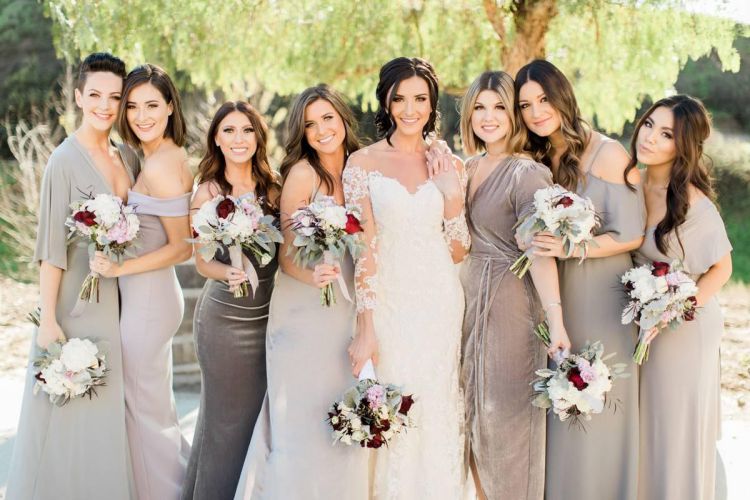 Did you know that the top bridesmaid dress trends include ruffles, mixing outfits and not matching them, and long-sleeve maxi dresses? 
As a bride, one of the most important decisions you'll make when planning your wedding is choosing the perfect bridesmaid look.
While you want your bridesmaids to look elegant and cohesive, you also want them to feel comfortable and confident in their outfits.
But with so many styles and trends to choose from, it can be overwhelming to find the perfect look that will complement your wedding theme and color scheme.
To make things easier for you, we've written a bridesmaid outfit and accessories guide. Keep reading if you want to find out more. 
The Traditional Black Dress
Black bridesmaid dresses exude elegance, sophistication, and versatility. This is one of the reasons why they make the perfect choice for any wedding theme, from a chic urban affair to a rustic countryside celebration.
Not only is the black dress universally flattering. It also allows your bridesmaids to accessorize with bold jewelry, colorful shoes, and statement clutches.
They will feel empowered to create looks that add personality and flair. Also, the sleek and slimming silhouette of the black dress complements all body types. Therefore, it is a great option for mixed-sized bridal parties.
Gorgeous Glam 
Gorgeous glam has become increasingly popular in recent years for bridesmaid dresses and accessories.
This trend features luxurious fabrics like silk and satin, ornate beading, and intricate embroidery. Bridesmaid accessories are also an important element of this trend.
This is why you should choose statement jewelry, sparkling hair accessories, and bold clutch bags for your bridesmaids.
The key to pulling off this trend is to balance the ornate details with a clean and simple silhouette.
This will ensure that the accessories will shine and that they will not overpower the dress. If you are not sure what types of accessories to choose, it can be helpful to read popular wedding blogs. 
Dresses With Sleeves
More brides are selecting a bridesmaid dress with sleeves. This is a great option for those who want a classic, elegant look for their bridal party.
Sleeves can add an extra touch of sophistication and formality to a bridesmaid dress. It and an especially good option for brides who are organizing traditional weddings in cooler weather.
From delicate cap sleeves to long, flowing sleeves, there are a variety of sleeve styles that can be incorporated into bridesmaid dresses.
This trend offers both practicality and style. Sleeves can provide extra coverage while still maintaining a beautiful and feminine aesthetic.
Achieving the Perfect Bridesmaid Look 
It is easier to achieve a trendy bridesmaid look than you might think. You can start by choosing glamorous accessories for your bridesmaids.
It can also be helpful to familiarize yourself with the most popular dress styles. If your wedding is taking place in a cooler climate, consider finding dresses with sleeves. 
Do you want to find out more about what it takes to find the right wedding dresses? If so, make sure to visit the Fashion and Beauty section of our website.