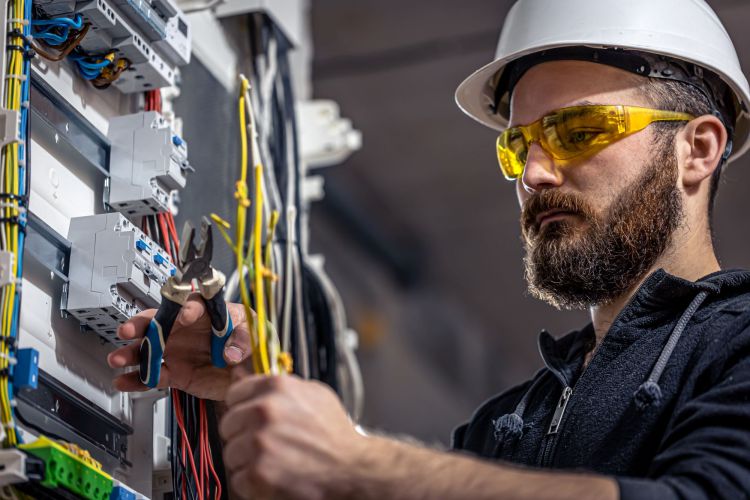 Electrical wiring forms the central nervous system of every home, channeling energy to different parts of the house. Understanding the basics of electrical home wiring is critical to ensuring your home is safe and energy efficient.
Identifying and resolving simple issues can be daunting and costly without understanding home electrical systems. For instance, mismanaged or deteriorated wiring systems can lead to severe safety hazards like electrical fires or shocks, which are costly to repair.  
Whether you're a new homeowner looking to understand the workings of your new abode or a seasoned homeowner looking to brush up on your knowledge, this article is for you. It explores the world of electrical home wiring by explaining its four fundamental principles.    
1. Knowing The Different Types Of Electrical Wires 
It's important to understand electrical wires better. Each electrical wire provides a path for electrical current to travel from the power source to an electrical device. Generally, there are several different types of electrical wires, each designed for a specific purpose. Some common types include: 
Power Cables:

They carry large amounts of electricity over long distances. They're made from thick conductors and well-insulated to prevent heat loss.  

Flexible Cords:

They're used to connect devices to power sources. They're made of rubber or plastic and designed to be flexible, which means they can be moved around easily.  

Signaling Cables:

They're used to carry low-power signals over short distances. They're made of thin conductors and aren't as well-insulated as power cables. 
When an electrical wire deteriorates or becomes faulty, it can lead to serious safety hazards, including electrical fires, shocks, and other defects. An electrical defect means your electrical wiring installations don't meet your state's safety requirements.
In regions such as parts of Australia, you need a level 2 electrician to address the issue. A level 2 electrician refers to an electrician qualified to work on both the consumer side of the electrical installation and the supply side (network connections). However, in other parts of the world, different designations might be used to describe electricians with varying levels of qualification and areas of expertise.   
But for a good explanation of what constitutes an electrical defect and how a qualified electrician can resolve it, you can check out reliable websites and online resources.  
2. Familiarizing The Wire Color Coding System 
Each wire in an electrical system has a designated color to indicate its purpose. Knowing the color-coding system can help keep yourself and others safe when working with electrical wirings. However, it's important to note local jurisdictions may have their requirements, so it's always best to check with the local electrical inspector before beginning any electrical work. 
For example, in American electrical systems, black wires are usually 'hot,' meaning they carry electricity. Red wires can also be 'hot' and are often used for switch legs. White wires are typically 'neutral,' and green or bare copper wires are 'ground' wires, providing a safe route for electricity in case of a fault. 
In Canada, the neutral wire is white or gray. The hot wire can be any color other than white, gray, or green. On the other hand, if you're from the United Kingdom, live wire is colored black or brown. The neutral one is blue. In Australia, the live wire can be any color other than blue or green. The neutral wire's color can be anything other than black, brown, or green.  
3. Understanding The Various Components Of An Electrical System  
To tackle a DIY wiring job, you need to understand the essential components of an electrical system. These include: 
Circuit Breakers:

The circuit breakers inside the panel distribute this power to different parts of the house. If a fault occurs, the circuit breaker trips, interrupting the power flow to prevent potential harm. 

Electrical Panel:

This is the central unit where the power company's line enters your home and distributes electricity through various circuits.  

Wire Gauge:

It refers to the size of the wire and is crucial because it determines how much electric current the wire can safely carry. The larger the gauge, the smaller the wire diameter and the lower its capacity. 

Electrical Outlet:

It's a connection point from which electrical devices can draw power. Electrical outlets are typically installed on walls but can also be installed on floors or ceilings. 
By familiarizing yourself with these components, you can gain a basic understanding. Additionally, choosing high-quality Hager electrical units could be a safer option for installing an electrical system instead of opting for cheaper alternatives. It is also important to consult a professional for most electrical tasks to ensure the safety of yourself and your family.  
4. Learning Some Electrical Wiring Tips
Doing electrical home wiring can be challenging if you have no idea where to start. The following are tips to consider when tackling a wiring job: 
Always turn off the power to the circuit before working on it. If you're unsure how to turn off the power, it's best to call a professional.  

Use the correct tools for the job. This includes a voltage tester, wire strippers, and a drill to set up the wiring. 

Be careful not to damage the insulation on the wires. This can cause a short circuit, which can lead to a fire. 

Make sure all connections are tight and secure. Loose connections can cause arcing, which can also lead to a fire. 

After finishing your work, use a voltage tester to ensure the circuit is functioning properly. 

Use the correct size wire for the load. The wire's size is determined by the amount of current flowing through it. 

Install surge protectors as they can protect electrical devices from power surges. 
If you're uneasy with electrical wiring, call a qualified electrician since this work is hazardous and demands proper training. 
Conclusion 
These fundamentals of electrical home wiring are critical for every homeowner to understand. With this knowledge, you can ensure your home is safe, efficient, and up to the current electrical standards. Understanding these principles can also aid in communicating with these professionals, ensuring your home's electrical system is functioning at its best.