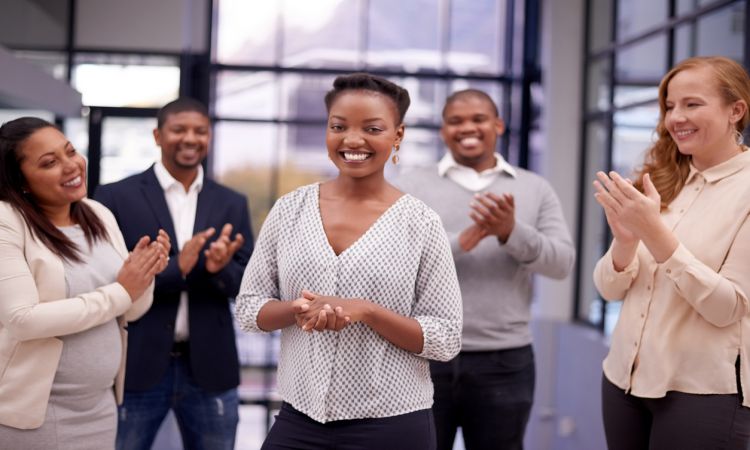 Did you know that humans are hardwired to respond to recognition? That's right – it's because we have always, as a species, sought to personalize our relationships with others.
After all, you know that providing recognition and praise will satisfy their emotional needs and make them feel more connected to the office.
Keep reading to learn some great employee recognition ideas that will improve your team morale and provide great value to your successful companies.
1. Celebratory Bonuses
Bonuses are an excellent way to recognize an employee's efforts, as they are a tangible incentive that can be used to support the employee's goals or lifestyle. Bonuses also serve as a public acknowledgment of the employee's value within the organization. The bonus can be given in the form of a monetary award or a coupon for the employee's favorite place.
In either case, the employee will feel appreciated, and it will encourage them to continue to exceed expectations. Celebratory bonuses make recognition tangible, personal, and meaningful for the recipient.
2. Fun Recognition Activities
Fun activities can keep employee spirits high, build team morale, and remind everyone that their efforts are appreciated. A great way to start is by providing small, budget-friendly surprises like pizza, lunch, or movie tickets – everyone loves a reward that comes with no strings attached!
Get creative and set aside a budget for engaging activities like monthly contests, trivia nights, or even virtual meetings with an external speaker to celebrate team victories. Caring for employees in front of their peers with personalized awards to commemorate a job well done can effectively establish recognition for good performance.
3. Symbolic Awards or Gifts
Symbolic awards or gifts are a terrific way to recognize employees' hard work. A small gift conveys that their efforts are appreciated and valued in the workplace. A gift card, a small token such as a plaque, a book, a certificate, or even a framed photo of the person or team is a great way to show recognition and thank you.
Handing out symbolic awards effectively shows appreciation, motivates employees, and creates a positive work environment. Additionally, these awards can be personalized to fit an employee's skill set or can remain generic in a way that allows employees to choose the reward they feel is most meaningful or appropriate. Discover how rewarding it can be to recognize your employees with perpetual award plaques.
4. Special Events and Celebrations
Start by creating a recognition program catering to various employee recognition levels. For a special event or celebration, you can hold an annual award ceremony where special recognition is given to employees for outstanding performance and dedication.
Employee picnics or team-building activities can be held to foster camaraderie and build morale. You can also host themed parties for celebrating special occasions such as employee anniversaries or holidays. Employees may find these special events enjoyable and meaningful, which can be valuable opportunities for meaningful recognition and appreciation.
These Terrific Employee Recognition Ideas To Motivate Your Team
Employee recognition ideas are essential for cultivating a successful and happy workplace. Give recognition to your staff in the form of awards or team outings, or serve breakfast to show your appreciation. Don't forget to show them you care with heartfelt words of gratitude for their hard work. Encourage others to recognize great work – it's terrific!
Would you like to know more about specific business topics? Be sure to check out our blog for more informative ideas.