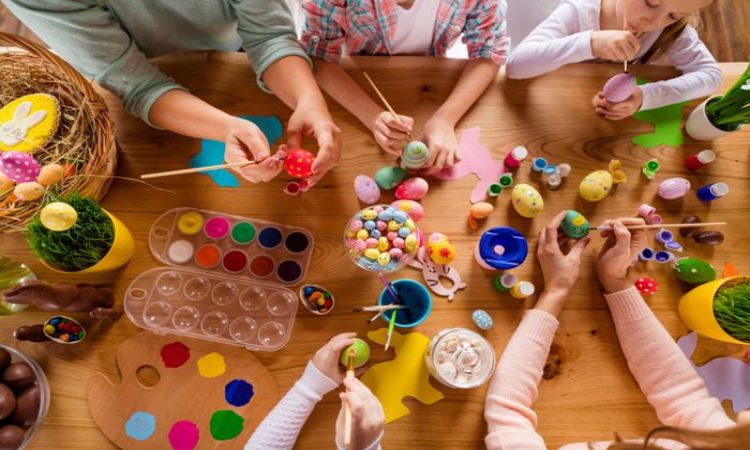 Easter is a special holiday celebrated around the world. Easter celebrates the resurrection of Jesus Christ, and it is also a time for family, friends, and loved ones to come together to celebrate new beginnings and the arrival of spring. If you're looking for ways to make this year's Easter celebration more fun and colorful, look no further! Here are five fun and colorful ways to celebrate Easter.
Easter Egg Decorating
One of the most popular Easter traditions is decorating Easter eggs. This is a fun and creative way to get into the Easter spirit and add color to your home. You can use traditional dye kits or get creative with materials like markers, stickers, or paint. You can create personalized eggs using photos, names, or messages. There are endless possibilities, so let your imagination run wild!
If you're looking for a more interactive way to decorate eggs, consider hosting an Easter egg decorating party. You can invite friends and family to decorate eggs together, share ideas, and enjoy each other's company. This is also an excellent opportunity to exchange Easter gifts, like small treats or trinkets that can be hidden inside the eggs.
Easter Baking
Easter is the perfect time to indulge in some sweet treats, and what better way to do so than with some Easter baking? There are many classic Easter recipes like hot cross buns, simnel cake, or Easter bread that you can try or put your spin on traditional recipes by adding fun, colorful decorations.
If you're looking for a fun Easter baking activity, try making some Easter-themed cookies or cupcakes. You can use colorful frosting, sprinkles, or candy decorations to create Easter eggs, bunnies, or chicks. These sweet treats are not only delicious, but they are fun to make with the family.
Easter Crafts
Consider some Easter crafting if you're looking for a more hands-on Easter activity. There are many different Easter crafts that you can make, from Easter baskets to Easter wreaths to Easter cards. You can use various materials like paper, fabric, or even natural materials like flowers and twigs.
Easter crafting is a great way to get creative and add personalized touches to your Easter decorations. You can also make Easter gifts like homemade soaps or candles that your loved ones will cherish for years to come.
Easter Games
Easter games are a fun way to get everyone involved in the Easter celebration. You can set up an Easter egg hunt in your backyard or a nearby park or organize Easter-themed games like egg and spoon races, pin the tail on the bunny, or Easter trivia.
If you're hosting an Easter party, you can also set up a photo booth where guests can take fun and silly photos with Easter props like bunny ears or carrot noses. These games and activities are a great way to get everyone laughing and having fun together.
Easter Gifts
Finally, Easter gifts are a great way to show your loved ones how much you care. You can give traditional Easter gifts like chocolate eggs or bunnies, or you can get creative and give personalized gifts like Easter-themed jewelry, mugs, or clothing.
One great Easter gift idea is a customized Easter basket. You can fill the basket with your loved one's favorite treats and goodies or make a themed basket. You can also order an Easter gift basket if you don't have time to DIY one. Hickory Farms offers a wide variety of gourmet charcuterie baskets that are sure to bring the perfect touch to any holiday. Get a delicious meat, cheese, and wine basket for your adult friends or a cupcake set for the kids. If you're not seeing family this Easter, you can even send the basket to their doorstep to let them know you're thinking about them.
There are many fun and colorful ways to celebrate Easter. From Easter egg decorating to Easter baking to Easter crafts and games, there's something for everyone to enjoy. Don't forget to exchange Easter gifts with your loved ones to show how much you care and add a personal touch to your Easter celebrations. Whether you're spending Easter with family, friends, or loved ones, these activities will help you create unforgettable memories and add some extra color and joy to your Easter celebration.