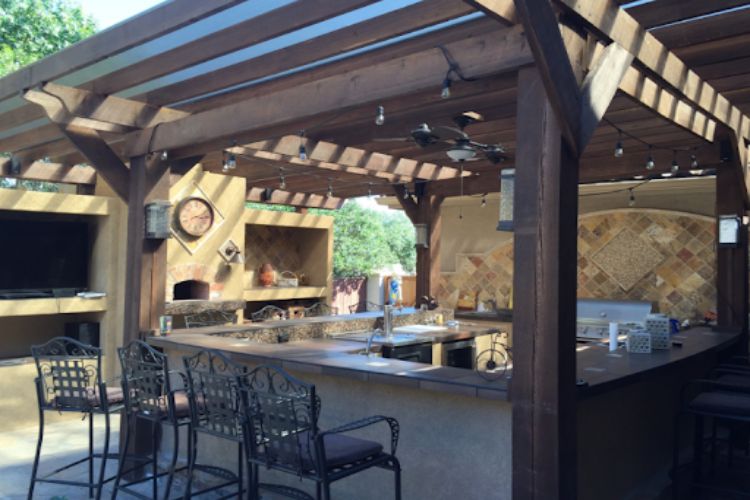 Do you have an empty backyard? You can build an outdoor bar. 
This is a great way to enjoy the health benefits of alcohol in your own home. You'll be able to spend time with your friends and loved ones as well. Plus, you'll be the envy of all your friends with your new, lively space. 
Having a good bar design is a great way to impress everyone. Read on to learn about five outdoor bar design ideas that you can use. 
1. Open Kitchen Bar
This is an outside-the-box idea. You can also call it an open-bar concept. It works by opening up your kitchen to your backyard or patio where your bar will be. 
This makes it simple to serve food and beverages as there won't be any need to go in and out of the house. When you're ready to serve drinks just open the accordion-fold window. It's the perfect way to combine indoor-outdoor living. 
2. Combination Outdoor Kitchen and Bar
If you have a large backyard, you can opt for an outdoor kitchen and bar. There are a lot of bar design options to pick from if you plan to build this type of bar. 
You can build a bar made from stone. This structure can house a bar counter and a grill station. Add chairs up along the counter so that your guests can sip their drinks while you cook for them. 
A tiki bar & grill also make for an amazing outdoor bar. You can add thatched roofing and bamboo fencing to go along with this bar. 
This is a good bar design for a hot city like Miami. It's like having an island paradise in your backyard. All you'll need is to buy cold drinks that you can pair up with summertime foods. 
3. Rustic Lodge
If a tiki bar isn't your style, you can build a rustic lodge. This bar will give you and your guests a country vibe. 
The focal point of this bar design is the live-edge wood bar countertop. You'll need to add the right bar furniture to complement it. Add bar stools that have a wooden seat and you're set. 
4. Poolside Outdoor Bar
An outdoor bar next to a pool makes perfect sense. It's ideal to match the bar you build with the pool's design or your backyard design. For example, if your pool is made out of stone, you should build the bar out of stone. 
Buy outdoor furniture that you can set up around the bar. You might want to consider placing a fire pit to elevate your outdoor bar. 
5. Wine Barrel & Reclaimed Wood
For those who love wine, this is the ideal bar design. Use reclaimed wood as the bar's countertop. Wine barrels can serve as the bar's base. 
To cap a night of wine drinking, you can serve coffee. Having a modern outdoor coffee table to place the coffee will work. 
Consider These Great Bar Design Ideas
There's no point in leaving your backyard empty. Pick one of these five bar design ideas and make your outdoor bar a reality. 
Make sure to explore the rest of our blog to continue reading more great articles.