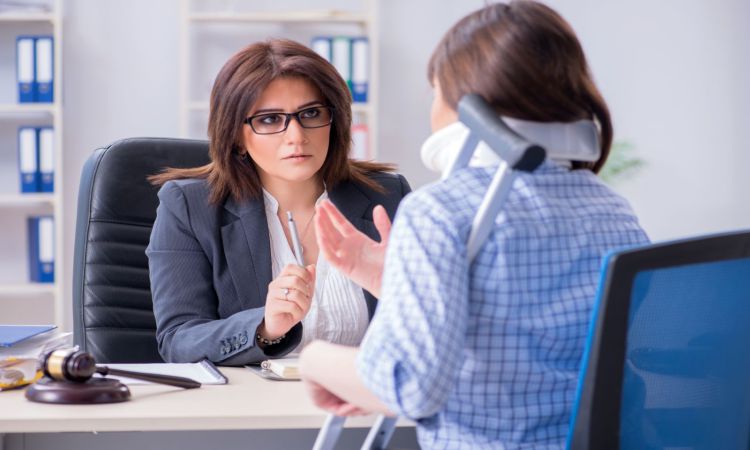 Personal Injury Lawyers are overabundant, and it can be challenging to decide which one is the right fit for you. There are over 60000 lawyers in the United States alone who practice personal injury law.
It can be daunting to pick the one that best suits your needs. Some specific questions can help you when interviewing potential personal injury lawyers.
This article will discover the key questions you should ask any personal injury lawyer you are considering hiring.
Keep reading to cast away doubts and uncover crucial answers to your questions.
1. What Experience Do You Have in Personal Injury Cases?
The answer to this question will determine the lawyer's expertise and ability to represent you effectively.
Ask for details on the types of cases they have handled, including case outcomes and their record of success. Also, please inquire about their experience in representing clients with similar issues.
Assessing the lawyer's expertise in handling your case is essential. Ask questions about the lawyer's experience with personal injury cases and their specific approach to representing clients in similar situations.
The more information you have, the better equipped you will be to make an informed decision about which lawyer is right for you.
Additionally, it would be best if you inquired about the lawyer's experience in court and whether or not they have any specialty areas of law.
Ask how they will keep you informed throughout the legal process. Knowing that your lawyer will update you and be accessible for questions is essential in ensuring your case is handled correctly.
2. What Strategies Do You Use in Personal Injury Cases?
The lawyer should be able to explain how they plan on handling your case and what strategies they will use to fight for the best possible outcome.
You must understand the whole process and the lawyer's plan before you commit to hiring them.
This includes outlining their steps to assess and investigate your case, any legal strategies they may employ in court, and how they plan to negotiate a settlement if applicable.
Understanding that some cases can quickly be resolved outside the courtroom, depending on the circumstances, is essential. Therefore, you must understand the lawyer's approach to handling your case.
3. What Is Your Fee Structure as a Personal Injury Lawyer?
Most personal injury lawyers work on a contingency fee basis, meaning they only get paid if you win your case. Ask about their payment structure and how much your settlement will affect legal fees.
The lawyer will be entitled to a settlement percentage if you win your case. This could range from 25-40%, depending on the case's complexity and other factors.
Furthermore, ask about any additional fees or costs that may come up during the case. Being aware of these upfront can help you stay organized and on budget.
As a side note, ensure you know any deadlines for filing a personal injury claim. Some states have statutes of limitations that can restrict how long after a multi car accident you can file a claim in accident law.
4. How Many Cases Have You Taken to Trial?
It's essential to know the lawyer's experience with taking cases to trial. Generally, insurance companies are reluctant to offer a fair settlement if they know that the lawyer is willing and able to take a chance in court.
The lawyer should be able to provide you with an estimate of how many cases they have taken to trial and the outcomes.
It would also be beneficial to ask if the lawyer has any experience as a trial attorney in personal injury cases or if they usually settle out of court.
Knowing whether or not your case might go to trial can help you better understand the process and how long it might take to resolve it.
It's also essential to find out if the lawyer specializes in a specific type of personal injury law firm so that you can be confident that they are knowledgeable about all aspects of your particular case.
5. Do You Have References?
Past clients can provide valuable insight into a potential lawyer's ability. Ask the lawyer for references or even testimonials from former clients they have represented. This will give you an idea of their work ethic and success rate.
It is essential to ask for references from a personal injury lawyer you are considering hiring.
Doing so will help you make an informed decision about the competency of the lawyer and whether or not they have a proven track record of successful outcomes in cases similar to yours.
Furthermore, referring to past clients provides insight into the lawyer's work ethic and communication ability, which can be essential in a successful case.
By asking these questions, you will have more confidence and knowledge when hiring the right personal injury lawyer for your case.
Don't settle for any lawyer; do your due diligence to ensure you get the best representation possible.
The Right Lawyer for You
Finding the right personal injury lawyer for you can be a daunting task. Remember to research and ask plenty of questions to ensure that you select the best fit for your case.
With careful consideration, you can rest assured that you have chosen the right lawyer to help you get the best possible outcome.
These five key questions will help you make an informed decision when hiring a lawyer and provide insight into their experience, strategies, and fee structure.
If you're interested in learning more about legal topics, check out some of our articles on the sidebar or below.