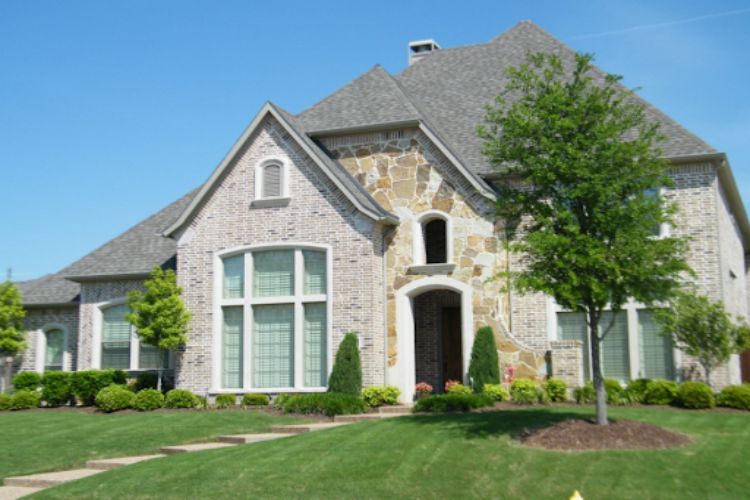 Your home's exterior gives a first impression of your home's comfort and livability. It also affects your property's resale value. Your choice of structures may even increase the stability of your building.
The possibilities are endless when you are considering different exterior materials. While vinyl siding has become very popular in the last two or three decades, those who want a timeless look prefer manufactured stone.
White bricks are one type of manufactured stone that looks great and goes with any style of home or landscaping.
Here are some ways you can make white bricks the focal point of your exterior decoration.
1. Basic White-Painted Brick House
A basic white-painted brick house involves covering the entire exterior with crisp white paint. This transforms the brick surface into a clean and modern canvas.
This design choice is a versatile and timeless option. It complements various architectural styles. It creates a fresh and inviting look.
This style can brighten up any neighborhood. The simplicity of this exterior allows other design elements to take center stage. It can highlight your landscaping and other architectural features.
A basic white-painted brick house is a popular choice. But, it might not be ideal if you prefer a bold and distinctive look. Additionally, if your home's exterior is damaged or has imperfections, a white paint job might emphasize those flaws.
2. White Brick House with Black Trim
Pairing white bricks with a black brick accent involves using black paint on the window frames. The accent can also be put on doors and other architectural details. This is to create a striking contrast against the white brick backdrop.
This design choice adds sophistication and elegance to your home's exterior. The black trim creates a bold and dramatic effect.
It also offers a unique and eye-catching look. This will set your home apart from others in the neighborhood.
This style might not suit you if you prefer a more understated and subtle appearance. The contrast of black trim against white bricks may be too bold for your taste. Additionally, maintaining the black trim may need regular touch-ups compared to other designs.
3. Whitewash Brick House
Whitewashing is painting brick with white paint that has been diluted. This allows some of the brick's natural texture and color to show through.
The whitewash technique creates a rustic and weathered appearance. It adds character and charm to your home's exterior. It gives your house a warm and inviting ambiance while maintaining the bricks' natural beauty.
If you prefer a clean and polished look, the whitewash's rustic and uneven finish might not be what you like. Additionally, the whitewash may require reapplication over time to maintain its appearance.
4. Patchy White Brick House Exterior
A patchy white brick exterior involves leaving some areas of the brick exposed while painting others white. This creates a textured and artistic look.
This design choice offers a unique and creative approach to white brick exteriors. The patchy appearance adds visual interest and depth to the facade, making your home stand out with its artistic flair.
The patchy white brick design may appear too eclectic and unconventional if you prefer a uniform and cohesive look. Achieving the desired patchy effect may also require precise and skilled painting.
5. White-Painted Brick House Exterior with Colorful Shutters
Combining a white-painted brick exterior with colorful shutters involves pairing the white backdrop with vibrant shutters in various colors. This design choice adds a playful and cheerful touch to your home's exterior. The colorful shutters create a focal point and allow you to express your personality and style through bold pops of color.
If you prefer a more monochromatic and subtle look, the combination of white bricks and colorful shutters may feel too busy and distracting. Additionally, choosing the right colors for the shutters may require careful consideration to ensure a harmonious look.
6. Off-White Painted Brick House
Opting for an off-white paint color involves using shades like ivory or cream to create a warm and inviting appearance on the brick surface. This design choice offers a softer and more subtle alternative to bright white. The off-white hues create a cozy and welcoming ambiance while maintaining the classic appeal of white bricks.
If you prefer a crisp and clean look, the off-white paint color may feel too muted and subdued. Additionally, choosing the right shade of off-white that complements your home's overall aesthetic may require some experimentation.
7. Stately White Painted Brick House
A stately white painted brick house involves painting the exterior in a grand and elegant all-white finish, creating a regal and luxurious appearance.
This design choice is perfect for large and imposing homes, adding a sense of prestige and grandeur. The white paint elevates the architecture and imparts a timeless and upscale look to the property.
If your home is of a smaller scale or has a more casual style, a stately all-white painted brick exterior may feel too imposing and overwhelming. Additionally, maintaining the pristine appearance of the white paint may require regular cleaning and upkeep.
To ensure a professional and flawless finish when incorporating white bricks into your home's exterior, consider hiring reputable brick painting services. Check out the company on this website, as they can provide expert advice on the best paint colors and techniques to achieve your desired look. They can also handle the painting process efficiently and professionally, saving you time and ensuring a stunning result.
Playing Your Home's Exterior Style With White Bricks
Incorporating white bricks into your home's exterior offers a myriad of possibilities for enhancing your property's curb appeal. Whether you prefer a classic all-white look or want to experiment with different styles and accents, white bricks can elevate the appearance of your home.
So, why not brighten up your house and create a charming and inviting exterior with the timeless beauty of white bricks? Your home deserves a fresh and stylish update that will make it stand out in the neighborhood.
Was this article helpful? If so, check out the rest of our site for more informative content.