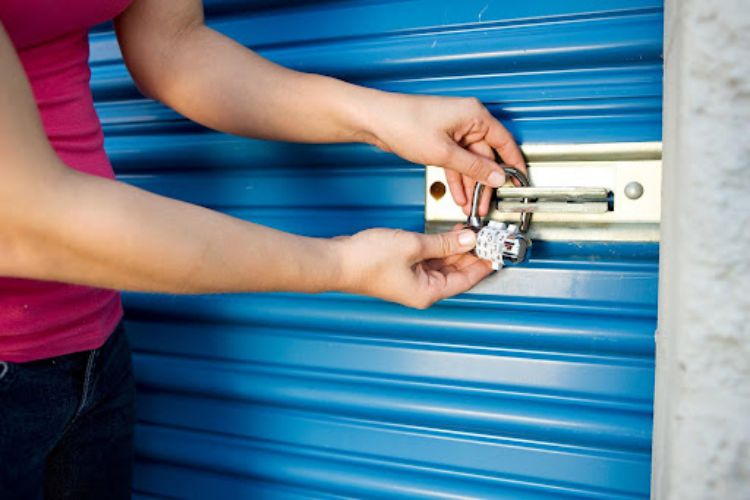 How can you be sure your treasured belongings will be safe?
When it comes to storing your prized possessions, picking the right storage provider is crucial. You want a place that's more than just a space-it needs to be a secure storage location. This guide is filled with tips to help you select a storage facility that prioritizes stored belonging's safety.
Stick with us, and we'll walk you through the important steps to ensure your items are protected and treated with the care they deserve. Let us guide you through some super simple tips to choose a safe and secure self-storage that will keep your belongings safe and sound. It's easier than you think!
1. Evaluate Security Measures
When evaluating a potential storage provider, take a thorough inventory of their security measures. A secure storage location should have a robust security system, including the following:
surveillance cameras

well-lit surroundings

individual locks 
Additionally, an access control system that restricts entry to authorized personnel is a must. Don't hesitate to ask about fire and pest control measures, as well as any protocols in place for natural disasters or other emergencies. Remember, the more secure the storage facility is, the better protected your belongings will be.
2. Assess the Facility's Cleanliness
The cleanliness of a storage facility is a good indicator of its overall maintenance and care toward stored belongings. A well-maintained, clean facility is less likely to have issues with pests and damage from environmental factors such as moisture and mold.
It's also a sign of attention to detail and good management practices. When visiting potential storage facilities, pay close attention to the cleanliness of common areas, as well as individual units. If you notice any signs of neglect or poor maintenance, it's best to look for another provider. Your stored items deserve to be in a clean, well-cared-for environment. 
3. Consider Insurance
Insurance is a crucial aspect when it comes to the safety of your stored items. Most reputable storage providers offer some form of insurance or assurances that your belongings will be covered in case of any unfortunate incidents. However, it's essential to understand the terms and conditions of the insurance policy offered by your chosen storage facility.
Additionally, it's always a good idea to have your own separate insurance coverage for valuable items that may not be fully covered under the storage provider's policy. It's better to be safe than sorry! While you may have taken all the necessary steps to ensure the security and safety of your stored belongings, it's always wise to have a backup plan.
4. Check Online Reviews
Online reviews can offer valuable insights into the experiences of other customers with a potential storage provider. While one or two negative reviews should not automatically eliminate a provider from your options, it's essential to take note of any recurring concerns or red flags mentioned in multiple reviews.
Additionally, don't hesitate to reach out to friends and family for personal recommendations and experiences with storage facilities they may have used in the past. Hearing from someone you trust can provide valuable information and help you make an informed decision. In the end, choosing a safe and secure storage facility for your belongings doesn't have to be a daunting task.
5. Visit the Facility Personally
Pay a visit to the storage facility before finalizing your decision. A personal visit allows you to assess the facility's safety measures, cleanliness, and overall conditions firsthand. It also allows you to ask any remaining questions and get a feel for the environment where your belongings will be stored.
If possible, take a tour of the facility and inspect some storage units to ensure they meet your standards. Trust your instincts – if something doesn't seem right or makes you uncomfortable, it's best to continue your search elsewhere. 
6. Consider the Location
When considering a storage facility, it's essential to take into account the location of the facility. Ideally, you want a storage provider that is conveniently located for easy access when needed. However, it's also crucial to consider the safety and security of the surrounding area. A storage facility in a high-crime area may not be the best option, regardless of how secure the facility itself may be.
Additionally, consider the accessibility of the location. Are there nearby roads that are regularly maintained and easily navigable? Is there ample lighting around the facility for added safety during visits at night? These factors can make a significant difference in your overall experience with the storage provider. It's essential to choose a location that is both convenient and safe for your stored belongings.
7. Evaluate the Customer Service
Another crucial factor to consider when selecting a safe and secure self-storage facility is the quality of customer service provided. A reliable storage provider should have friendly, knowledgeable staff members who are readily available to address any concerns or questions you may have. They should be professional, organized, and willing to go above and beyond to ensure your satisfaction. After all, your peace of mind is their top priority.
To evaluate customer service, consider reaching out to the storage provider with any questions or concerns before making a decision. Take note of their response time and how informative and helpful they are in addressing your queries. By selecting a self-storage facility with excellent customer service, you can be confident that your belongings will be well taken care of by a team that values their customers' satisfaction.
8. Examine the Lease Agreement
This document should clearly state all the terms and conditions, including those related to the safety and security of your belongings. If anything is unclear, don't hesitate to ask for clarification. It's essential to understand the responsibilities and liabilities of both parties in case of any incidents or damages.
Additionally, make sure to read and understand the termination policy and any fees associated with it. The last thing you want is to be locked into a long-term agreement with a storage provider that does not prioritize the safety of your items. Click to learn more about the best storage facility for your needs.
Choosing a Safe and Secure Self Storage is a Must
To conclude, choosing a safe and secure self-storage facility is crucial for the protection of your stored belongings.
By evaluating security measures, understanding insurance policies, considering location, and checking online reviews, you can narrow down your options and select a provider that prioritizes the safety of your items.
Did you find this article helpful? Check out the rest of our blog for more!