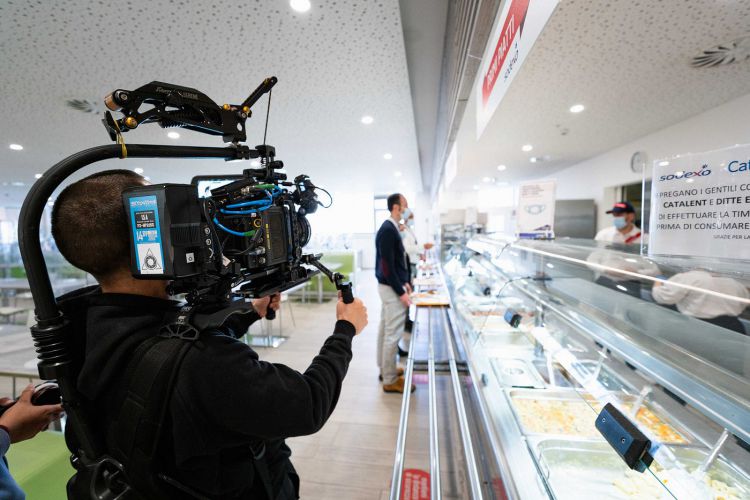 Today's quest to catch the consumer's eye is more competitive than ever. With the mass of information and an ever-decreasing attention span, businesses constantly seek ways to stand out. 
One such effective method is through corporate video production. But the reach of corporate video extends far beyond just sales and numbers. It is a powerful medium that transcends traditional business boundaries, creating connections, building trust, and weaving narratives.
As businesses continue making their mark in the digital landscape, those that harness the power of corporate video production will undoubtedly find themselves leading the pack, not just in numbers but in relationships built.
Corporate Video: More than Just Business
At its core, corporate video production is about storytelling. It allows businesses to weave their brand's story, values, mission, and ethos into a visual spectacle that resonates with viewers. It's not merely about promoting a product or service; it's about building a relationship with your audience.
Imagine the impact of seeing a company's journey, its challenges, and triumphs rather than just reading about it. Visuals make stories come alive, and when done right, they can evoke emotions, stir passions, and inspire actions. That's the beauty of corporate video — it goes beyond business, delving deep into human connection and emotion.
The Power of Corporate Video Production
Humanizing the Brand
In an age where trust is paramount, corporate videos allow businesses to humanize themselves. They provide a face and voice to the brand, helping potential clients and customers relate to and trust the business more. Behind-the-scenes footage, employee interviews, or related initiatives are powerful ways to showcase a brand's human side.
Versatility
As hinted earlier, the applications of corporate videos are vast. The list includes training modules, product launches, testimonials, company culture videos, and event coverage. Each video type serves a unique purpose, ensuring a holistic brand presentation.
Boosting Engagement
With the advent of platforms like YouTube, Instagram, and LinkedIn, video content has become the cornerstone of engagement. People are more inclined to engage with a video post than a text post, leading to increased shares, comments, and, most importantly, conversions.
SEO Benefits
Google loves video, which means embedding videos on your website can drastically improve your search engine ranking. It increases the time visitors spend on your site and can make your business more discoverable online with the right keywords and optimization.
Higher Retention
As noted in the HubSpot study, videos have a remarkable retention rate. When information is presented visually and audibly, audiences are more likely to remember it than when it is read. This dual mode of information processing ensures a deeper imprint on the viewer's memory.
The Future is Video
With advancements in technology and the proliferation of platforms supporting video, the future looks even brighter for corporate video production. Virtual reality, augmented reality, and 360-degree videos are already making waves, offering immersive experiences to users.
Moreover, high-quality videos have become more accessible, making it possible for smaller businesses to jump on the bandwagon. It's no longer a luxury reserved for big corporations but necessary for businesses looking to thrive in today's digital age.
Benefits of Corporate Video Production
Cost-Effective Marketing
The initial investment in video production might seem daunting for some, especially for smaller businesses. However, once produced, videos can offer an impressive return on investment. Unlike recurring costs of print advertisements, a well-made video can continue to garner attention for years. Platforms like YouTube provide a free space for videos to live indefinitely, continually attracting new viewers at no additional cost.
Take, for example, a small bakery that creates a video showcasing their baking process and the love and care they put into each item. Once uploaded online, this video can continuously attract new customers captivated by the behind-the-scenes look with zero ongoing costs.
Enhances Trust and Credibility
Corporate videos can testify to the authenticity and quality of a business's products or services. Demonstrations, testimonials, or behind-the-scenes views can significantly elevate a brand's trustworthiness. 
When potential clients or customers can see your product in action, hear real-life testimonials, or understand the process and people behind a service, it reduces their apprehension and skepticism. Imagine a tech company launching a new gadget. A video illustrating the product's features, user experiences, and expert insights will invariably boost the product's credibility compared to simple text-based descriptions.
Versatility and Reusability
One of the underrated benefits of corporate videos is their reusability. A single video can be repurposed in multiple ways. Clips from a longer video can be used for shorter social media posts. The audio can be extracted for podcast samples, and still frames can be utilized for promotional material.
A travel agency, for instance, might create a comprehensive video of a popular tourist destination. Clips from this video can be used in monthly promotional campaigns, targeting different aspects of the destination each time.
Enhances Internal Communication and Training
While we often think of corporate videos as external communication tools, they can also be invaluable internally. Training videos can ensure consistent employee training, irrespective of time or location. Similarly, videos on company culture and values can foster a sense of belonging and unity among staff.
For example, a multinational company can use videos to share messages from the CEO, ensuring all branches, irrespective of their geographical location, receive the same message in the same tone.
Conclusion
The digital age has transformed how businesses operate and communicate. With its manifold benefits, corporate video production has emerged as a non-negotiable tool for any forward-thinking business. Whether it's enhancing brand visibility, ensuring consistent training, or building trust among potential clients, the power of video is undeniable. 
While corporate video production undeniably boosts brand awareness, engagement, conversions, and revenue, its true power lies in its ability to narrate a story, forge connections, and elicit emotions. It humanizes a brand, making it more relatable and trustworthy.