Designing a home or workspace that fits your lifestyle is more than just picking out stylish decor or rearranging furniture. It requires thought, planning, and thoughtful consideration of your needs and goals.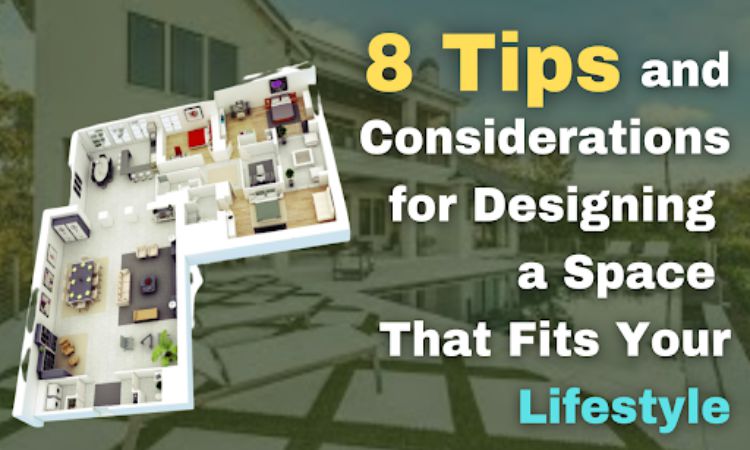 When planning to design a space for your house, you should consider your typical activities. After all, you want your house to reflect your personality and character, don't you? When planning the design arrangement of a room to accommodate your requirements best, here are eight considerations to keep in mind:
Determine the suitable home size
Evaluate your lifestyle and Its resulting requirements
Think about the surroundings when designing
Pay attention to functional areas
Establish a focal point in your home
Define the color palette of your custom homes
Maintain consistency in flooring material
Consider your lighting
Following these suggestions, you can construct a space that satisfies your requirements without compromising its visual appeal.
Why Is It Essential to Design a Home From Scratch?
It is better to build your own home and design the interior of it based on what you want than to buy a house with someone else's design. This is because you will be using it, so you should be able to make the most of every corner of it.
For the homeowner, designing a custom home may be both exhilarating and stressful. You get to design a house that best reflects your tastes, requirements, and way of life. Even though custom home prices may appear expensive, you are investing in the house of your dreams that won't require any maintenance.
With a bespoke home, you have the opportunity to build the home of your dreams. It can be adjusted with features according to your preferences and needs. Additionally, you may end up saving money over time since you won't need to pay for maintenance and repairs on a regular basis. When you design your home, you have a lot of power over what transpires there.  You have a great deal of control over what happens in your home when you design it.
1. Determine the Suitable Home Size
How well your home fits your lifestyle depends significantly on its size. Smaller homes are usually better for people who want less upkeep and a more straightforward way of life. If you have (or want) many kids, you might want a bigger house. People who like to have guests over often should also look for homes with more space.
Even though these things are essential, the size of your home must also be valuable and cost-effective.
2. Evaluate Your Lifestyle and Its Resulting Requirements
According to Colorado Springs builders, evaluating your lifestyle requirements before looking at potential floor plans is essential. Think about your daily activities, interests, and future plans. Do you require a home office, a podcasting studio, or a fitness room? Do you intend to have children or host frequent guests?
Once you have compiled your list of requirements, search for home builders and contractors who can meet them. If you are a remote worker in the United States, seek out constructors whose portfolios include home office and studio designs. If you are a nature lover in the United Kingdom, investigate eco-friendly model residences in desirable neighborhoods.
3. Think About the Surroundings When Designing
The location of a home should be one of the first considerations while designing the inside. Add more windows or a porch to your home, for instance, if you reside in a particularly sunny region. Investing in a heater or extra insulation is a good idea if you plan on spending the winter in a region noted for its frigid temperatures.
4. Pay Attention to Functional Areas
From here, it is time to consider the space's functionality. Consider how you will utilize each room and the required and desired features. Consider a kitchen design with ample counter space and storage if you enjoy cooking. If you operate from home, you will require a dedicated office space tailored to your specifications. These areas are the heart of a cozy and functional house.
5. Establish a Focal Point in Your Home
The focal point is a crucial part of any contemporary home's decor. When someone enters a room, their gaze is immediately drawn to its main point. Every house has a "built-in focal point," an architectural element that draws attention to the nicest part of the room. This can be anything from a window or outside view to a fireplace or an inclined wall with built-in shelves.
6. Define the Color Palette of Your Custom Home
It's not easy to settle on a color palette. Therefore, here are some tips to help you select the ideal color for your residence. Consider your space's color in relation to your disposition, and strive to create warmer hues. Create a peaceful and relaxing environment for your bedroom or study. If you don't want to alter the existing colors and furniture, you can create a versatile color scheme with neutrals.
If you want to add more color, you can create a subtle tonal scheme by combining lighter and darker shades of the same color. If you want to add a second color, choose one that complements the first. You can use a color wheel to determine complementary hues. Contrasting hues occupy opposite sides of the circle. Create a complementary color scheme with crimson or purple if your furniture is green.
Consider using light colors in a south-facing room, which will appear warmer than in a north-facing room. Also, observe how your chosen colors appear in both natural and artificial illumination.
7. Consistency in Flooring Material Throughout the House
Modern interior design is enhanced by using the same flooring throughout the space. Various varieties include texture, loop, pattern, and twist. These styles offer a distinct appearance that you should coordinate with your own style and room design.
Textured flooring is the ideal complement to traditional interior design and spaces with clean surfaces. Contorted flooring provides a contemporary appearance. Loop flooring is typically installed in high-traffic activity rooms. Patterned flooring is compatible with all room types and sizes. It complements the theme and décor of the room.
8. Consider Your Lighting
The living room's lighting is one of its most crucial features. It should be varied to maximize small and large spaces, highlight colors, and experiment with reflective materials and mirrors. Lighting is required for reading, watching television, and hosting gatherings. Avoid the overhead light fixture with a single bulb. Consider whether the light source should be large and centralized or small and dispersed in predetermined areas during the design phase.
Make sure there is a light near each seat and a table for them to use. If the living room is typically dim, you can increase the amount of light with a few simple techniques and decorative touches. Position mirrors before the windows to reflect natural light and illuminate the entire room.
Final Thought
Many people find designing their own homes exciting and gratifying because it allows them to express their uniqueness in a tangible manner. However, it may be somewhat challenging for some. You may be uncertain about your personal style because you believe your inclinations are constantly changing. It might be difficult to infer that everyone in the neighborhood would approve. Following the eight best tips outlined in this article will increase your chances of finding a home that fits your lifestyle and makes you happy, regardless of your circumstances.
Creating a place that reflects your lifestyle can seem like an intimidating endeavor, but it doesn't have to be with the appropriate planning and thought. You can design a room that is distinctly yours by being thoughtful about what matters most and coming up with resourceful ways to use what you have. Allow yourself to be moved by creative ideas, then mix them in a way that feels right, realizing along the way how fulfilling the process of creating your own environment is.