In the bustling world of commercial kitchens, there's always room for improvement. Whether streamlining processes, incorporating advanced technologies, or simply fostering a culture of continuous learning among the staff, enhancing operations can lead to significant benefits. However, as many in the culinary industry would agree, a well-oiled kitchen encompasses more than just the food; it offers a holistic experience rooted in optimized operations.
Below are some game-changing tips to elevate commercial kitchen operations:
1. Embrace Energy Efficiency 
Gone are the days when sustainability and energy efficiency were mere buzzwords. Today, they're imperative for any commercial operation, and kitchens are no exception. Investing in an energy-efficient system can yield dividends for the environment and operational costs. Among these, one of the most impactful is the benefits of energy efficient refrigeration system. 
Unlike traditional refrigeration units, energy-efficient models operate optimally, ensuring food stays fresh while consuming less energy. Over time, the savings from reduced electricity bills can be substantial. Beyond refrigeration, consider other kitchen equipment and utilities. Remember, from energy-saving dishwashers to efficient lighting solutions, every element counts.  
2. Develop The Right Layout  
The layout of a commercial kitchen determines its workflow. Ensure that the layout is designed to reduce unnecessary movements and optimize workstations. For example, certain workstations should be strategically positioned to minimize cross-foot traffic. The cooking area, prep stations, and dishwashing zones should also be distinct yet easily accessible.  
Additionally, consider ergonomic design principles. Elevated counters, for instance, can reduce the strain on chefs, leading to better productivity. With these considerations, you can develop an efficient kitchen layout that facilitates smooth movement, reduces the risk of accidents, and promotes better coordination among staff. 
3. Adopt Regular Maintenance Schedules  
Regular maintenance ensures that all equipment is working at peak efficiency. Servicing appliances extend the lifespan of equipment, and sudden breakdowns can be avoided. Doing so not only cuts repair costs but also ensures consistent kitchen operations.
Therefore, create a maintenance schedule and stick to it. Also, keep a record of all maintenance tasks that are performed and inspect all equipment regularly for any signs of wear or damage. Lastly, have your equipment serviced by a professional annually to keep your commercial kitchen running smoothly and efficiently for years. 
4. Streamline Inventory Management  
Efficient inventory management is crucial to reduce wastage and avoid stockouts in your commercial kitchen. To properly manage your inventory, it's essential to implement systems that track inventory levels in real-time and notify staff when replenishments are required. Utilize digital tools such as inventory management software to automate this process and offer detailed insights into consumption patterns. 
Also, use FIFO (first in, first out) inventory, which means you should use the oldest items first. This can help you avoid food spoilage and always use the freshest ingredients. Considering these strategies, you can streamline inventory management in your commercial kitchen and improve your business in the long run.  
5. Conduct Training And Upgradation  
The kitchen is only as good as its staff. Regular training sessions can help keep the team updated with the latest techniques, safety protocols, and operational best practices. Training can also instill a sense of belonging, as staff feel invested in and an integral part of the establishment. 
To implement training and upgrades in a commercial kitchen, you should first identify the training needs of your staff. This can be done by conducting a skills assessment or simply talking to them and asking them about the skills or techniques they wish to acquire.
Then, create a training plan that outlines the specific skills you want your staff to learn and the methods to use to train them. Lastly, use various training methods to keep your staff engaged. There are many different ways to train staff, such as classroom, hands-on, and online training.  
6. Embrace Technology  
Technology can make kitchen operations more precise and efficient, from automated order processing systems to digital temperature monitors. Consider investing in management software, which can integrate different aspects of operations, from inventory to order management. 
Also, think about using smart appliances that are equipped with sensors and other technology that can automate tasks, monitor food temperatures, and even alert you to potential problems. For example, a smart oven can be programmed to cook food to a specific temperature, and a smart refrigerator can track the expiration dates of your ingredients. 
By embracing technology, you can improve your commercial kitchen's efficiency, productivity, and profitability. 
7. Reduce Waste  
Waste reduction isn't just an environmentally responsible practice; it's also economically sensible, especially in elevating commercial kitchen operations. Set up systems to segregate waste, recycle what's recyclable, and compost organic waste. Moreover, consider donating edible but unsellable food items to local charities or shelters. 
With these strategies, you can make a difference in reducing waste in your commercial kitchen.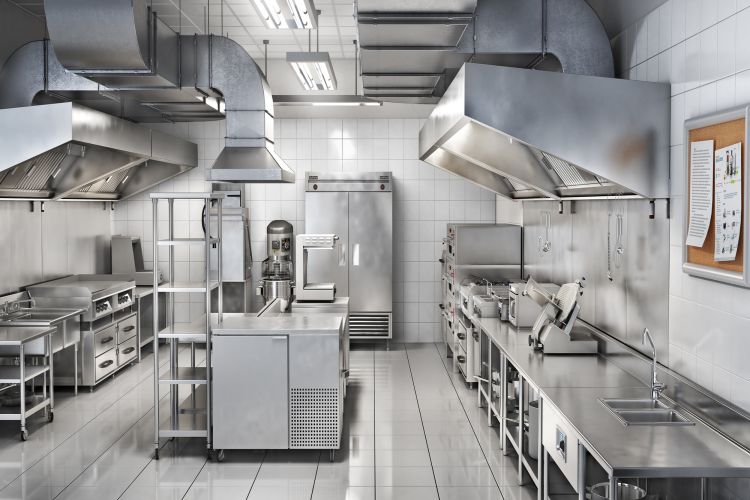 8. Implement Health And Safety Protocols  
Ensuring the health and safety of the staff and customers should be a top priority. Regularly review and update safety protocols. This includes cleanliness standards, handling raw materials, and emergency protocols for equipment malfunctions or fires. 
With these measures in place, your kitchen can ensure faster emergency response times and mitigate potential risks, all essential for optimal operations.
9. Provide Continuous Feedback Mechanisms  
Feedback from both staff and customers is invaluable in refining kitchen operations. Encourage an open line of communication. Staff can provide insights into operational bottlenecks, while customer feedback can shed light on dish quality, presentation, and service times. 
By implementing continuous feedback mechanisms, you can create a culture of continuous improvement that can help your kitchen stay ahead of the competition.  
Conclusion 
By embracing the tips and strategies above, commercial kitchens can ascend to unparalleled operational heights. These practices ensure culinary delights that tantalize taste buds and create an environment where efficiency reigns, and creativity flourishes. Ultimately, a harmoniously operated kitchen doesn't just satiate appetites; it elevates the dining experience, turning meals into unforgettable memories.